Janet Golden, PhD, Professor of history, Rutgers University-Camden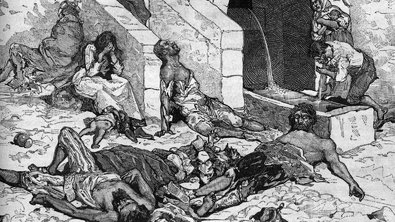 On television, forensic scientists can solve the mystery of someone's death in an hour. In reality, uncovering the facts can take a lot longer. As an anthropologist leading the investigation of some skeletons dug up in England last year put it: their discovery "solves a 660-year-old mystery." DNA tests on the skeletons revealed that they didn't die of bubonic plague; they died of pneumonic plague.
Workers extending the London railway line unearthed 25 skeletons. They were victims of the Black Death that ravaged the world from 1348 to 1350, killing at least 75 million people. Scientists examining the bones confirmed not just the cause of death but details about the lives of those who died. Their bones reveal lives marred by violence and characterized by heavy work and malnutrition. The Black Death carried them away quickly. Untreated, it can kill in a few days. With no understanding of the cause of the disease, 14th-century Europeans often blamed Jews and foreigners for the disastrous epidemic that transformed life around the globe.
Bubonic plague is spread by fleas from infected rodents and is now easily cured by antibiotics. If the infection reaches the lungs and becomes pneumonic plague, however, it can be transmitted from person to person via infected droplets in cough. Victims must be treated promptly; mortality rates from this form of the disease are high. There is a third form of plague, septicemic plague, also spread by fleas.
Janet Golden, PhD, Professor of history, Rutgers University-Camden
The Robert Wood Johnson Foundation describes its ambitious annual attempt to rate the health of counties in every state based on analysis of voluminous data as an effort to prod communities to make things better, although the rankings have a lot to do with conditions over which they have limited control: high income and level of education, for example, are strongly linked to health (Chester County is second out of 67 Pennsylvania counties; Philadelphia is 67th).
The just-released 2014 report has two sets of rankings. Health Outcomes are based on measures of life expectancy and quality of life. Health Factors – what lead to those outcomes – are based on four broad categories: health behaviors (30 percent) such as tobacco use, diet and exercise, alcohol and drug use, and sexual activity; clinical care (20 percent), which includes both access to and quality of care; social and economic factors (40 percent) like education, employment, income, family and social support, and community safety; and, physical environment (10 percent), which incorporates air and water quality, housing and transit.
To really appreciate the ratings, dig into the underlying data on teen births, adult obesity, access to dental care, diabetes and mammography screening, unemployment, and deaths from injuries, among other things. All these factors, and the resulting health of the population, add up to an excellent summary of the elements constituting public health and how we measure it.
Janet Golden, PhD, Professor of history, Rutgers University-Camden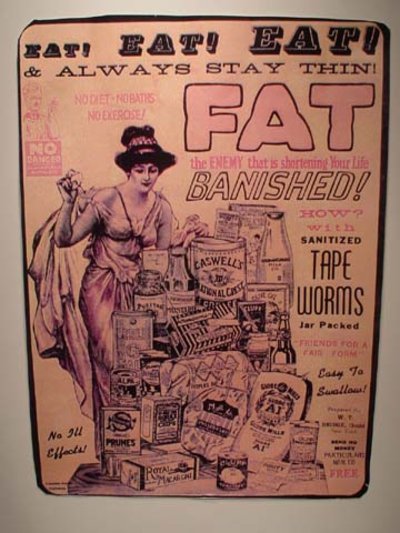 Ahhh, the quest for the perfect weight loss diet—the one that lets you eat and shed pounds. With so many Americans obese or overweight, the marketplace is full of diet books and over-the-counter drugs. There's the Paleo diet —eat meat like a cave man! And the Mediterranean diet —eat vegetables like a peasant! And the grapefruit diet —eat like a Florida farmer!

There used to be more daring choices. Like the tapeworm egg diet. That's right, a program that told you to swallow tapeworm eggs and lose weight.

In the early 20th century, marketers began selling this program to what were then called "fleshy people" under brand names like "Lard-B-Gone." Sanitized tapeworm eggs delivered what they promised. You got rid of pounds without exercise, dieting, surgery, or dangerous drugs like arsenic pills, which were once a popular means of weight loss because they allegedly cut the appetite. With the tapeworm diet you swallowed the eggs and the tapeworm did all the work—consuming your meal while living in your digestive tract. Meanwhile, the tapeworm produced and shed millions of eggs in your intestine and grew up to 20 feet long.
Jonathan Purtle, MPH, Doctoral candidate and Research Associate, Center for Nonviolence and Social Justice, Drexel University
First in a series of posts about what is being done to address trauma and toxic stress in the city.

Four years ago, on a train from Philadelphia to Washington, Sandra Bloom told me about the Adverse Childhood Experiences (ACE) Study. I hadn't heard of it, and was astounded to learn about strong connections it found between exposure to trauma and toxic stress in childhood, and experiencing behavioral, social, emotional, and health problems as an adult. I told almost everyone I knew. I circulated the study's publications among my public health peers. Hardly any of them had heard of it in 2011, when I wrote the first of several related posts.
On Thursday, I sat with more than 350 Philadelphians at WHHY's studios as the study was discussed at a sold-out symposium entitled "Children and Toxic Stress: A Public Health Response for Philadelphia's Children and Families." Awareness about the ACE Study (first findgs were published in 1998) and its implications has spread rapidly over the past few years. And Philadelphia, in the words of Arthur Evans, commissioner of the city's Department of Behavioral Health and Intellectual disAbility Services, has been the "epicenter" of knowledge dissemination. "Philadelphia is the only city where only a few hands pop up when I ask how many people have not heard of the ACE Study," said Martha Davis, a new program officer at the Robert Wood Johnson Foundation who until recently headed the local Institute for Safe Families. A brief video of her remarks on building resilience is here.
Lundy Braun, PhD, professor of pathology and laboratory medicine and Africana Studies, Brown University
Shortly after a 48-hour bout of immobilizing back pain and a visit to the emergency room where he received Percocet, my husband went to his primary care doctor to discuss managing the continuing pain and numbness. What he encountered took him aback. Perhaps concerned about "drug-seeking behavior," the primary care physician commented offhandedly that back pain eventually goes away; the physician failed to do a physical examination, asked no questions about his level of pain or work situation, and offered no suggestions for dealing with the numbness or a recurrence. When asked about pain medication, his physician gave him a bottle of naproxen (which he was already taking) with no instructions regarding appropriate dosage. After two weeks and no further treatment, the pain began to subside; nine months later the numbness and tingling had diminished.

My husband's experience could have simply been an unfortunate encounter with a busy physician. Or it could be symptomatic of a new attitude towards pain patients and prescription opioids by primary care and public health practitioners. With increasing deaths from overdoses since the early 2000s, public health concern over the abuse of prescription opioids for pain management has mounted. Last month's tragic death of actor Philip Seymour Hoffman from an overdose has heightened awareness of the social burden of addiction and raised anxieties about prescription opioids as "gateway" drugs to heroin.

In 1996, the Food and Drug Administration approved OxyContin, a potent pain reliever marketed by Purdue Pharmaceuticals in a long-acting time-release capsule that industry promotional materials claimed would minimize abuse. Within a few years, however, reports of abuse, addiction, and death from overdose of OxyContin surfaced, and the Drug Enforcement Administration kicked into gear, lobbying for more intensive regulation and surveillance of prescription opioids. Public health and medical experts joined the DEA and the FDA in promoting heightened state oversight of medical providers, pharmacies, and manufacturers. Primary care practices revised their policies towards chronic pain patients to include pain contracts – written agreements intended to discourage abuse by them or others – profiling of "drug-seeking behavior," frequent office visits, calls for "evidence-based" practice, and urine toxicology screening. The discussion soon moved from concerns over the addictive properties of OxyContin to calls to dramatically limit such widely prescribed opioids as Vicodin and Percocet.
Janet Golden, PhD, Professor of history, Rutgers University-Camden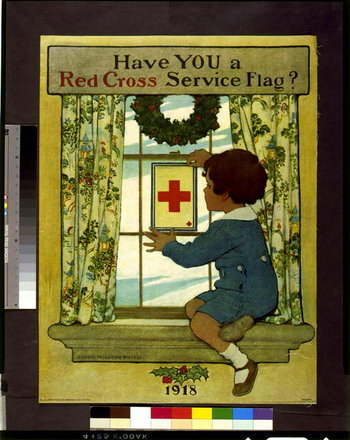 March is Red Cross month and Women's History month—a perfect time to celebrate Red Cross founder Clara Barton, who began this organization in 1881 and served as its leader until 1904. Barton provided humanitarian aid to soldiers in the Civil War. During a visit to Europe she learned about the activities of the International Committee of the Red Cross and worked to create the American National Red Cross, which was awarded a federal charter in 1900. Today the Red Cross is an international organization and is best known in the United States for its work in disaster relief, supporting military families, and collecting blood and blood products. (If you'd like to celebrate women's history and the Red Cross by making a donation you can find a local blood donor drive here.)
Few Americans are aware of the contribution of children to the work of the Red Cross. A Junior Red Cross began shortly after the United States' entry into World War I. On Sept. 15, 1917, President Woodrow Wilson issued a proclamation that announced this new effort to encourage school children to "work in the great cause of freedom to which we have all pledged ourselves." It went on to promise that joining the organization "will teach you how to save in order that suffering children elsewhere may have the chance to live. It will teach you how to prepare some of the supplies which wounded soldiers and homeless families lack."
A wartime theme presented in educational materials was the need to sacrifice at the dinner table. An educational conference in 1918 stated this aim as teaching "the boys and girls of this country to eat less candy and give up sweet drinks," so that the sugar could be shipped to Allies and used in food for soldiers. Anyone who has ever heard about cleaning their plate because children overseas were starving should know that this lesson went back to World War I and the Junior Red Cross, when American children were also taught to "think of the hundreds of thousands, in fact millions of people who have been scourged by the German Army, and who have from two to three years been suffering not only the pangs of hunger but actual starvation."
Nan Feyler, JD, MPH, chief of staff for the Philadelphia Department of Public Health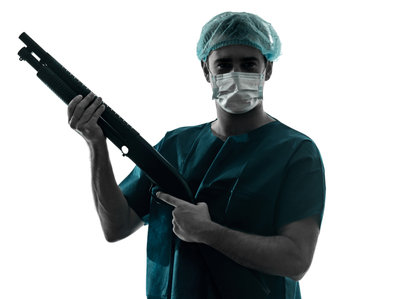 Gun control in the United States is among the most polarizing issues we face. Strong feelings prevail, with few areas of agreement on either side of the issues. But blocking a physician's opportunity to counsel a family against leaving a gun and ammunition where curious hands can cause terrible tragedies is in no one's interest. Unfortunately, that's exactly what at least one state is trying to do.
It's widely understood that physicians play an essential role in counseling patients to reduce their risk of death, illness or injury, whether from smoking, alcohol abuse, unhealthy eating or unsafe sex. Doctors routinely counsel families about car seats, bike helmets, and how to store medicines and cleaning supplies to keep children safe.
The National Rifle Association sponsors the Eagle Eddie Gun Safe Program to promote the protection and safety of children in schools and community groups across the country. According to the NRA website, "The purpose of the Eddie Eagle Program isn't to teach whether guns are good or bad, but rather to promote the protection and safety of children. Like swimming pools, electrical outlets, matchbooks and household poison, they're treated simply as a fact of everyday life. With firearms found in about half of all American households, it's a stance that makes sense."
Teagan Keating, MPH student, Drexel University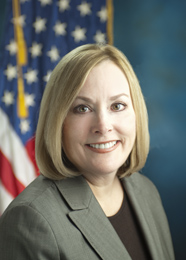 Last week, I sat down with Nancy O'Connor, administrator of Centers for Medicare and Medicaid Services' Region 3 (Pennsylvania, Delaware, Maryland, Virginia, West Virginia, and Washington, DC) to talk about how to find affordable health insurance before the Marketplace closes on March 31 for purchasing coverage for 2014. The Marketplace is the Affordable Care Act-mandated website that allows you to comparison shop for government-subsidized health insurance. Below is a transcript of the interview, which you can hear in full in my weekly public health podcast. The interview has been edited for clarity and brevity.
Teagan Keating: Because states get to choose if they will expand Medicaid eligibility to more of their residents, many states have chosen not to do so. Pennsylvania is still debating how to address Medicaid expansion. In states like Pennsylvania, there is a large group of people with low incomes who are not eligible for the current Medicaid program and who do not qualify for cost-saving discounts for Marketplace insurance coverage that are part of the Affordable Care Act. This means that until their state expands Medicaid, many of the people who need the financial assistance most will not be able to get any. So what happens to people who would have been covered by Medicaid?
Nancy O'Connor: Unfortunately, a lot of these folks don't have health-care coverage. They can go onto the individual market and purchase a plan but many of them just cannot afford to do that.