First in a series of posts about what is being done to address trauma and toxic stress in the city.

Four years ago, on a train from Philadelphia to Washington, Sandra Bloom told me about the Adverse Childhood Experiences (ACE) Study. I hadn't heard of it, and was astounded to learn about strong connections it found between exposure to trauma and toxic stress in childhood, and experiencing behavioral, social, emotional, and health problems as an adult. I told almost everyone I knew. I circulated the study's publications among my public health peers. Hardly any of them had heard of it in 2011, when I wrote the first of several related posts.
On Thursday, I sat with more than 350 Philadelphians at WHHY's studios as the study was discussed at a sold-out symposium entitled "Children and Toxic Stress: A Public Health Response for Philadelphia's Children and Families." Awareness about the ACE Study (first findgs were published in 1998) and its implications has spread rapidly over the past few years. And Philadelphia, in the words of Arthur Evans, commissioner of the city's Department of Behavioral Health and Intellectual disAbility Services, has been the "epicenter" of knowledge dissemination. "Philadelphia is the only city where only a few hands pop up when I ask how many people have not heard of the ACE Study," said Martha Davis, a new program officer at the Robert Wood Johnson Foundation who until recently headed the local Institute for Safe Families. A brief video of her remarks on building resilience is here.
Philadelphia is not without problems. But the city also has a very progressive and inspiring thing going on: a public health approach to trauma and toxic stress that has drawn national recognition. Thursday's symposium, sponsored by the city's Children's Crisis Treatment Center and WHYY, provided the opportunity to take stock of where we are, where we've been, and where we're going with efforts to translate knowledge about trauma and toxic stress into services, systems, and public policies.
So how did Philadelphia became a mecca for what's known as trauma-informed practice? The answer is complex, but the symposium left me with the impression of at least three forces aligned -- intellectual leaders, public sector champions, and community partners:
Philadelphia is a city of "eds and meds," and many of them happen to be leaders in the field of traumatic stress studies. Three are at Drexel University: Dr. Bloom, who first told me about the ACE Study and is an internationally recognized expert in trauma theory and co-creator of The Sanctuary Model; John Rich, a MacArthur Foundation "Genius Award" recipient for his work on trauma and violence in the lives of African American men; and Theodore Corbin, creator of Healing Hurt People, a trauma-informed hospital-based violence intervention program. Edna Foa and Steven Berkowitz, who have conducted groundbreaking research leading to effective treatments and preventive interventions for trauma-related disorders, are at the University of Pennsylvania. Nancy Kassam-Adams, an injury trauma researcher and current president of the International Society for Traumatic Stress Studies, and Joel Fein, co-director of the Philadelphia ACE Task Force, are affiliated with Children's Hospital of Philadelphia.
While academics are great for generating ideas, conducting research, and developing interventions that work, public sector champions are needed to translate what we know into what we do. Dr. Evans has been this city's champion ever since he was appointed behavioral health commissioner 10 years ago. With his team, Evans has spearheaded numerous trauma-focused initiatives, such as the Trauma Transformation Unit and others that I will discuss in a future post.
Government resources can only go so far. Competent and compassionate community partners are essential to the dissemination of trauma-informed practices. To name just a few: the Children's Crisis Treatment Center delivers trauma-focused services to children and families who have been exposed to trauma and toxic stress; Multiplying Connections offers tools and trainings to promote trauma-informed care; and the EMIR (Every Murder is Real) Healing Center provides support to the friends and families of homicide victims to help them heal from the trauma and loss.
The work that these people and organizations are doing to address trauma and toxic stress in Philadelphia will be the focus of another post. Meanwhile, check out the Philadelphia Group page of ACEsConnection.com—a networking site for people interested in trauma-informed practice. Registration is free, and there will be an online forum following up on Thursday's event starting at 9 a.m. Friday.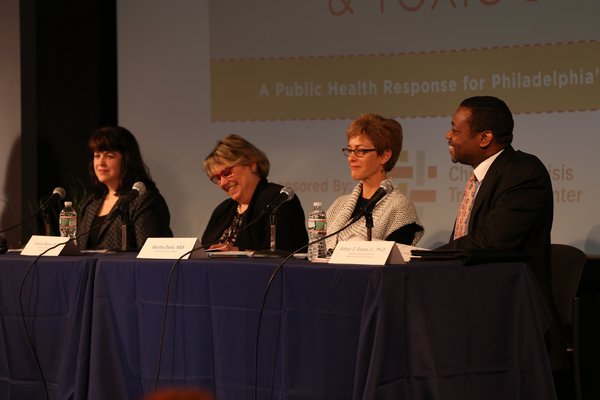 ---
Read more about The Public's Health.