Documenting tobacco's pervasive presence, in pictures and video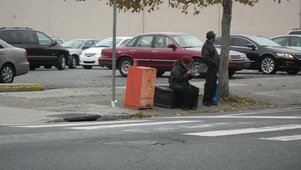 In a grass-roots approach to raising awareness, "photovoices" hopes to empower individuals through the taking and sharing of photographs on health issues as they see them.
Documenting tobacco's pervasive presence, in pictures and video

By Michael Yudell
One image shows placards outside a corner store. "I noticed right away that these cigarette ads were literally touching the ground," the photographer writes, "so the person most likely to see these … would be children."
The picture, by an unidentified 20-year-old African-American woman, is part of a new exhibit that looks at the impact of smoking on Philadelphians. It opened Thursday, in the lobby of Philadelphia's Criminal Justice Center, to coincide with the World Health Organization's "World No Tobacco Day."
With smoking rates still alarmingly high in Philadelphia — it has both the highest adult and youth smoking rates among the 10 largest cities in the United States — the city is looking for creative ways to draw attention to the perils of smoking. "Smoking is the single leading preventable cause of death in our city," said Health Commissioner Donald F. Schwarz.
While the city relied on still photos, the U.S. Surgeon General seeks to draw attention to the dangers of tobacco through videos. Kids and young adults from across the nation submitted homemade anti-tobacco videos for the "Tobacco: I'm Not Buying It" contest. The second-runner up in the age 13-17 category is Michael Margiotti, who says that smoking rates have reached an all-time high at his school in Moorestown, N.J.
"One third of young people who keep smoking will die prematurely," Michael says, looking straight into the camera. "It's Just Not Worth It."
The city's exhibit of still photos, sponsored by the Philadelphia Department of Public Health's Get Healthy Philly initiative, contains more than 30 images documenting the impact of tobacco sales, marketing, and use in the city's diverse communities. Though the photos are awkwardly placed on the walls at opposing ends of an oversized lobby, the images and accompanying commentary from the photographers are powerful, and remind viewers of the pedestrian ways tobacco infiltrates our lives.
One photo shows a woman lighting up while waiting for a bus. Smokers "don't realize the cumulative financial effect of it," the photographer writes. "Because if you spend $70 for a carton, say you smoke a carton a week, that's $300 a month. That's definitely a car payment."
A portion of the exhibit is posted online. It actually combines photos from two ongoing campaigns – SmokeFree Philly, about tobacco, and Food Fit Philly, on nutrition and physical activity. The photographers are city residents, given cameras to document tobacco and unhealthy food in their daily lives by a team of researchers led by the University of Pennsylvania's Carolyn Cannuscio.
This is a "photovoices" project — a grass-roots approach to raising awareness that hopes to empower individuals through the taking and sharing of photographs on particular issues. Quotes from each photographer help the viewer draw attention to issues of concern in our city's communities. Cannuscio's team members describe their broader work at VisualEPI.com.
Philadelphians may also be familiar with photovoice techniques through the Witnesses to Hunger project, led by Mariana Chilton at the Drexel University School of Public Health. Through research and advocacy, that project draws attention to "mothers and caregivers of young children who have experienced hunger and poverty."
The current exhibit is, of course, only a small part of the city's efforts to curtail smoking. A recent executive order declared all recreation centers, playgrounds, and pools 100 percent smoke-free. The Nutter administration says that illegal sales of cigarettes to minors are down 16 percent under its watch, and the health department has increased the use of the Quitline telephone counseling program (1-800-QUIT-NOW).
Let's not forget that World No Tobacco Day reminds us that high smoking rates persist, in part, because of what the World Health Organization describes as the "tobacco industry's brazen and increasingly aggressive attempts to undermine global tobacco control efforts." This year it is drawing attention to the ways in which the tobacco industry is trying (often successfully) to "undermine governments' efforts to protect public health," how the industry repeatedly exaggerates its economic impact while ignoring its health and environmental costs, and how tobacco companies continue to sow "the seeds of doubt on the scientific evidence about the harm caused by tobacco and second-hand smoke."
The simplest part of the industry's efforts — ads that are so commonplace they can seem like background noise — shows up time and again in the photos taken by city residents. You can see the full exhibit at the Criminal Justice Center, 1301 Filbert St., in Center City.
---
Read more about The Public's Health.