Smoking
Michael Yudell, Associate Professor, Drexel University School of Public Health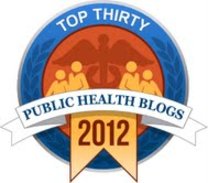 What interests you: Disease sleuthing? Global bioethics? Protecting the food supply? Protecting yourself when you travel?
A new ranking of the top 30 public health blogs places The Public's Health at No. 14. The complete list is below. Lots of interesting stuff.
And if you want to go beyond reading about public health, join us at 6 p.m. Friday for "Blogging and Beer: Public Health in Philadelphia." Also with us will be our editor at the Inquirer, public health writer Don Sapatkin, and some of our regular contributors. There is no cover charge for what we hope will be a lively discussion at Rembrandt's Restaurant in Fairmount, one of several health offerings at the Philadelphia Science Festival that we mentioned last week.

Best Public Health Blogs
Jon Kole
Jon Kole is in his fourth and final year of a combined MD and Masters of Medical Ethics program at the University of Pennsylvania.
By Jon Kole
What do Cleveland Clinic, the World Health Organization, and Geisinger Health System in central Pennsylvania have in common? They all reject new job applicants who use cigars, cigarettes or other tobacco products. And here in Philadelphia the University of Pennsylvania Health System recently announced that it too, effective July 1, "will cease hiring tobacco users in our efforts to improve the overall health of our workforce while reducing health care benefit costs."
Jonathan Purtle, Doctoral candidate in public health. Works at Drexel's Center for Nonviolence and Social Justice
By Jonathan Purtle
Earlier this month, Pennsylvania State Sen. Daylin Leach (D., Montgomery-Delaware) announced plans to introduce a bill that would legalize marijuana — not just for medical purposes, as New Jersey recently did, but also for recreational use. The substance would be regulated by the state in a way similar to alcohol and tobacco. As Leach describes on his website, the bill is founded on the idea that marijuana is no more harmful, and less addictive (this is debatable), than both these substances and that the financial costs of keeping marijuana illegal are enormous. Citing data from the White House Office of National Drug Control Policy, Leach points out that 24,685 marijuana arrests were made in Pennsylvania in 2006 — translating into $325 million in criminal justice costs.
Leach's proposal follows referendums in Colorado and Washington that recently gave those states the green light for recreational marijuana use. And while the Pennsylvania bill will likely go up in smoke — Gov. Corbett has vowed to veto the bill if it reaches his desk — it seems high time to explore the potential pros and cons of legalizing marijuana from a public health perspective.
Nan Feyler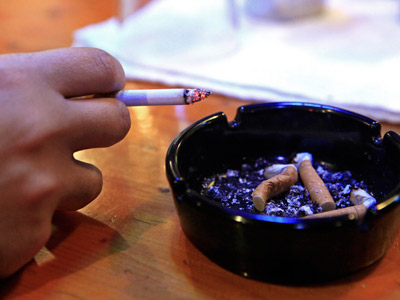 Nan Feyler is chief of staff for the Philadelphia Department of Public Health.
By Nan Feyler
Exposure to secondhand smoke is dangerous, especially to infants and children. Secondhand smoke can impact children's lung growth and pulmonary functions. It can cause sudden infant death syndrome (SIDS), respiratory illnesses, ear infections and more frequent and severe asthma attacks.
Alternatively, what kind of encouragement would help people voluntarily ban smoking on their own? Given the challenges of adopting a smoke-free home, is there value in supporting families who take a gradual, more incremental approach – starting small, say, by not smoking in front of children or establishing a single smoke-free room – as worthwhile steps on the path to going entirely smoke-free? Or does this confuse the message because only a total ban on secondhand smoke will protect children's health?
---
Jonathan Purtle, Doctoral candidate in public health. Works at Drexel's Center for Nonviolence and Social Justice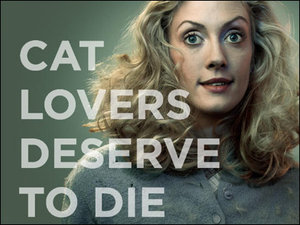 By Jonathan Purtle
There we stood in front of the bulletin board at the Old City coffee shop Fork:etc — perplexed, trying to decipher the meaning of the ad. Hipsters Deserve to Die, it said, over a picture of a young African American man wearing glasses and a scarf. My girlfriend works in marketing, I work in public health, and together we couldn't quite figure out the intention of the Lung Cancer Alliance's most recent social marketing campaign. The supplementary text — "lung cancer doesn't discriminate, neither should you" — wasn't particularly instructive. A visit to the organization's website provided some clarity.
The purpose of the No One Deserves to Die campaign is to "defeat the stigma and blame associated with lung cancer." The site makes that point that many people believe individuals with lung cancer did something (i.e., smoked cigarettes) to deserve their fate despite findings that a significant minority of people with lung cancer (the 2006 National Health Interview Survey puts it at 18 percent) have never smoked. An alliance fact sheet notes that lung cancer was the leading cause of cancer mortality in 2009 — responsible for 158,158 deaths, more than those caused by breast, prostate, and colon cancer combined. In terms of cancer incidence, or new cases, lung cancer was second to prostate cancer among men and second to breast cancer among women in 2008. Despite this, lung cancer is the focus of substantially less federal research than other cancers.
Michael Yudell, Associate Professor, Drexel University School of Public Health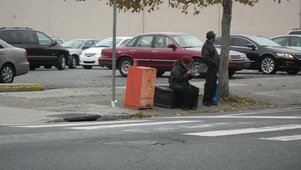 By Michael Yudell
One image shows placards outside a corner store. "I noticed right away that these cigarette ads were literally touching the ground," the photographer writes, "so the person most likely to see these … would be children."
The picture, by an unidentified 20-year-old African-American woman, is part of a new exhibit that looks at the impact of smoking on Philadelphians. It opened Thursday, in the lobby of Philadelphia's Criminal Justice Center, to coincide with the World Health Organization's "World No Tobacco Day."
Michael Yudell, Associate Professor, Drexel University School of Public Health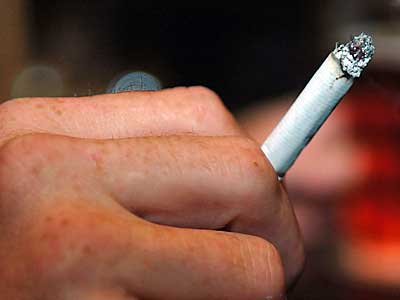 Yet another study confirms the obvious: public health works. Specifically, tobacco control-programs and policies are effective in reducing lung cancer-associated deaths. But there is a caveat: After years of steady declines in U.S. smoking rates, the numbers haven't moved much in nearly a decade. Now federal health officials are attempting to change that with a new, potentially disturbing campaign that will kick off in a few days.
Evidence showing the effectiveness of government-initiated policies and programs was published this week in the Journal of the National Cancer Institute. It cites factors such as "restrictions on smoking in public places, large increases in cigarette excise taxes, reduced access to cigarettes, and increased public awareness of the hazards of smoking" in preventing nearly 800,000 lung cancer deaths from 1975 to 2000.
According to the lead author, Suresh Moolgavkar of the Fred Hutchinson Cancer Research Center in Seattle, this study was "the first attempt to quantify the impact of changes in smoking behaviors on lung cancer mortality based on detailed reconstruction of cigarette smoking histories." The paper estimates that without the tobacco control programs and policies described above, 552,000 men and 342,000 women would have died from lung cancer during those 25 years.
Jonathan Purtle, Doctoral candidate in public health. Works at Drexel's Center for Nonviolence and Social Justice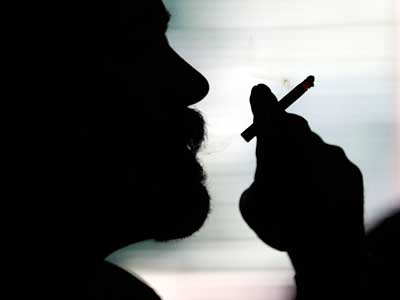 Geisinger Health, the major health care system of central and northeastern Pennsylvania, recently joined Abington Memorial Hospital, the World Health Organization and other tobacco-conscience health care organizations by announcing that it will screen prospective employees for nicotine before hiring—those whose urine tests positive for nicotine will not be hired. Along with smoke-free air policies, cigarette taxes, and graphic warning labels, pre-employment nicotine screenings are yet another arrow in the public health quiver of efforts aimed at getting people not to smoke.
Given that we're so serious about cracking down on smoking, one might wonder if we should consider a more efficient approach—one that completely stops people from smoking in the first place. This is the goal of NicVAX—a conjugate vaccine being developed to prevent and treat nicotine addiction.
According to Nabi Biopharmaceuticals, the company developing NicVAX with aid from a $4.1 million National Institute on Drug Abuse grant, the vaccine is intended to work by getting the body's immune system to produce antibodies, which bind to molecules of nicotine in the blood stream, which in turn block the nicotine reaching the brain and prevent the release of feel-good chemicals, like dopamine, which make cigarettes addictive. If it works as intended, NicVAX will prevent smoking and help people quit by making the experience less pleasurable—not an outright adverse experience as Antabuse (Disulfiram) does with alcohol.