Kids
Michael Yudell, Associate Professor, Drexel University School of Public Health
Despite slowly declining teen birth rates in the United States, more than 367,000 young women and girls ages 15-19 had babies in 2010, according to a recent vital statistics report from the Centers for Disease Control and Prevention. This number accounted for almost 10% of all births that year. Making matters worse, nearly 1 in 5 of those teen births was a repeat birth, meaning it was at least the second time that teen mother had had a baby. Most of those repeat births were for a second child, but over 12% of them were for births of a third child or more.
Teenagers having babies can have negative consequences for mother and child alike. According to a study by E. Ruedinger and J.E. Cox at Children's Hospital in Boston and Harvard Medical School, outcomes for both are worsened by the social and economic factors affecting the women independently of their status as teen mothers.
Having a child can limit a teenage mom's ability to attend school or get a job. Teenage mothers also experience high rates of depression, substance abuse, and higher levels of intimate partner violence. They also, compared to their peers, have higher rates of poverty.
Nan Feyler
In the wake of the New York State Supreme Court striking down New York City's ban on sodas larger than 16 ounces, a surprising op-ed appeared in the New York Times. The essay encouraged New York City, despite the ruling, not to give up trying to limit the aggressive marketing tactics of big food companies and the soda industry. The surprise, however, was not the sentiment – after all, many public health leaders applaud Mayor Bloomberg's latest effort to address obesity by regulating sales of super-sized sodas.
The op-ed, it turns out, was written by a former food industry insider, Kraft Foods executive Michael Mudd. Mudd had left the industry when he could no longer accept, as he called it, "a business model that put profits over public health." Mudd argues that it is big food processors and soft drink companies who are the most culpable for the growth in obesity. "Over the years, relentless efforts were made to increase the number of eating occasions people indulged in and the amount of food they consumed at each. Even as awareness grew of the health consequences of obesity, the industry continued to emphasize cheap and often unhealthful ingredients that maximized taste, shelf life and profits," he wrote.
Selling food and beverages to kids is big business. According to a recent Federal Trade Commission report, the food and beverage industry, including fast food restaurants, spent 1.79 billion dollars in 2009 to sell products mostly low in nutrition and high in calories, sugars, salt and fats to America's children. Seventy-two percent of this was spent on fast food restaurants, carbonated beverages and breakfast cereals.
Bette Begleiter and Mazvita Nyamukapa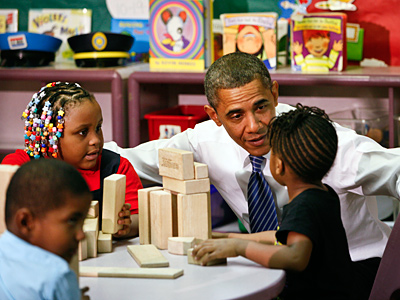 In his 2013 State of the Union Address, President Obama emphasized the need to give our kids a chance by making high quality-preschool available to every child . His message echoed that of Former President Lyndon B. Johnson, who in his 1964 State of the Union address resolved to begin the War on Poverty and from this birthed the Office of Head Start. From a public health perspective, resolving to invest in our future by increasing access to early childhood education for all children, is a good thing supported by both data and our values as a society.
Sadly, however, hopes for universal pre-school have been dashed for the moment.
Sequestration, the budget-slashing result of both parties' failure to reach a more palatable deficit-cutting compromise, has led to 5% funding cuts for all current Head Start programs, not to mention the President's proposed expansion. This particular sequestration cut translates to the projected loss of $11.6 million in Head Start funding from Pennsylvania's economy and more than 200 Head Start-related jobs. Worst of all, up to 2,300 commonwealth children will lose access to Head Start and Early Head Start services. New Jersey will be cut by $7.6 millionand a loss of access for 1,300 children (nationwide, Head Start will cover 70,000 fewer children).
Jonathan Purtle, Doctoral candidate in public health. Works at Drexel's Center for Nonviolence and Social Justice
By Jonathan Purtle
What does the United States have in common with South Sudan and Somalia? Not much, except for being the only other United Nations member state that has not ratified the Convention on the Rights of the Child (CRC).
Entered into force in 1990, the CRC is a human rights document that guarantees a set of civil, political, economic, social, health, and cultural rights to children. Some specific rights include not being subjected to abuse, having guaranteed access to health care and quality education, and enjoying the freedom to access information, express one's thoughts, and establish an identity. The United States was instrumental in helping draft the treaty during Ronald Reagan's presidency and signed it in 1995 (a purely symbolic act), but the Senate has yet to ratify it. The CRC is a legally binding document. If the United States were to ratify it, the federal government would need to ensure that the rights enumerated in the treaty were satisfied for all children in the U.S., or face sanctions from the United Nations.
Erin Cusack and Bette Begleiter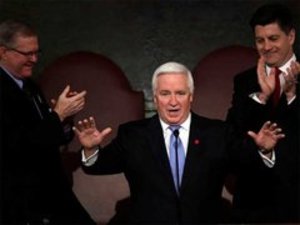 On Monday, Ohio Gov. John Kasich, a conservative Republican, said "yes" to his state receiving billions of federal dollars to increase health-care coverage through Medicaid expansion. The following day, Republican Gov. Tom Corbett, in an unsurprising but still disappointing turn of events, announced he was "not recommending" that Pennsylvania accept this money at this time – a statement that could leave hundreds of thousands of uninsured families out in the cold.
Since 2010, the public debate on health reform – plagued by myths, political ideology, and not a few unfounded claims – has devolved from a conversation about solving the problem of the uninsured, to a game of partisan bickering and infighting. Now, with election season behind us and the implementation of most important provisions of the Affordable Care Act (ACA) less than a year away, Pennsylvania faces the largest public policy decision regarding Medicaid in decades, as does New Jersey: Should the state expand Medicaid and health coverage as part of landmark health care reform?
In 1965, when President Lyndon B. Johnson amended the Social Security Act to enact Medicaid, the federal government promised an unprecedented state-federal partnership that would provide health insurance to millions of uninsured Americans. Although all 50 states would eventually join the program by 1982, only six would set the precedent by joining Medicaid in its inaugural year. Pennsylvania was one of them. As a result, thousands of uninsured Pennsylvanians had access to life-saving health care for the first time.
Jonathan Purtle, Doctoral candidate in public health. Works at Drexel's Center for Nonviolence and Social Justice
By Jonathan Purtle
Last Friday, the United States Department of Agriculture (USDA) announced new standards to regulate the nutritional content of food sold in schools. The standards come in response to a bipartisan request from Congress for something to be done about childhood obesity in the U.S.— an issue of public health priority, and national security, which has been getting worse for the past 30 years. In 1980, about six percent of the nation's school-aged children were obese. In 2010, 18 percent were obese (an additional 15 percent were overweight, so fully one-third were carrying around too many pounds for their height).
Why might school food environments be a place to intervene? As noted in an issue brief recently published by the Robert Wood Johnson Foundation, food consumed at school accounts for between 35 and 50 percent of a kid's diet. About 40 percent of students buy, and eat, at least one snack at a school daily; 68 percent purchase and guzzle at least one sugary drink.
Michael Yudell, Associate Professor, Drexel University School of Public Health
By Michael Yudell
President Obama's speech and executive orders were an important step forward to address gun violence. The president affirmed both his support for the Second Amendment and his commitment to quickly reduce gun violence in the wake of the national tragedies in Newtown, Aurora, Oak Creek, and Tucson.
As we've written here before, gun violence is a public health problem, and the president's proposal — ban assault weapons and high capacity magazines, improve mental health services, close background check loopholes, and make schools safer — treats it as such.
Jonathan Purtle, Doctoral candidate in public health. Works at Drexel's Center for Nonviolence and Social Justice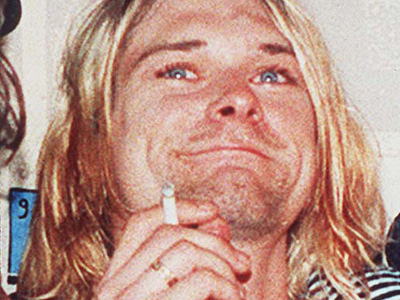 By Jonathan Purtle
In a box in my basement — amongst a broken TI-83 calculator, Discman, and other college-era artifacts — is a poster entitled "Forever 27." Once ubiquitous in dorm rooms, the poster depicts Jimi Hendrix, Janice Joplin, Jim Morrison, and Kurt Cobain in a Daliesque purgatory at the age when all of them died after bouts with substance abuse: 27 years old. In addition to being a tribute to rock legends, the poster embodies the popular belief that fame and fortune lead to excess consumption, which occasionally leads to an early, but glamorous, demise.
While there is probably some truth to this logic, a study published last month in the open-access medical journal BMJ Open suggests that something far earlier in their lives — exposures to extreme stress during critical periods of childhood development — may be behind a substantial portion of rock stars' premature mortality.

These kinds of stressors are known to trauma researchers as ACEs. The name comes from the Adverse Childhood Experiences study, a large research project started in the 1990s that discovered a strong, graded relationship between childhood trauma and stress and the leading causes of adult death in the United States. The research spawned many other studies, and we have written about several on this blog. The original research designated each type of trauma or stressor — growing up with an alcoholic parent, for example, or being physically abused or neglected — as an ACE. Among the ACE study's findings, adults who'd experienced one ACE as children were twice as likely to have become addicted to illicit drugs at some point in their lives than people who'd experienced zero ACEs. Those with three ACEs were over three times as likely; a person with five or more ACEs was nearly eight times as likely to have become addicted. A similar relationship was identified between ACEs and alcohol abuse.