Jonathan Purtle
Jonathan Purtle, Doctoral candidate in public health. Works at Drexel's Center for Nonviolence and Social Justice
According to an online test developed by Harvard psychologists, I have a moderate preference toward white people.
I—a liberal white male who deeply cares about racial equity—was quicker to assign positive words (e.g., joy, love, peace) to faces of white people and negative words (e.g., awful, failure, hurt) to faces of African Americans. I feel shock, shame, and disgust. The fact that 27 percent of the 732,881 people who took the test had the same result, while another 27 percent had a "strong preference" toward white people, provides some consolation but not much.
Welcome to the world of implicit bias research—an emerging field that is illuminating how real and pervasive discrimination is. The gist of implicit bias is this: we have opinions that lie beneath our consciousness, beyond our control, and that influence our decision-making process. We (inaccurately) ascribe traits to an individual on the basis of the social group we associate them with. Our decisions are often biased because they are based on these implicit associations, not evidence.
Jonathan Purtle, Doctoral candidate in public health. Works at Drexel's Center for Nonviolence and Social Justice
I just got back from 10 days in France. Like John Travolta in Pulp Fiction, I was struck by all the little differences in Europe—how the toilets work, the way roads are designed, and the size of a meal. Wherever I went, the portion sizes seemed much smaller than what I was accustomed to in Philadelphia.
While visiting the École des Hautes Études En Santé (French School of Public Health) in the city of Rennes, I actually met a researcher who had empirically investigated my observation—he had walked around Philadelphia and gone to restaurants, not to eat, but to weigh the content of the food he was served. His efforts contributed to an interesting study, published a decade ago in the journal Psychological Science, which explored whether portion sizes are indeed larger in Philly than in Paris.
First, the researchers compared the weight of identical meals (e.g., pizza, chicken sandwich) at comparable restaurants in the two cities. On average, they found that portions were 25 percent larger in Philadelphia than in Paris. (Their data suggest that the Royale with Cheese in Paris was actually the same size as a Quarter Pounder in Philly, but a "medium" fries was 72 percent bigger).
Michael Yudell, Associate Professor, Drexel University School of Public Health
In just a few weeks, the City of Brotherly Love will welcome the third annual Philadelphia Science Festival — a 10-day-long, citywide celebration of science that features lectures, debates, hands-on activities, special exhibits, and a host of other science-related programming coming to a museum, bar, or random space near you.
We here at The Public's Health will be participating in two events this year. On Friday, April 19 at 6 p.m. we will be hosting a discussion called Blogging and Beer: Public Health in Philadelphia. Our editor at the Inquirer, Don Sapatkin, will be joining us, as will some of our regular contributors. We expect to have a lively conversation at Rembrandt's Restaurant in Fairmount. If you want to participate and enjoy good food and drink, please come! There is no cover charge.
On Thursday, April 25 at 7 p.m. I will also be participating in a wacky evening that is appropriately titled Sounds Made Up: Tales from the History of Science. It brings historians and comedians together at The Chemical Heritage Foundation at the edge of Old City to dramatize, in the silliest way possible, absurdities from the histories of science, medicine and public health. Last year's rather risque event — the video above is from the year before — saw discussions of a medieval women birthing a cat, zombies, the history of the banana, and a discussion of Alfred Kinsey's toothbrush.
Jonathan Purtle, Doctoral candidate in public health. Works at Drexel's Center for Nonviolence and Social Justice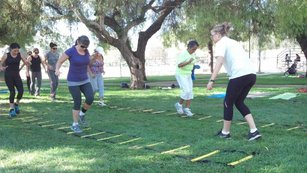 What gets people out and exercising in the park? Is it the characteristics of the community that surrounds the park, such as the presence or absence of crime and blight? Or is it the organized activities, such as the presence or absence of a Zumba class taught on Thursday nights by a local resident in neon tights?
The results of a study this month in the journal Public Health by researchers from RAND Corporation, University of Pennsylvania, and other academic institutions suggest that the latter might be more important. The study surveyed 24 parks in four cities, including six in Philadelphia, as well as 7,000 people who use and/or live near them.
Compared to the parks in other cities, those in Philadelphia stood out in a number of ways. While the neighborhoods surrounding the Philly parks were most impoverished—28.5% of households within a half-mile were below the federal poverty line —all six parks were staffed by a full time employee, more than the parks in other cities. Parks in Philadelphia also appeared to be more of a hub for community life. Seventy-nine percent of park goers in Philly reported meeting people they knew at the park, in contrast to 60 percent in Chapel Hill, N.C., 42 percent in Columbus, Ohio, and 39 percent in Albuquerque, N.M.
Jonathan Purtle, Doctoral candidate in public health. Works at Drexel's Center for Nonviolence and Social Justice
By Jonathan Purtle
What does the United States have in common with South Sudan and Somalia? Not much, except for being the only other United Nations member state that has not ratified the Convention on the Rights of the Child (CRC).
Entered into force in 1990, the CRC is a human rights document that guarantees a set of civil, political, economic, social, health, and cultural rights to children. Some specific rights include not being subjected to abuse, having guaranteed access to health care and quality education, and enjoying the freedom to access information, express one's thoughts, and establish an identity. The United States was instrumental in helping draft the treaty during Ronald Reagan's presidency and signed it in 1995 (a purely symbolic act), but the Senate has yet to ratify it. The CRC is a legally binding document. If the United States were to ratify it, the federal government would need to ensure that the rights enumerated in the treaty were satisfied for all children in the U.S., or face sanctions from the United Nations.
Jonathan Purtle, Doctoral candidate in public health. Works at Drexel's Center for Nonviolence and Social Justice
By Jonathan Purtle
Injuries are the leading cause of death among people age 44 and younger in the United States. The Centers for Disease Control and Prevention's (CDC) Center for Injury Prevention and Control is the federal entity charged with reducing this burden. Visit the Center's website and you'll find guidance on how to prevent pretty much every type of injury imaginable—such as those resulting from motor vehicle accidents, dog bites, fireworks, and playgrounds just to name a few.
When it comes to preventing injuries caused by nail guns, which are responsible for an estimated 37,000 emergency department visits annually, the CDC is "Nailing Down the Need for Nail Gun Safety." But when it comes to real guns, which were responsible for an estimated 73,883 injuries and 31,672 deaths in 2012, you won't find a bullet of guidance about preventing firearm-related injuries on the CDC website. Seem strange?
Jonathan Purtle, Doctoral candidate in public health. Works at Drexel's Center for Nonviolence and Social Justice
By Jonathan Purtle
Last Friday, the United States Department of Agriculture (USDA) announced new standards to regulate the nutritional content of food sold in schools. The standards come in response to a bipartisan request from Congress for something to be done about childhood obesity in the U.S.— an issue of public health priority, and national security, which has been getting worse for the past 30 years. In 1980, about six percent of the nation's school-aged children were obese. In 2010, 18 percent were obese (an additional 15 percent were overweight, so fully one-third were carrying around too many pounds for their height).
Why might school food environments be a place to intervene? As noted in an issue brief recently published by the Robert Wood Johnson Foundation, food consumed at school accounts for between 35 and 50 percent of a kid's diet. About 40 percent of students buy, and eat, at least one snack at a school daily; 68 percent purchase and guzzle at least one sugary drink.
Jonathan Purtle, Doctoral candidate in public health. Works at Drexel's Center for Nonviolence and Social Justice
By Jonathan Purtle
Earlier this month, Pennsylvania State Sen. Daylin Leach (D., Montgomery-Delaware) announced plans to introduce a bill that would legalize marijuana — not just for medical purposes, as New Jersey recently did, but also for recreational use. The substance would be regulated by the state in a way similar to alcohol and tobacco. As Leach describes on his website, the bill is founded on the idea that marijuana is no more harmful, and less addictive (this is debatable), than both these substances and that the financial costs of keeping marijuana illegal are enormous. Citing data from the White House Office of National Drug Control Policy, Leach points out that 24,685 marijuana arrests were made in Pennsylvania in 2006 — translating into $325 million in criminal justice costs.
Leach's proposal follows referendums in Colorado and Washington that recently gave those states the green light for recreational marijuana use. And while the Pennsylvania bill will likely go up in smoke — Gov. Corbett has vowed to veto the bill if it reaches his desk — it seems high time to explore the potential pros and cons of legalizing marijuana from a public health perspective.