Janet Golden and Michael Yudell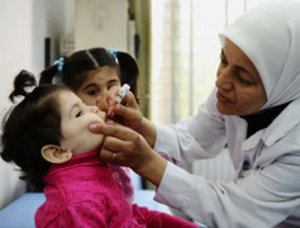 The outbreak of polio in the Syrian Arab Republic announced by the World Health Organization a few weeks ago is a troubling reminder that global conflicts threaten the public's health. Violence, like the 2-1/2-year-old civil war in Syria, can lead to significant disruption and/or long term damage to the public health infrastructure, including basic sanitation efforts, maintenance of a safe water supply, basic nutritional needs, and disease monitoring and prevention.
Because of the Global Polio Eradication Initiative, this latest outbreak is especially troubling. But it should not be surprising. The displacement of so many Syrians fleeing the fighting has devastated the county's once robust public health infrastructure and stymied immunization efforts. Syria had been polio-free for a decade. Ten polio cases, with many more likely to be reported, are now confirmed.
Polio, technically known as poliomyelitis, is a viral disease that can lead to full or partial paralysis, and sometimes death. The United States experienced periodic local polio epidemics until the development of the Salk and Sabin vaccines, introduced in 1955 and 1963 respectively. Before the vaccines were introduced, tens of thousands of Americans contracted the virus, which could leave them either partially or completely paralyzed. Dr. Jonah Salk's birthday, Oct. 24, is now celebrated as World Polio Day.
Gerald Markowitz and David Rosner, authors of "Lead Wars: The Politics of Science and the Fate of America's Children"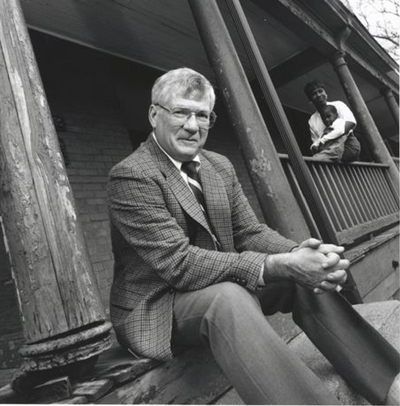 For much of the 20th century, America was plagued by a terrible lead poisoning epidemic that sent children into comas, convulsions, and even death. Lead paint covered the walls of homes throughout the nation, especially in the old, industrial cities, and poisoned hundreds of thousands of children. Philadelphia, it turns out, was the birthplace of a revolution in thinking about the impact of lead on children's development.
In the 1960s, as Civil Rights organizations, community groups and political activists turned the country's attention to poverty, lead poisoning became a symbol of the terrible price that children paid for absentee landlords who crowded families into poorly maintained and crumbling tenements.
But as health departments began assessing and addressing the worst conditions, they uncovered ever-more troubling facts. Huge numbers of children had blood lead levels above 40 micrograms per deciliter (µg/dL), then the amount that was considered dangerous in children, but did not show overt clinical symptoms.(Today, blood-lead levels above 5 µg/dL are considered the "reference level" above which the Centers for Disease Control and Prevention recommends action be taken.)
Michael Yudell, Associate Professor, Drexel University School of Public Health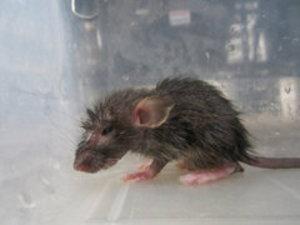 Just when you thought our food supply was safe again.
In the wake of the government shutdown that suspended many of the essential protective services of the Food and Drug Administration and the U.S. Department of Agriculture (we wrote about this a few weeks back), an FDA report – released, appropriately, on Mischief Night – finds that the spices we season our foods with can be tainted with pathogens and filth.
A spicy meal, anyone?
Jonathan Purtle, Doctoral candidate in public health. Works at Drexel's Center for Nonviolence and Social Justice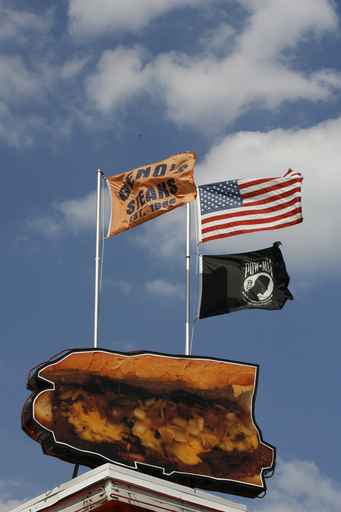 "Tempeh Whiz wit'!" "Vegan cheesesteak!'' Will these words soon be part of the cacophony of sizzling onion and clanking steel that echoes between Pat's and Geno's? Probably not, but recent activity in Philadelphia's City Council indicates that this may not be as far off as you might imagine.
Well, OK, it's pretty far off. But it has reached the highest levels of government. Earlier this month, the City Council of Philadelphia unanimously approved a resolution in support of "Meatless Mondays." The resolution, which is completely symbolic and includes no regulatory measures or spending, encourages residents and businesses across the City to curb carnivorous consumption on the first day of the work week. Simply put, the resolution is an attempt to raise awareness about healthy diet—a good thing from a public health perspective.
Councilman Bill Green (D-at large) was quoted in a press release from The Humane League stating: "I am happy to bring attention to this important issue. We can combat the epidemic of obesity, improve long-term health outcomes and potentially reduce the impact of livestock on global warming though this one, simple effort. And we can make our moms happy by eating our veggies and trying new things – a win-win-win!"
Teagan Keating, an MPH student at Drexel University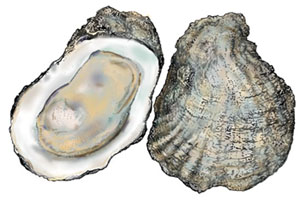 With a squeeze of lemon and a dash of hot sauce, raw oysters are a winter delicacy. Unfortunately, a recent letter in the New England Journal of Medicine warns, strains of Vibrio parahaemolyticus are contaminating some of them harvested from parts of the Atlantic Ocean.
What is Vibrio parahaemolyticus?
Vibrio is a group of bacteria that cause a variety of digestive issues. Other types of Vibrio cause severe illnesses such as cholera or blood infection. The bacteria noted in the letter, Vibrio parahaemolyticus, causes comparatively milder symptoms: diarrhea, vomiting, abdominal cramping, nausea, fever, and chills. Oysters and other shellfish become contaminated because V. parahaemolyticus naturally occurs in the waters where they live. These shellfish are the usual cause of the illness. Vibriosis can be especially dangerous for people with weakened immune systems but is rarely fatal for healthy people. The symptoms usually go away on their own within three days. (People taking antacids are more susceptible because stomach acid can help destroy bacteria, and antacids weaken the stomach acid.) The Centers for Disease Control and Prevention estimates there are around 4,500 cases of vibriosis caused by the species parahaemolyticus each year.
Janet Golden, professor of history, Rutgers University-Camden
The recent government shutdown brought a halt to most of the work of two agencies overseeing food safety. (Meat and poultry inspection continued under the auspices of the U.S. Department of Agriculture). The Food and Drug Administration (FDA), part of the Department of Health and Human Services, is responsible for protecting the public health by assuring the safety, effectiveness, quality, and security of human and veterinary drugs, vaccines and other biological products, medical devices, most of our nation's food supply, all cosmetics, dietary supplements, and products that give off radiation and for regulating tobacco products. Outbreaks of food-borne illness are monitored by the Centers for Disease Control and Prevention (CDC). This is a critical public health task. As the CDC notes, in 2012, it monitored between 16 and 57 potential food poisoning clusters each week (emphasis mine).
While critics often rail about big government regulation, the fact is that laws providing for the safety of our food, drugs, cosmetics and medical devices resulted from public uproar following exposes and tragedies. Over the past century, Americans have demanded more regulation, not less. And the result has been to make us safer and healthier.
Government oversight of our food, drugs, cosmetics and medical devices came as the result of public insistence on cleanliness, safety, and honest labeling. Muckraking journalists, public health advocates and progressive women's organizations together helped to secure passage of 1906 Pure Food and Drug Act that was signed into law by President Theodore Roosevelt. Many credit Upton Sinclair's horrifyingly graphic novel about the stockyards, The Jungle, published in 1906, for prompting public outrage that persuaded lawmakers to take action. As a result of this law, meat inspection began, the manufacture, transport and sale of adulterated food products and poisonous patent medicines was forbidden, and habit-forming drugs (among them cocaine and heroin) were required to have accurate labeling.
Michael Yudell, Associate Professor, Drexel University School of Public Health
"Against the assault of laughter," Mark Twain once wrote, "nothing can stand." Not even a bad divorce is safe from that assault, as you'll quickly learn if you go see the new film A.C.O.D. (Adult Children of Divorce), opening this weekend in Philadelphia.
As your resident public health expert I could tell you that you should head to the Ritz at the Bourse because laughter is the best medicine. After all, laughter has been shown to relieve stress and pain, improve your mood, and even induce changes in your immune system. I could also tell you that if you are looking for new ways to burn calories, look no further than a good, sustained, hearty laugh—one study suggests 10-15 minutes of laughter a day might be all you need.
I could go on with the public health explanations of why you should see this insightful, funny, and bittersweet film about how adult children cope (or don't) with their parents' divorce. But let's turn instead to A.C.O.D.'s director, Stu Zicherman (full disclosure, Stu is an old friend), who offers up advice about suffering from and laughing at being an A.C.O.D.
By Teagan Keating, an MPH student at Drexel University
A few years ago, traveling in Jerusalem, I picked up a terrible souvenir: the flu. Rather than visiting important landmarks, I went sightseeing in the hospital emergency room. An important lesson came from that trip: always get a flu shot.
Influenza, more commonly known as the flu, seems like normal inconvenience to most healthy adults but it can be deadly. If you are infected and cough or sneeze, you can spread the flu to anyone within six feet. Once contagious, you will likely pass the virus to one or two other people. This is important because very young children, pregnant women, elderly adults, and anyone with a chronic illness such as asthma (nearly 10 percent of the population), heart disease, or kidney disorders, among others, are at a higher risk of serious complications. Roughly 5-20% of the U.S. population will get the flu in any one year, and well over 100,000 of them will end up in the hospital. Between 3,000 and 49,000 Americans, most of them elderly, die from flu-related causes every year, depending on the severity of the season.
There are a few differences between the flu and a run of the mill cold. The flu tends to strike suddenly, while a cold's symptoms progress day by day. Telltale signs of the flu can include fever, headaches, fatigue and muscle aches, and chills. These are generally more severe than with a cold, and a cold is more likely to come with a runny nose. A cold is annoying—the flu makes you miserable.