Janet Golden, professor of history, Rutgers University-Camden
With Sunday's World AIDS Day, behind us, today is as good a day as any to think about the future and to embrace the World Bank's "Development Goal 6": "to halt by 2015 and begin to reverse the spread of HIV and AIDS, through prevention, care, treatment and mitigation services for those affected by HIV and AIDS."
Here in the United States, the Centers for Disease Control and Prevention (CDC) website Act Against AIDS has fact sheets and testing information available, as well as a reminder that over one million people in the United States are living with HIV. While there is no cure for HIV/AIDS there are drugs available to control the virus, and President Obama on Monday announced the $100 million funding of a new National Institutes of Health initiative to discover next-generation therapies. That's the good news. The bad news is from the Morbidity and Mortality Weekly Report, the weekly epidemiological digest published by the CDC. It finds that rates of unprotected sex by men having sex with men have increased between 2005 and 2011.
There's a public health solution for that: harm reduction, a strategy that seeks to reduce the harm from a hard-to-stop behavior, most typically drug use, rather than stopping the behavior itself. reduction. The CDC report makes clear the steps that are needed: "Health-care providers and public health officials should work to ensure that 1) sexually active, HIV-negative MSM (men having sex with men) are tested for HIV at least annually (providers may recommend more frequent testing, for example every 3–6 months); 2) HIV-negative MSM who engage in unprotected sex receive risk-reduction interventions; and 3) HIV-positive MSM receive HIV care, treatment, and prevention services."
Jonathan Purtle, Doctoral candidate in public health. Works at Drexel's Center for Nonviolence and Social Justice
I brought this picture of a triangle to Thanksgiving this year. It helped me explain what public health is to distant relatives who don't understand what I'm going to school for. I struggle to articulate it every year, so this time I relied on the aid of a diagram developed by a seasoned professional: Dr. Thomas Frieden, director of the U.S. Centers for Disease Control and Prevention.
The triangle is actually a pyramid. It's called The Health Impact Pyramid. The pyramid is hierarchical and has five tiers. The most impactful types of public health interventions are at the bottom, the least impactful are at the top. Accompany me on a descent down the pyramid, similar to what I served to relatives on Thanksgiving.
At the tip of the pyramid are educational interventions. These are generally the most common, but least effective, types of public health interventions. Examples of note include: D.A.R.E., graphic cigarette warning labels (if they were allowed), calorie counts on menus, and the other, more famous, three dimensional triangle in public health—the food pyramid. Educational interventions are based on the idea that people will do healthy things if they know what's good for them and what's not. While these interventions work for some people, they don't for most in the absence of supporting environmental changes. Even if little Johnny learns that exercise is good for him, he's unlikely to run and play if the park is ridden with broken glass and scary people selling drugs. Video games will probably remain a safer, but more sedentary, activity.
Michael Yudell, Associate Professor, Drexel University School of Public Health
If you haven't heard the story of the BatKid by now, you must be hiding in the deepest recesses of Gotham. The BatKid, whose real identity was revealed as five-year-old Miles from Northern California (now in remission after a life and death battle against leukemia), made a Make-A-Wish Foundation wish to fight crime for a day as BatKid. Miles roused the spirit of San Francisco last week (helped along by an enormous social media campaign) as thousands of residents lined city streets and gathered at City Hall to show their support for the pint-sized caped crusader.
What made this event so inspiring was how the community came together in a shared desire to grant this young boy's wish. The Mayor of San Francisco Edwin Lee gave Miles a key to the city made of chocolate after his day of fighting crime; the city had staged events so that BatKid could save a "damsel in distress" and capture the Riddler and the Penguin. Even the San Francisco Chronicle got into the spirit, printing a special edition front page proclaiming "BatKid Saves the City."
Much like San Franciscans, Philadelphians are also filled with civic pride, and find ways to support each other through good times and bad. We are, after all, the City of Brotherly Love. Witness the annual Martin Luther King Day of Service events that draw tens of thousands of people from across the region to volunteer their time to help many in need in our communities.
By Bette Begleiter and Mazvita Nyamukapa, Maternity Care Coalition
Many of us have suffered through the flu without tragic consequences. But it is important to remember that the virus can have catastrophic complications that can result in death - especially among vulnerable populations such as pregnant women, babies, young children, the elderly, immune-compromised individuals and those with respiratory, cardiac or neurological conditions. Since 1976, flu related deaths in the U.S. have ranged between 3,000- 49,000 depending on the type of flu that is common during a particular flu season (Flu Deaths).
Pregnant women are a particularly vulnerable population due to physiological changes that occur during pregnancy. For example, immune-suppression leaves women vulnerable to the flu and its complications. Cardiovascular and respiratory changes may also increase a pregnant woman's susceptibility to flu.
Flu shots for pregnant women, which are safe to receive during pregnancy, not only reduce the risk of complications in the woman but also for the unborn child; antibodies the mother produces in response to the vaccine can be passed on to the child after birth and before six months when babies are too young to receive the flu vaccine. This also means that any other caregivers that babies come in contact with need to be vaccinated to ensure that they are not exposed to the flu virus.
Jonathan Purtle, Doctoral candidate in public health. Works at Drexel's Center for Nonviolence and Social Justice
Last week, the International Society for Traumatic Stress Studies had its annual meeting in Philadelphia. I was there, and discussions abound about "Criterion A." Contrary to what its name might suggest, Criterion A is not a vitamin, nor is it a short-course bicycle race. Criterion A defines the types of experiences that are considered traumatic enough to cause post-traumatic stress disorder (PTSD) according to the Diagnostic and Statistical Manual of Mental Disorders (DSM). Criterion A has long been a point of contention, in part because it has significant bearing on who receives a PTSD diagnosis and is eligible for evidence-based treatments covered by insurance.
There are special rules when it comes to PTSD. As opposed to most other disorders in the DSM, for which diagnoses are based on symptoms alone, PTSD requires that a person be exposed to a "potentially traumatic event" and then develop specific symptoms. Criterion A defines what counts as: 1) a potentially traumatic event, and 2) a level of exposure sufficient to cause PTSD. Last May, Criterion A was changed with along with other modifications to the PTSD diagnosis in the new DSM 5.
What are considered potentially traumatic events in the DSM 5? A potentially traumatic event is one that involves "death, threatened death, actual or threatened serious injury, or actual or threatened sexual violence." As with the previous version of the DSM(4), a serious car accident is considered a potentially traumatic event, getting laid off, while highly stressful, is not. The definition of a potentially traumatic event in the DSM 5 is quite similar to that in the DSM 4, but differs in that sexual violence is explicitly named instead of being lumped together with other threats to "physical integrity." This change can be interpreted as a small milestone in breaking the silence about sexual violence and its consequences. Depending upon the circumstances of the event, 30%-80% of sexual assault survivors develop PTSD—a rape takes place about every six minutes in the United States.
Janet Golden, professor of history at Rutgers University-Camden
The devastation in the Philippines following Typhoon Haiyan is enormous. Over 10,000 are dead. Survivors are without water, food, and shelter. Disease outbreaks have begun. International relief efforts are hampered by continuing storms and by devastating conditions. UNICEF estimates that up to 4 million children may be affected by this disaster. UNICEF along with governments and charities around the world have begun relief efforts to which you can donate. We all need to step up and help.
As we pause to consider the enormous destruction and horrific loss of life overseas we are reminded that we need to prepare for such events closer to home. It was just about a year ago that Superstorm Sandy hit our shores. We remember the damage and loss of life following Hurricane Katrina a few years ago. And this is not the first time we have watched from afar disasters overseas. We recall the Haitian earthquake that took 85,000 lives and the 2004 tsunami deaths that took nearly 230,000 lives and displaced nearly 1.5 million.
On November 1, President Obama signed an Executive Order "Preparing the United States for the Impacts of Climate Change," following the recommendation of the Intragency Climate Change Adaptation Task Force. Federal, state, and local governments must be prepared for disasters and severe weather emergencies and they need plans that can be implemented quickly and knowledgably.
Janet Golden and Michael Yudell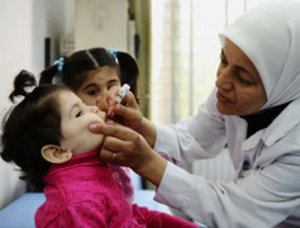 The outbreak of polio in the Syrian Arab Republic announced by the World Health Organization a few weeks ago is a troubling reminder that global conflicts threaten the public's health. Violence, like the 2-1/2-year-old civil war in Syria, can lead to significant disruption and/or long term damage to the public health infrastructure, including basic sanitation efforts, maintenance of a safe water supply, basic nutritional needs, and disease monitoring and prevention.
Because of the Global Polio Eradication Initiative, this latest outbreak is especially troubling. But it should not be surprising. The displacement of so many Syrians fleeing the fighting has devastated the county's once robust public health infrastructure and stymied immunization efforts. Syria had been polio-free for a decade. Ten polio cases, with many more likely to be reported, are now confirmed.
Polio, technically known as poliomyelitis, is a viral disease that can lead to full or partial paralysis, and sometimes death. The United States experienced periodic local polio epidemics until the development of the Salk and Sabin vaccines, introduced in 1955 and 1963 respectively. Before the vaccines were introduced, tens of thousands of Americans contracted the virus, which could leave them either partially or completely paralyzed. Dr. Jonah Salk's birthday, Oct. 24, is now celebrated as World Polio Day.
Gerald Markowitz and David Rosner, authors of "Lead Wars: The Politics of Science and the Fate of America's Children"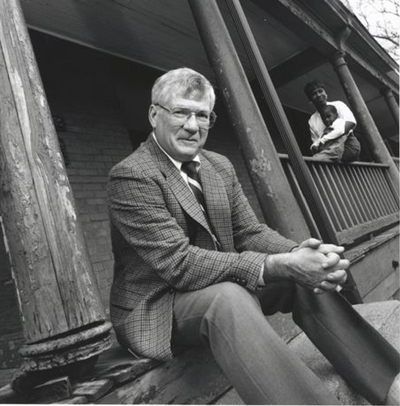 For much of the 20th century, America was plagued by a terrible lead poisoning epidemic that sent children into comas, convulsions, and even death. Lead paint covered the walls of homes throughout the nation, especially in the old, industrial cities, and poisoned hundreds of thousands of children. Philadelphia, it turns out, was the birthplace of a revolution in thinking about the impact of lead on children's development.
In the 1960s, as Civil Rights organizations, community groups and political activists turned the country's attention to poverty, lead poisoning became a symbol of the terrible price that children paid for absentee landlords who crowded families into poorly maintained and crumbling tenements.
But as health departments began assessing and addressing the worst conditions, they uncovered ever-more troubling facts. Huge numbers of children had blood lead levels above 40 micrograms per deciliter (µg/dL), then the amount that was considered dangerous in children, but did not show overt clinical symptoms.(Today, blood-lead levels above 5 µg/dL are considered the "reference level" above which the Centers for Disease Control and Prevention recommends action be taken.)