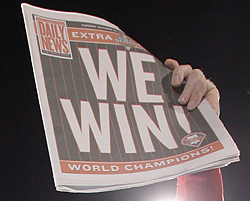 Wow.
I've been on this earth for 24 years and 357 days, and never in my life have I seen anything like this.
In the midst of trying to shepherd our postgame coverage of the Phillies' World Series title, I found myself with just enough time to go downstairs and check out the scene on Broad Street.
I got from City Hall to Sansom Street, and I couldn't go any farther. It was totally jammed.
And at least when I was there, it hadn't turned violent yet.
I've said before I'm not a Philadelphia native, and never has that resonated with me more than it does right now. As such, I cannot in good conscience claim ownership of this night, and this team, and this season.
But you should.
You win.
And you don't have to have grown up here to know it's been a long time coming.