The quote in the headline was uttered by Bruce Murray, a midfielder on the United States national team that beat Dnepr of Ukraine, 1-0, at Franklin Field on August 25, 1989.
A total of 43,356 fans descended upon 33rd Street that night. At the time, it was the largest crowd ever to watch a U.S. match outside of the 1984 Olympics in Los Angeles.
I wasn't there, but I wish I had been. Knowing the stadium as we all do, I'm sure the atmosphere was outstanding. Not that the Union would have ever played there, perhaps even if they had been able to get a grass surface installed. But I can't help thinking it would be a lot of fun if it ever happened.
(Judging from the comments yesterday and this morning, it looks like a few of you were there. Feel free to share your memories in the comments on this post.)
Before we look back at that game, let's deal with the present for a bit. The head coaches of the four teams that will play at Lincoln Financial Field this weekend held a joint press conference this afternoon, along with CONCACAF General Secretary Chuck Blazer.
(Inside joke for soccer people: I now know what Chuck Blazer looks like. Those of you who don't know so much about Blazer, please indulge me.)
Down at the bottom of this post, you'll see video highlights of U.S. coach Bob Bradley talking about playing in Philadelphia. There's also audio of the full press conference, which was conducted in English and Spanish.
One other highlight from the afternoon was a remark by Blazer about his previous involvement with soccer in Philadelphia. I didn't get it on video, but here's the transcript:
I go back to 1984, a time when I became vice president of the U.S. [Soccer] Federation, along with Werner Fricker, who was from Horsham, Pennsylvania. This was one of the key places for the development and birth of this game in the country. One of the most important places has been eastern Pennsylvania, and certainly, the fact that we're finally able to come here is very much a tribute to the type of guys like Werner and others who worked very hard to make this region a very strong place where soccer is not only played, but developed.
Among Bradley's remarks was a line about how this is the national team's first game in Philadelphia since 1968. Technically that isn't true, as we've seen here on the blog this week. But it is true that the last time the U.S. played an officially recognized international match here was in 1968.
We'll take a look at that game tomorrow.
By the way, a few of you have emailed me with the right answer to yesterday's trivia question about how many times total the U.S. has played here. But since no one has posted the answer in the comments, the contest is still open.
So let's head for the history books once again. Unfortunately, I only have the Inquirer microfilm from this game, and that will be the case for the rest of the week. But considering the state of American soccer in 1989, this is pretty good treatment: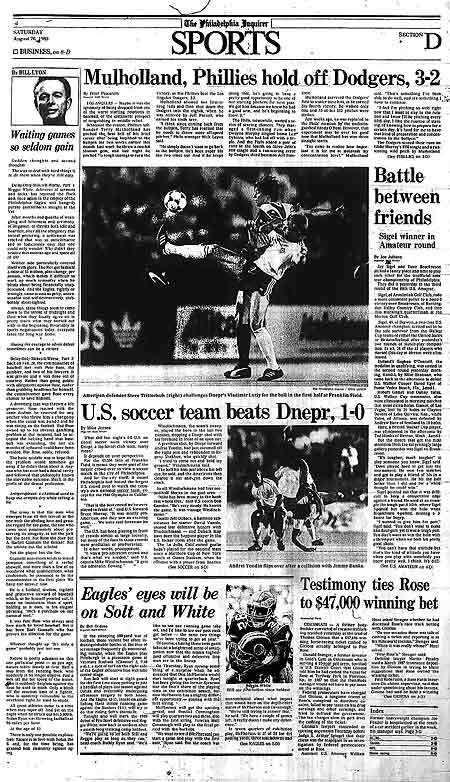 In the photo, taken by Greg Lanier, U.S. defender Steve Trittschuh (left) challenges Dnepr's Vladimir Lutiy for the ball in the first half.
U.S. SOCCER TEAM BEATS DNEPR, 1-0
By Mike Jensen, Inquirer Staff Writer
What did last night's 1-0 U.S. national soccer team victory over Dnepr, a top Soviet club team, really mean?
It depends on your perspective.
For the 43,356 fans at Franklin Field, it meant they were part of the largest crowd ever to view a soccer match in the city of Philadelphia.
And for the city itself, it meant Philadelphia had hosted the largest U.S. crowd ever to watch the country's own national soccer team, except for the 1984 Olympics in California.
"That is the best crowd we've ever played in front of," said U.S. forward Bruce Murray. "It was mostly pro-American, and they saw an exciting game. . . . We were real fortunate (to win). "
The U.S. has been playing in front of crowds almost as large recently, but many of the fans in those crowds were pro-Italian or pro-Peruvian.
In other words, pro-opponent.
"It was a pro-American crowd and that's what we needed," said U.S. captain Mike Windischmann. "It gets the adrenalin flowing. "
Windischmann, the team's sweeper, played the hero in the last two minutes, stopping a Dnepr shot with his forehead in front of an open net.
A previous shot, by Dnepr forward Andrei Youdin, had just caromed off the right post and rebounded to Evgeny Shakhov, who quickly shot.
"I tried to come out and hold my ground," Windischmann said.
The ball hit him just above his left eye, he said, and the Americans then cleared it out and ran down the clock.
In all, Windischmann had four second-half blocks in the goal area.
"Mike has been money in the bank this whole trek," said U.S. coach Bob Gansler. "He's very steady. He knows the game. It was vintage Windischmann. "
Goalie Jeff Duback, a halftime substitution for starter David Vanole, shared late defensive honors with Windischmann - and Duback may have been the happiest player in the U.S. locker room after the game.
The La Jolla, Calif.-raised goalie hadn't played for the national team since a Marlboro Cup of New York match at Giants Stadium, when he collided with a player from Benfica of Portugal and suffered a rib injury.
He saw constant action this time as Dnepr kept play in the U.S. end most of the second half.
"Oh, man. Too much action," Duback said. "I had a real time out there. I felt a little shaky. But when it gets that hectic, you tend to lose your fear. "
With about 17 minutes to go, Duback caught a Vladimir Lutiy header from about 10 yards out. Two minutes later, he blocked a Youdin shot from roughly the same range.
"It was a combination of hard work and a little bit of luck to keep in the game," Duback said.
Another milestone: It was the first time a U.S. team had ever beaten a Soviet professional team.
But as they try to make their way to next year's World Cup in Italy, most U.S. players played that down.
"We're past the point where we say, 'Oh, it's a Soviet team or its an Italian team,' " Duback said.
The crowd size represented somewhat of a marketing coup. In addition to the 4,000 or so Ukrainian-Americans in the stands, youth soccer organizations were heavily targeted. The median age of the crowd appeared to be about 12.
There were no marquee names on the field, unless Eric Eichmann counts. The forward scored the only goal of the game after teammate John Stollmeyer stole the ball and sent it ahead to Eichmann.
With Murray on one side and 30-year-old NASL and MISL veteran Chico Borja on the other, Eichmann kept the ball himself on a three-on-one break.
The former Clemson player shot from about 18 yards out and the ball deflected off the left post and into the net.
After that, the U.S. team reverted to a form familiar to viewers of their World Cup qualifying matches. They rarely threatened Soviet goalkeeper Valery Gorodov for the remainder of the match.
Their best first-half chance to move two goals up came less than 30 seconds before halftime. Murray stole the ball from a Dnepr player at midfield. With only one Soviet defender back, Murray slipped in and took a shot that was a few feet high.
This was the last match of a five-game U.S. tour for Dnepr, from the Ukrainian city of Dnepropetrovsk. It swept the other four games, against a Massachusetts semiprofessional all-star team, the University of Connecticut, Boston University and the University of Virginia.
Dnepr drives to New York today and flies to Moscow for a league match tomorrow.
The match was the last for the U.S. team before its next World Cup qualifier, a Sept. 17 match against El Salvador in Tegucigalpa, Honduras.
--------------------------------
BROWBEATEN
U.S. WORLD CUP TEAM BEATS SOVIETS BY A HAIR
By Ted Silary, Daily News Sports Writer
Not always is a soccer goalie's best friend a post and nothing but a post.
Sometimes, in frenzied situations, the best-friend competition results in a tie. The post's performance is equaled by that of part of a teammate's body.
With that in mind, let's hear three cheers - U!-S!-A! should suffice - for Mike Windischmann's left eyebrow.
That was the ultimate hero last night before 43,356 at Franklin Field as the U.S. World Cup team downed Dnepr, the Soviet Union's reigning club champion from Dnepropetrovsk, the Ukraine, by a 1-0 score.
The U.S. goal was scored in the game's 13th minute, when a strip by midfielder John Stollmeyer, deep in the Soviet end, resulted in a nearly unmolested shot for forward Eric Eichmann.
Only two of the 90 minutes remained, meanwhile, when Evgeny Shakhov afforded Dnepr teammate Andrey Youdin a great scoring opportunity, the conversion of which likely would have forced a decision by penalty kicks.
Youdin's shot slipped past substitute goalie Jeff Duback easily enough, but the ball glanced off the outer portion of the right post. From there a scramble ensued and Shakhov blasted away from in front.
"When the ball came off the post, I saw the guy shooting," said Windischmann, the U.S. captain. "I just tried to jump out and block it. It hit me in the head, right here (on the eyebrow). I didn't head it, it headed me. Luckily I didn't get blinded by it. It didn't hit me square in the eye.
"To play the whole game, then have it go to penalty kicks . . . We were glad it ended the way it did. "
For Duback, who replaced David Vanole at intermission, the second half was something of a struggle. He played well enough, but his comfort level never soared into the stratosphere.
"It's very rare (to split goaltending duties), but coach (Bob Gansler) wanted to use both of us tonight," Duback said. "It's very difficult for a goalkeeper to come into the middle of a game because he hasn't been running around. I was standing there for (the first) 10 minutes, wondering when I was going to get the ball.
"Ideally, I would have been able to go in the goal and do a regular warm- up during halftime. But they had that Chiquita Challenge out there (competition among youngsters), so I had only a shortened warmup. "
Duback's biggest moment, featuring no help from teammates, occurred with about 15 minutes remaining. Youdin took a right-to-middle cross 10 yards in front of the net and had Duback measured. But Duback rushed out to cut down the angle and stopped the shot with his left foot.
"The cross was perfect. I was just trying to get as close to (Youdin) as I could," Duback said. "I planted my feet, then moved (the left one) out as quickly as I could. It's one of those things. It either hits me and it's a save. Or it gets by me and it's 1-1. "
As for the exchange with 2:00 left, Duback could only feel like a woozy high-wire act.
"I turned to look," he said, "and I said to myself, 'That ball's hitting the post. It's going to go in or go out. ' Fortunately, it came out.
"We needed a win. A tie would not have been satisfactory. "
For the next two weeks, the U.S. team will grab some much-needed R & R before beginning preparations for its next World Cup qualifier Sept. 17 against El Salvador, in Honduras.
Last night's game was, at least to Gansler, a good scrimmage for the qualifier.
"We gave a decent rendition of ourselves," said Gansler, who along with Stollmeyer, noted that scoring opportunities such as last night's have often been wasted.
It didn't happen this time because Stollmeyer's steal was so unexpected, Eichmann had a weekend's worth of time to unleash his bullet.
He even had time to indicate a left-footed shot, stop dead, and instead use the right.
"We caught them with a counter-attack," Eichmann said. "They weren't expecting us to win the ball the way we did. (Stollmeyer) stole the ball and we went at them as quick as we could, so they didn't have time to get any defenders back.
"I knew I had a little more time because most of the defense was behind me. I tried to attack their last man as fast as I could, and that's what I did. "
Said Stollmeyer: "I took my first couple steps toward the outside, then cut it back in. That left the whole middle open for Eric. What was good was that we put that away. "
What was great was that Mike Windischmann had a strong left eyebrow.
Your browser does not support the audio element.