NEW YORK - Villanova could not get past the quarterfinals of the Big East tournament, falling to Marquette, 80-76, at Madison Square Garden.
There's much to discuss, and the comments have already been lively. Feel free to share your thoughts as well.
Video highlights of Villanova and Marquette's postgame press conferences are in the video player at right. Full audio of those press conferences as well as the ones after Georgetown's upset win over Syracuse are in the audio player below.
There's also the small matter of Da'Sean Butler's spectacular buzzer-beating three-pointer that delivered West Virginia a 54-51 win over Cincinnati. I haven't found any embeddable video yet, but I have a hunch most of you have seen it already.
Please join me at noon for live coverage of Temple's Atlantic 10 quarterfinal showdown with St. Bonaventure from courtside at Boardwalk Hall in Atlantic City. Until then, though, I really need to get some sleep.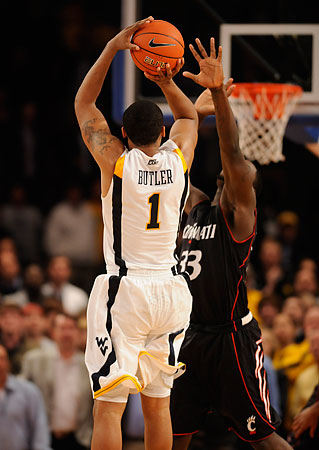 (Photo by Henry Ray Abrams/AP)
Results
8. Georgetown 91, 1. Syracuse 84
5. Marquette 80, 4. Villanova 76
7. Notre Dame 50, 2. Pittsburgh 45
3. West Virginia 54, 11. Cincinnati 51
Your browser does not support the audio element.