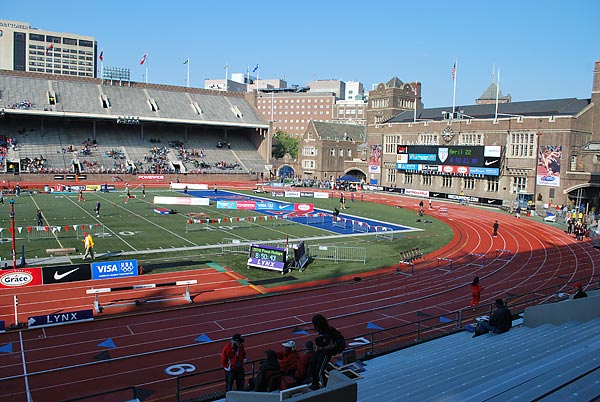 It's amazing how quickly time passes. So much has happened over the last year, but it feels like it can't possibly have been 12 months since the last time we gathered at Franklin Field for the Penn Relays.
But here we are again, ready for another year of sunshine and spectacle. The Penn Relays are one of the most fun things I get to cover, and I'm thrilled to be able to liveblog it all for another year.
There's so much to look forward to. Of course there are the big stars coming Saturday for USA vs. the World, but today and tomorrow there will be all kinds of stories from the high school and college races.
In past years, I've done this as a series of short blog posts over the three days. This year, I'm just going to do one running chat each day. Of course, there will also be plenty of photos and video to go with the commentary.
And for the first time ever, I have some help this year. My Philly.com colleague Matt Hoffman will be joining me on press row througout the weekend, and he'll be anchoring the coverage at times too.
One thing hasn't changed: your role in all this. If there's a school whose results you want to know about or a memory you'd like to share, I hope you'll jump right in. I want this to be as interactive as possible.
So let's get started, shall we?