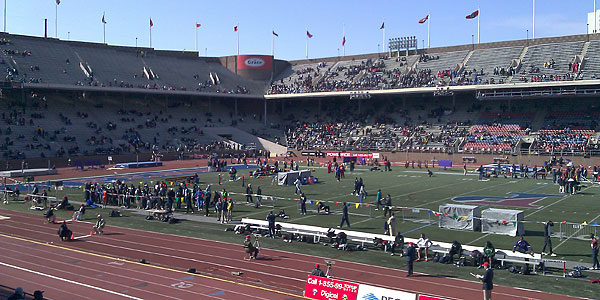 (Jonathan Tannenwald/Philly.com)
It's USA vs the World day here at Franklin Field, which means the stands will be packed to see some of the world's best runners.
NBC will broadcast the Olympic-level events from 1:00 to 3:00 p.m. Eastern, so tune in if you want to watch. I'll also be providing live commentary on all of the day's races, so come on by and let me know which teams you think will win.
Here are links to today's print stories:
U.S. runners are building towards London Olympics by the Inquirer's Joe Juliano
First Ivy DMR victory since 1961 by the Daily News' Mike Kern
Cabral anchors Princeton's DMR win by the Inquirer's Joe Juliano
There's simply no holding back the 'Fast Old Guy' by the Inquirer's Phil Anastasia
La Salle surprises in DMR at Penn by the Inquirer's Evan Burgos
Bridgeton's Days triumphs at Penn by the Inquirer's Kate Harman
Saturday's schedule by the Inquirer sports staff
And here's a photo gallery from yesterday's action by staff photographer Charles Fox.
If you're on a mobile device, click here to follow along and post comments.