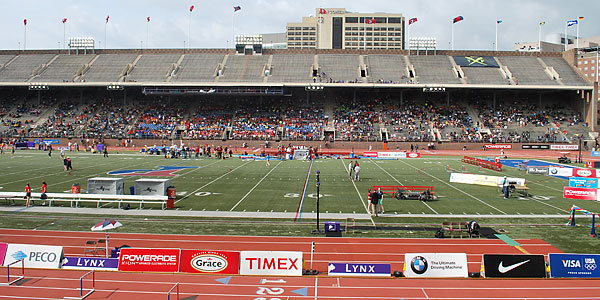 One of the surest signs of spring in Philadelphia has finally arrived: opening day of the Penn Relays at Franklin Field.
For the next three days, I'll be trackside at the finish line to bring you live coverage of the 117th edition of America's oldest and largest outdoor track and field meet.
To get us started this morning, here are some links to stories and other features you should check out. Then it will be off to the races, at least until the rain comes this afternoon.
- Penn Relays guides from Drew McQuade of the Daily News and Joe Juliano of the Inquirer. Click on those links for ticket prices, directions, parking details and other useful information. The Relays traditionalists will be happy to know hat for yet another year, the Penn Relays program is a great bargain.
- Results, photos and a video from the decathlon and heptathlon, which were contested Tuesday and Wednesday.
- Columns previewing the Relays from The Inquirer's Phil Anastasia and the legendary Bill Lyon.
- A piece catching up with former Methacton High School star Ryann Krais by Joe Juliano.
- A preview of today's high school and college action from Joe Juliano.
- Previews of today's women's college Distance Medley Relay from Joe Juliano of the Inquirer and Mike Kern of the Daily News. Villanova is among the favorites to win.
- And finally, a look at some of the best names in this year's Relays from Frank Bertucci of the Daily News.
You can get all of the Penn Relays stories from the Inquirer and Daily News in our special section. The latest stories and blog posts will also appear on the right side of my blog.
So let's get things started. If there's a particular race or athlete you want to know about, or if you just want to share your own Penn Relays memories, I hope you'll do so.
If you're on a mobile device, click here to follow along and post comments.