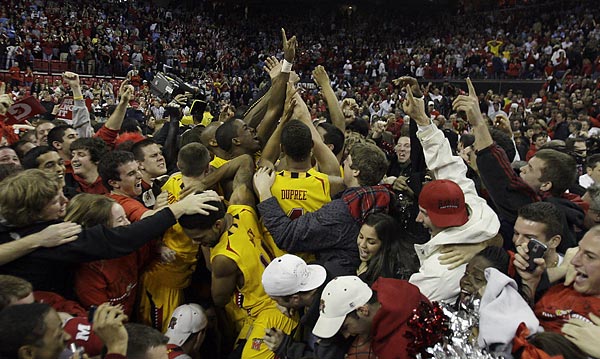 Not long after I put together those tables of NCAA Selection Committee team sheet data last week, I realized that those numbers merited more serious consideration.
So I decided to assemble that data again, but this time I expanded the number of teams involved. Below you'll find average opponent win and loss RPI, top 50 wins and 201+ losses for all the teams in the conferences of most relevance to us: the Big East, Atlantic 10, CAA and Ivy League.
I've also included the Big Ten because of Penn State, and the ACC in honor of Maryland's win over North Carolina.
(Okay, that wasn't the only reason, but that was a great game and I know there are a fair few Terrapins fans in the Philadelphia area. It certainly produced the weekend's best floor-storming, as captured above by Associated Press photographer Rob Carr.)
In all cases, teams are listed in order of conference standings. Schuylkill 16 teams are italicized.
I hope to make this a regular Sunday night feature for the rest of the season, and each week I'll rotate in a different non-local conference to feature in the ACC's spot. Let me know if there's one you'd like to see.
As for conclusions from the data, you'll notice quickly the hour at which this post went up, so excuse me for not wanting to think too much.
The main thing I've concluded so far from this is that for all the talk from Selection Committee members and other analysts about how little a team's RPI matters when it is under consideration for an at-large NCAA Tournament berth, the RPI as a statistic matters a lot because it is the best aggregate measure of a team's opponents.
That is a long sentence, so I'll shorten it: it's not about your RPI, it's about the RPI of the teams you play and beat or lose to.
The other thing I've concluded from this data is that it reflects to no small degree philosophies about how teams schedule. I think this is especially true for the Big East. The average loss RPI is probably an indication of the depth of the conference, because that's where the losses are.
But the average win RPI sets off an alarm bell in my mind about non-conference scheduling. Those numbers seems to indicate that the wins are coming against lesser teams, even if there are a lot of them.
Finally, I understand the selection committee picks teams and not conferences, and the reporting that came out of this year's Mock Bracket really hammered that point home. But these numbers make the Big Ten look really good - and maybe even better than the Big East.
I'd be very interested to know what you think of all this. I'll be back tonight with the Schuylkill 16 rankings.
Big East


Atlantic 10
Colonial Athletic Association
Ivy League
Big Ten
Atlantic Coast Conference