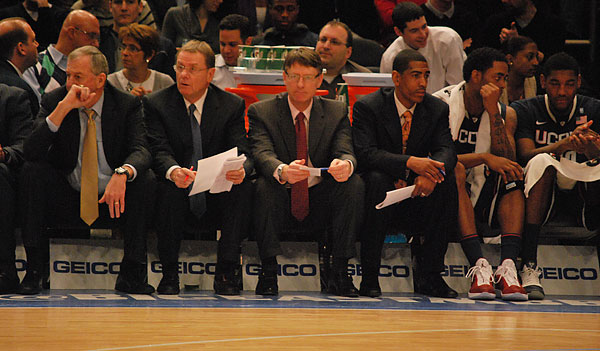 Glen Miller on Connecticut's bench during the Big East Tournament, along with Huskies assistant coach George Blaney and head coach Jim Calhoun. (Jonathan Tannenwald/Philly.com)
Here's a little something for all the Penn fans who will spend this Selection Sunday buried under the covers with their blinds drawn and their televisions off.
If you watched the Big East Tournament, you probably saw a familiar face on Connecticut's bench. As the Huskies made an epic five-game run to the title, former Penn coach Glen Miller was right in the middle of the action.
Miller is currently the Director of Basketball Administration at UConn. Although he isn't officially an assistant coach, he is still an important voice in Jim Calhoun's program.
I caught up with Miller on Thursday afternoon at Madison Square Garden, right after Kemba Walker's buzzer-beater against Pittsburgh. If there was ever a time to catch Miller in a good mood, that was definitely it.
So how's life at UConn?
It's terrific. It's good to be back there, at the place where I started my coaching career. So it's family, and it's been an outstanding experience getting back there.
For those of who don't quite know all the details, can you fill us in a bit on what your duties entail?
Everything that has to do with operation of the program. From X's and O's to academics, to travel, to just really - the title is Director of Basketball Administration. It would be hard for me to go over everything that I'm responsible for, but it's a lot.
Obviously, the Big East is in so many ways on a completely different scale from the Ivy League. But in particular, with regard to the conference tournament, what's it like being in an atmosphere like this?
It's great. Whether it's here or at Brown or at Penn, you're coaching in the moment. So that's really important, the place you're at, and you feel the excitement anywhere you're at.
But playing in the Garden, in the Big East Tournament at the end of the year, that culmination of a terrific regular season for us - and having the opportunity on a big stage to perform, I think for the kids, obviously, but also for the coaching staff, it's important. And it's also a lot of fun.
You've worked with some really quality guards at various different levels - Jason Forte, Ibrahim Jaaber, and now Kemba Walker. How great is it when Walker's out there and hits a shot like that to win the game?
He's one of the best kids, as far as personality, that I've ever had the privilege to coach. He's a tremendous competitor and a leader, but he really, really enjoys the game. He has a deep passion for the game, and it really rubs off on his teammates. I don't know if I've ever been around a kid quite like him.
Do you still talk to any of your former players from Penn or Brown?
Yeah, you know, here and there. I don't get to that much. Again, you're wrapped up in the moment, and they're busy with their seasons and their careers. So not as much as I might like. But I'm just enjoying this season and what we're into right now at the University of Connecticut.
Do you see yourself at some point, whether in the short- or medium-term, getting back into head coaching?
Yeah. Once you've been a head coach, you certainly still think you can do a good job. Hopefully another opportunity comes at some time. But for right now it's just, when you're on a team, whether you're a player or a coach, you're trying to contribute everything you can to help your program win.
My role is different here, and again I'm just trying to do what I can here and take care of, game by game, helping this program move forward. And winning a big game like today. I think when you win, everybody is rewarded for that, so hopefully down the road I'll get another opportunity.