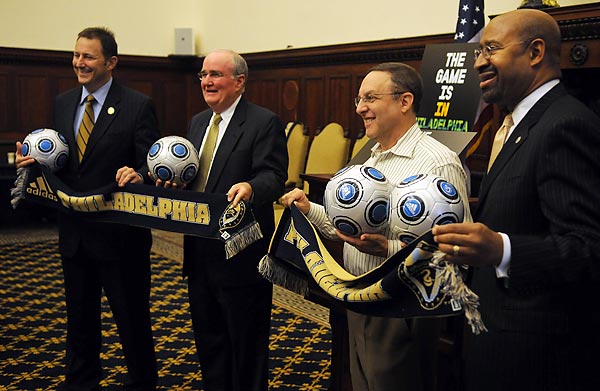 Philadelphia Union CEO Nick Sakiewicz, Phillies president David Montgomery, Eagles president Joe Banner and Philadelphia mayor Michael Nutter came together to promote the city's effort to be part of the United States' bid to host the 2018 or 2022 World Cup. (Sarah J. Glover/Staff Photographer)
Let's start this morning on a bit of a different note. We interrupt the college basketball coverage for some soccer, and what is some pretty big news.
Yesterday afternoon, Mayor Nutter hosted a press conference at City Hall touting Philadelphia's efforts to be part of U.S. Soccer's bid to host either the 2018 or 2022 World Cup.
Among the speakers was Eagles president Joe Banner, and after the formal remarks I caught up to him for a quick interview. As I've written on here before, in its current configuration Lincoln Financial Field's pitch is only 68 yards wide. FIFA's standards would require at least 70 yards, if not a few more, for a World Cup match.
Banner told me that sections of seats in the corners of the lower deck "are removable to perfectly accommodate the specs that they need for the World Cup."
"The stands right now in the corners come in a little tight," Banner said. "It would actually just exercise what's part of the design, which would widen the field down in the corners just a little bit."
That's the first time I've ever heard that, and if it's true, it's quite significant. When I relayed Banner's remarks to Philadelphia Union CEO Nick Sakiewicz, he told me that "it's not a concern at all."
"As it's constructed, you can play an international soccer game, [but] for FIFA, they require some additional width," Sakiewicz said. "It's very, very easy in that stadium to create the width."
Sakiewicz added that the Union will play its home opener there next spring within the field's current configuration.
He also told me that he believes 15 cities will be chosen for the final package that will be submitted with the U.S. bid.
"We have a really, really good shot," Sakiewicz said. "It would be hard for them, I think, to not give it to Philly if the U.S. wins the bid."
You can see more in the video below. You can also can listen to the press conference with Sakiewicz, Banner, Nutter and Phillies president David Montgomery in the audio player.
We'll return to college basketball in a short while. I'll be at the Verizon Center in Washington, D.C. this afternoon to bring you live coverage of Temple's 4:00 p.m. tipoff against Georgetown. I hope you'll join me.
Your browser does not support the audio element.