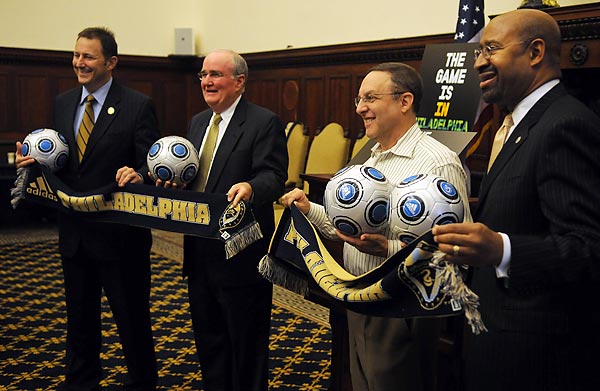 Philadelphia Union CEO Nick Sakiewicz, Phillies president David Montgomery, Eagles president Joe Banner and Philadelphia mayor Michael Nutter came together to promote the city's effort to be part of the United States' bid to host the 2018 or 2022 World Cup. (Sarah J. Glover/Staff Photographer)
Let's start this morning on a bit of a different note. We interrupt the college basketball coverage for some soccer, and what is some pretty big news.
Yesterday afternoon, Mayor Nutter hosted a press conference at City Hall touting Philadelphia's efforts to be part of U.S. Soccer's bid to host either the 2018 or 2022 World Cup.