Archive: September, 2012
Jonathan Tannenwald, Philly.com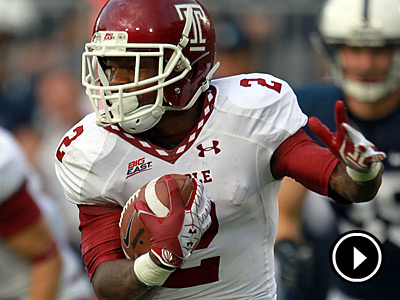 Video: Why is the Big Ten having a down year? Is Temple heading in the right direction? CineSport's Tara Petrolino and the Philadelphia Daily News' Mike Kern discuss this and Michigan-Notre Dame.
Jonathan Tannenwald, Philly.com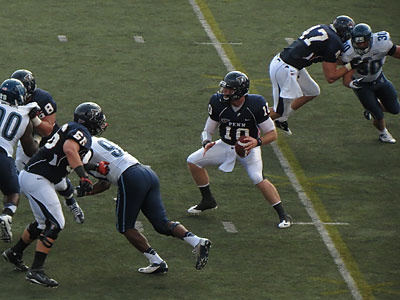 A guest post by the Inquirer's Marc Narducci, who covered the Penn-Villanova game for the paper. Read his recap here.
Penn football coach Al Bagnoli wanted to make one thing perfectly clear following Saturday's 24-8 loss to Villanova at Franklin Field.
"There is no quarterback controversy," he said.
Jonathan Tannenwald, Philly.com
Time: 3:30 p.m. EDT
Venue: Franklin Field, Philadelphia, Pa.
TV/Radio: The Comcast Network (Scott Graham and Kevin Reilly)/WPEN 950-AM (Joe Eichhorn and Ryan Fannon)/WFIL 560-AM (Brian Seltzer and Hench Murray)
This is, admittedly, the lesser of the two games on the local college football scene this afternoon. It's not even the marquee game in the Ivy League today.
But as Mike Kern wrote in yesterday's Daily News, there's something to be said for the value of the Penn-Villanova series - especially with Temple and Villanova ending the Mayor's Cup series. It's still a game the Quakers desperately want to win, and it's still a game the Wildcats can't afford to lose.
Jonathan Tannenwald, Philly.com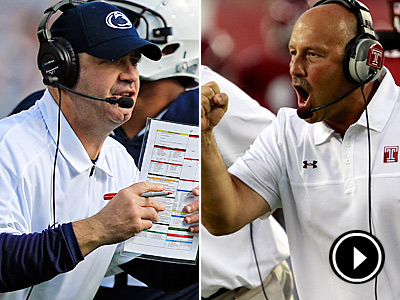 Video: Does Temple have a shot to upset Penn State on Saturday and become relevant? CineSport's Brian Clark and the Daily News' Mike Kern focus on the Owls' lack of depth and passing game.
Jonathan Tannenwald, Philly.com
Penn football coach Al Bagnoli chatted with The Inquirer's Marc Narducci at the weekly local college football coaches' luncheon about the Quakers' season-opening game against Lafayette this coming Saturday.
(Video by Marc Narducci/The Philadelphia Inquirer)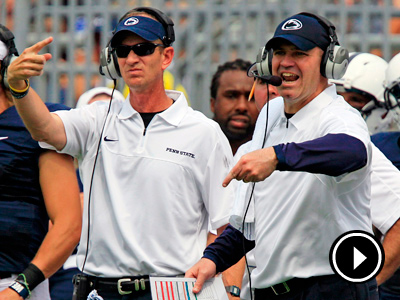 Mike Kern of the Daily News chats with Noah Coslov of Cinesport about the significance of Notre Dame's move to the ACC, as well as Penn State's chances of grabbing its first win of the season against Navy.
Jonathan Tannenwald, Philly.com
UPDATE: Here's a column from The Inquirer's Mike Jensen assessing the move, including its impact on Villanova and Temple.
The Big East's efforts to remain among the elite conferences in college sports has suffered another big blow, as Notre Dame has announced it is joining the Atlantic Coast Conference.
Although independent in football, all of Notre Dame's other sports teams - most notably basketball - play in the Big East. This has brought some prominence to the conference in March, both on the men's and women's sides of the game.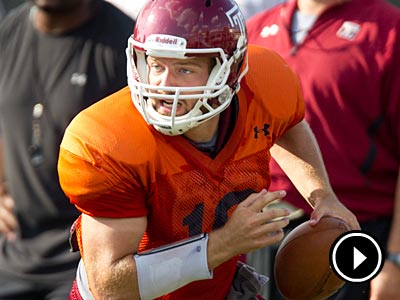 Video: What must Temple do to get a win vs. Maryland? The Daily News' Mike Kern and CineSport's Noah Coslov discuss this, SEC newcomers Mizzou and Texas A&M & the pressure on Penn State.