Archive: August, 2012
Jonathan Tannenwald, Philly.com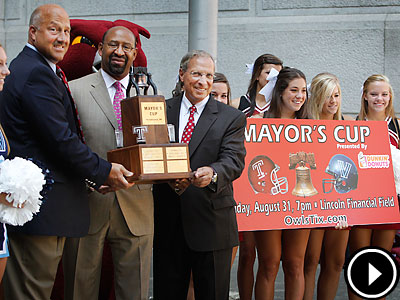 The Daily News' Mike Kern and CineSport's Noah Coslov discuss the final Mayor's Cup game between Temple and Villanova and how many games Penn State will win this season.
Jonathan Tannenwald, Philly.com
If you have been around the Penn campus for any amount of time, you have probably seen one of those t-shirts that says "NOT PENN STATE" across the front.
The t-shirts are a pretty old joke at the point, even though they still pop up every now and again. Whether because of Penn's rise in academic prominence or because people have just figured it out, the schools in Philadelphia and State College don't get mixed up all that often anymore.
Or at least not as much as they used to be. A few weeks after Joe Paterno was fired, I remember chatting with one of the people on Penn's sports information staff. The person was surprised at how few phone calls the department had received from people angry about the Jerry Sandusky scandal.
Jonathan Tannenwald, Philly.com
Al Bagnoli is not especially pleased about the brutal schedule that his Penn football team faces this year. But he's going to have to deal with it in a few weeks, whether he likes it or not.
For just the second time in his 20-year tenure as the Quakers' head coach, Bagnoli has to send his non-scholarship program on to the field to play two scholarship programs in the same season: Villanova and William & Mary.
And these aren't just any two scholarship programs. Putting aside the rivalry aspect of the Villanova game, the Wildcats and Tribe both play in the CAA, which is perennially among the best FCS conferences.
Jonathan Tannenwald, Philly.com
Penn men's basketball assistant coach Dan Leibovitz may be leaving the program to join the NBA's Charlotte Bobcats.
CBS Sports' Jeff Goodman reported that Leibovitz is being hired as the Bobcats' player development coach. Leibovitz and Bobcats coach Mike Dunlap, a former assistant at St. John's, are longtime friends.
I was later given separate confirmation of Leibovitz's departure. But I have since been told that Leibovitz has not yet signed a contract with the Bobcats, and it may not happen until next week.
Jonathan Tannenwald, Philly.com
Zack Rosen did not need a press conference or even an e-mail release to announce his signing of the first professional basketball contract in his life.
The former Penn guard did the honors himself, tweeting a picture of his signature on a deal with Israeli Super League club Hapoel Holon.
Based in a southern suburb of Tel Aviv, the club's only league title came in 2008. They have aspirations to grow, though, as evidenced by their plans to open a new arena in two years.