Archive: July, 2008
As you might have seen in yesterday's Daily News, the Palestra had a new floor installed this summer. It was officially unveiled this afternoon, and I had just enough time to get down to 33rd Street and check it out before the Soul parade reached City Hall.

You can see a view of the court in the photo above, and there are quite a few photos from this afternoon in the gallery. But if you click through, you'll see some pictures that no other media outlet in town has.

Mikaleyn Austin, the documentary filmmaker and former Penn basketball player whose movies include The Palestra: Cathedral of Basketball, snuck into the Palestra earlier this summer and took some pictures of the arena with the floor torn out. As you'll see, some of the wood that was removed dates all the way back to the building's construction in 1927. Most of it was installed in 1985, which was the only other floor renovation in the building's history.
Jonathan Tannenwald, Philly.com
As you all know, I don't really cover Penn State that much on the blog. I've touched on the football team every once in a while, but most of my focus has been on the City Six schools.

But starting today, the Nittany Lions get their due. The Inquirer's Penn State beat writer, Jeff McLane, is now the proud author of Lion Eyes, a blog about all things Blue and White.

So check it out and add it to your blogrolls. It will be a great resource during the coming football season as he covers Penn State in a lot more depth than I (or anyone else around here) can.
Jonathan Tannenwald, Philly.com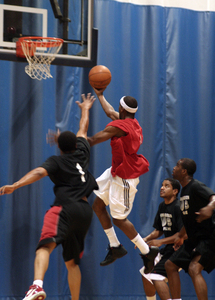 I've been asked a few times lately whether I've been able to get to any of the summer basketball leagues taking place across the region - most notably by longtime Penn basketball statistician Stu Suss.

Suss, like a number of Quakers fans I know, is a regular follower of one of the best summer leagues in the region: the Delaware County Pro-Am Basketball League sponsored by Fidonce.

Most people know it as the Media Summer League, and it's been of particular interest to Penn in recent years. Media native Brian Grandieri has played there, and this year's roster includes Mark Zoller as well as incoming freshmen Larry Loughery and Zack Rosen.
Jonathan Tannenwald, Philly.com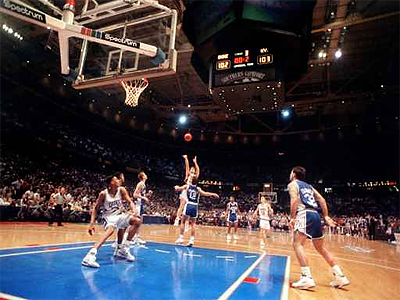 I got word late last night that Phil Anastasia was writing a piece for the package on the Spectrum closing about Christian Laettner's famous buzzer-beater against Kentucky in the 1992 NCAA Tournament.
So I started digging around to see if I could find a picture from the game in any of our archives. It took a while, but (thanks in no small part to the All-Star Game marathon) I was finally able to find one in color.
Take a look at this photo. It was taken by the Durham Herald-Sun's Chuck Liddy, but ended up in the Inquirer's archives somehow. I'm not complaining.
Jonathan Tannenwald, Philly.com
Sorry to bump down the Billy Packer post, but I just got the press release from St. Joe's about the Hawks' 2008-09 schedule and it includes some interesting games.
Of course, they're going to be playing all their games at the Palestra this season because of the Fieldhouse renovations. While specific dates and times weren't included in the email, we can still hope for some doubleheaders with Penn and St. Joe's.
And speaking of the Quakers, one of the Hawks' non-conference home games might draw some interest from folks in the neighborhood around 33rd Street.
Jonathan Tannenwald, Philly.com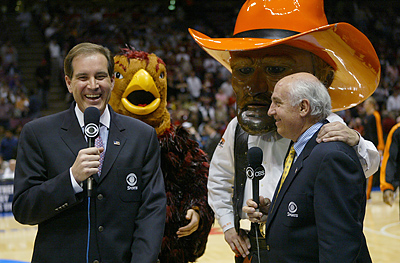 UPDATE 2: A new twist to the story that's big enough to go at the top of the post instead of the bottom. Apparently, this wasn't a spontaneous decision. Packer said this to the AP:

"These are really good circumstances," Packer told The Associated Press by phone. "This decision was made with myself and CBS over a year ago. Their timing to announce it is their business. I have nothing to do with that. I was working on a series of 1-year contracts for several years. ... I did say there would be no mention during the season so as not to detract from the games and the guys involved."
Well, that makes things a bit more interesting, doesn't it?
Jonathan Tannenwald, Philly.com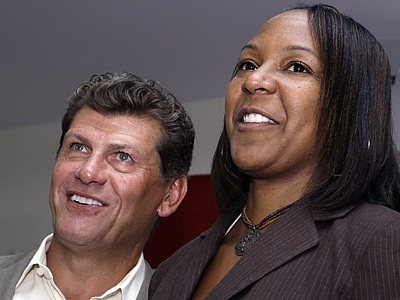 I'd been planning all along to attend the press conference this afternoon at which Temple introduced former Connecticut assistant Tonya Cardoza as its new head women's basketball coach.
I figured there would be a decent crowd from the media, given the lack of anything else going on in the city today, and that there would be the usual large assortment of Temple coaches and administrators.
But I did not expect at all to see Cardoza's old boss, Geno Auriemma, standing about three feet from the main door into the Fox Gittis Room at the Liacouras Center.