Archive: June, 2010
Jonathan Tannenwald, Philly.com
Villanova's football team was presented with the 2010 Wanamaker Award this morning by the Philadelphia Sports Congress.
My Philly.com colleague Litty Samuel was at the ceremony this morning, which was held (naturally) at the Wanamaker Building's Crystal Tea Room. She put together a video report that you can watch below.
Jonathan Tannenwald, Philly.com
The Big East announced its slate of conference matchups for the coming basketball season today. Villanova will play Pittsburgh, Rutgers and Syracuse twice each, and everyone else once.
All things considered, the schedule is pretty favorable. It's certainly not as rough as last year's was, when the Wildcats had to play Georgetown, Marquette and West Virginia twice each.
The home-only games are against Cincinnati, Georgetown, Louisville, Marquette, St. John's and West Virginia. The road-only games are against Connecticut, DePaul, Notre Dame, Providence, Seton Hall and South Florida. Not that playing Syracuse and Pitt twice will be easy, but getting Georgetown and West Virginia only at home is a plus.
Jonathan Tannenwald, Philly.com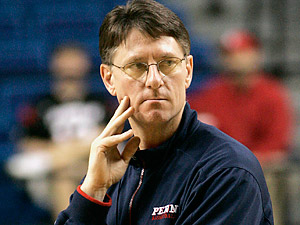 I get asked surprisingly often if I know anything about what former Penn coach Glen Miller is up to these days. Until now, I had no idea.
The Journal Inquirer of Manchester, Conn., is reporting that Miller is soon to be announced as the new "director of basketball administration" at the University of Connecticut. This puts him back under the wing of his former mentor, Jim Calhoun.
Miller started his college playing career at UConn, then transferred to Northeastern to play for Calhoun. Miller then joined Calhoun's staff as an assistant in 1986.
Jonathan Tannenwald, Philly.com
Villanova's athletic department announced tonight that forward Taylor King has left the program.
King's withdrawal is voluntary, and he will remain at the school to finish his degree.
ESPN.com's Dana O'Neil reported earlier this evening that King left the team "following a violation of team rules."
Temple's men's basketball team announced its non-conference schedule today. Among the highlights is a trip to Durham, N.C. on Feb. 23 to take on the defending national champion Duke Blue Devils.
Other big road games include a trip to the Verizon Center in Washington, D.C., to face Maryland; and three games in the Old Spice Classic at Disney World over Thanksgiving Weekend. The Old Spice Classic bracket hasn't been set yet, but the other teams are Boston College, California, Manhattan, Notre Dame, Texas A&M and Wisconsin.
There are two marquee home games: the season opener against Seton Hall on November 12 and a showdown with Big East power Georgetown on Dec. 9. Big 5 games include Villanova at the Pavilion on Dec. 29 and Penn at the Liacouras Center on Jan. 19.