Archive: May, 2009
Jonathan Tannenwald, Philly.com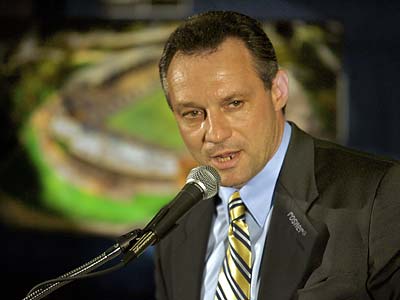 "I understand that soccer is not perfect."

Of everything Peter Nowak said this afternoon, I think that's the line that stands out to me the most.

Soccer is a capricious game. It can tempt you with free-flowing passes and Iverson-worthy dribble fakes, like what we saw from Barcelona on Wednesday. But it can also discourage you with crunching, studs-up tackles and balls hammered up the field from the back line by players who don't know any better.

(No, I won't pin that style on anyone specifically, but if you want to point to the English or the Greeks you're more than welcome to.)

How do you make up for it?

"I don't believe in words, I believe in hard work," Nowak said. "My old coach in Germany believed that if you run twice as much as me, you're going to win the game, and I believe that too."

It's a philosophy that seems perfect for a Philadelphia coach. But as I mentioned in my earlier post, Nowak is about much more than running and tenacity.

"I am more [of an] offensive guy - sometimes I overlook the defensive part," he said, though he added that he's spent a lot of time recently studying defense. "It would be nice to have one or two playmakers."

Nowak cited Barcelona's Andres Iniesta and Xavi as examples of his ideals: "Two guys who just run the offense," he said, snapping his fingers quickly and in rhythm to symbolize their movement.

But he added that "if you see the defensive work of Iniesta and Xavi, it's just amazing."

He made a basketball analogy about them too, not even knowing what I write about the rest of the year, stating that in both sports, "you've got to go in the shortest way to the positions."

It would be something to see Nowak and Phil Martelli talk to each other, wouldn't it?

That Nowak so willingly acknowledged the game's essence this afternoon was refreshing to hear - even more so in the context of my epic fail of a liveblog.

I thank those of you who read along and submitted questions. As a reward for your patience, I give you a healthy serving of multimedia from this afternoon.

There are also three audio tracks. The first is Nowak's Q&A during the press conference (and yes, I asked the first question); the second is my interview with team president Jay Sugarman; and the third is Nowak's conversation with reporters after the formal press conference.

On that third track, I got into the pack of reporters in the middle of a question. So the track starts with him talking about how he studied players while in charge of the U.S. Olympic team.

Later in the track, I'm sure you won't miss the part where Nowak accuses me of working for D.C. United. Believe me, I never did. But I did cover Nowak's United teams when I was living in Washington, and I was quite surprised to see that he recognized me.
And by the way, since the team's official press release uses the Anglicized version of Nowak's first name, I'll stick with that instead of the Polish version I used earlier.



Jonathan Tannenwald, Philly.com
Greetings from Chester, where Philadelphia Union is holding a press conference this afternoon to introduce Piotr Nowak as its first coach.
As John Smallwood wrote in this morning's Daily News, Nowak is a very good choice. He won MLS Cup as a player with the Chicago Fire in 1998 and as a coach with D.C. United in 2004, then led the U.S. men's Olympic team to a creditable 1-1-1 record in Beijing last year.
It is of no small consequence that Nowak rose to the coaching ranks after being a playmaking midfielder on the field. Yes, he's a fiery guy, and I think that passion will play very well with Philadelphia fans. But he and his teams have a track record of playing attractive, attacking soccer.
Jonathan Tannenwald, Philly.com
Did you get any work done this afternoon?
At the very least, I bet you were less productive than you usually are. Literally hundreds of millions of people around the world watched today's titanic Champions League final between Barcelona and Manchester United, and judging from Twitter and the rest of the Internet a lot of people in Philadelphia were paying attention.
It was a great game between two teams stacked with superstars, from Man U's Cristiano Ronaldo and Wayne Rooney to Barcelona's Andres Iniesta and Lionel Messi.
Jonathan Tannenwald, Philly.com
I had hoped to be at the Franklin Institute (I can't kick the habit, sorry) right about now for the unveiling of the name and colors of Philadelphia's forthcoming Women's Professional Soccer franchise, but other work obligations interfered.
So I turn to the press release I got from the team this afternoon, in which we learn that the name will be "Independence." It's rather obvious as these things go, but for my money, you might as well go for the obvious if you want to resonate in a market like this.
The team's colors will be yellow, "steel grey" (according to the press release) and light blue, and it will play at Philadelphia Union's stadium in Chester. Good for the Independence for going with a similar color scheme. If it works out, the blue-and-yellow scheme could come to mean for soccer what green does for football and orange does for hockey in the region.
Jonathan Tannenwald, Philly.com
I know there are some readers of this blog who follow Delaware football, but this could have an effect across the country in Division I-AA football.
According to the Washington Post's Recruiting Insider blog, if Delaware officially legalizes sports gambling, the NCAA could ban all of the state's college programs from hosting postseason games.
The most significant impact would be that the Blue Hens would not be allowed to host I-AA football playoff games. That would affect not only the athletic department's bank balance, but also the football playoffs' competitive balance. Delaware makes the postseason pretty often, and their success has given them a lot of home games over the years.
Jonathan Tannenwald, Philly.com
They came with a string band.

Seriously.

We were all standing at Dilworth Plaza wondering when the press conference to officially introduce Philadelphia Union would start. Then, all of a sudden, a few hundred Sons of Ben came marching out from City Hall, belting out "I'm Looking Over a Four-Leaf Clover" at the top of their lungs as the Polish American String Band played the tune.

I've followed Major League Soccer for a long time, including a few years spent covering the league before I moved to Philadelphia. I've never seen anything quite like that.

Yet it was so classically Philly. For a sport that defines itself as being the most global of games, this was the ultimate local spin on the kind of passion for which soccer fans are so well-known.

They came witth a sense of humor, too. MLS Commissioner Don Garber got the perfect reaction from the crowd when he said that while they might applaud him now, they won't be when he suspends a Union player for the first time.

He got booed, of course, but there was plenty of laughter first.

And they came with a spirit of inclusion. From the top of the front office on down, team officials talked about how they wanted to draw not only the youth soccer players and Europhiles, but also the Mexican population in South Philadelphia and the West African community that plays pickup games in University City's Clark Park.

You can hear from Garber and Union president Tom Veit in the audio player below.

If it all comes together, the atmosphere in Chester could genuinely be unlike anything this city has seen in quite a while. Yes, that may sound like hyperbole, but from what I've seen, soccer fans in this country are a bit of a different breed from fans of other sports I've covered.

The biggest question left now is whether and how all those fans that Union wants to attract will go to the stadium every weekend. It will be answered in due time.

For now, though, I'll reiterate something I've said before: if I'm still blogging on here come the summer, I intend for soccer to be a significant part of what I write about. I know that a number of Sons of Ben read this blog and I've certainly noticed the spikes in traffic on here when I write about the sport.

So I ask you: are you interested in this team? How do you think it will fit into the local sports landscape?

And can we please get a string band playing at the games?



Jonathan Tannenwald, Philly.com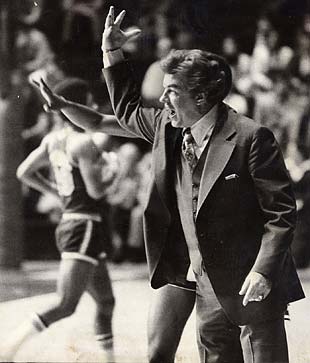 As you read Mike Kern's interview with Villanova coach Jay Wright this morning, consider the photo at left that ran with Phil Sheridan's column on Chuck Daly yesterday. It's from a game between Penn and Virginia in 1976.
I still don't understand how anyone can wear a suit in the Palestra, especially when it's full. But at least we know that Daly was a snappy dresser before he got to the NBA.
Jonathan Tannenwald, Philly.com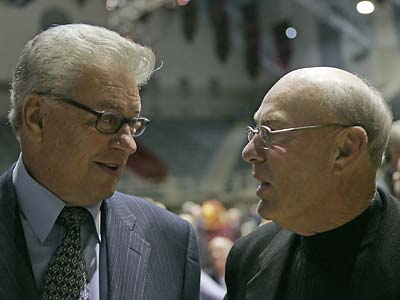 The Associated Press is reporting that former Penn, Detroit Pistons and 1992 "Dream Team" coach Chuck Daly died this morning of pancreatic cancer at age 78.
I think I met Daly only once, at the Big 5's 50th anniversary gala back in 2006. I can't recall meeting him any other time, but at least I can say I had that one occasion.
I am sure that many of you met Daly, or at least got to see him coach in person. His impact on the Big 5 is certainly still remembered today, and I invite you to share your memories in the comments section below.