Archive: May, 2008
Jonathan Tannenwald, Philly.com
For all the thunderstorms that slammed New York City's Icahn Stadium this evening, the fans that did stick around until late tonight were richly rewarded.
Though I wasn't watching the TV telecast, it just crossed the AP wires that Jamaican star (and Penn Relays veteran) Usain Bolt has set a new world record in the 100-meter sprint at the Reebok Grand Prix.
Borrowing the AP copy because I'm about to go to sleep:
Jonathan Tannenwald, Philly.com
It's always a good day when there are two soccer stories in the Daily News.

Let's start with Kerith Gabriel's report that the new stadium in Chester has paved the way for women's soccer to return to our region in 2010.

I'm as much a fan of the women's game as the men's game, and I used to go to Charge games often at Villanova. When the time comes for more soccer coverage on the blog, I hope to cover both genders regularly.
Jonathan Tannenwald, Philly.com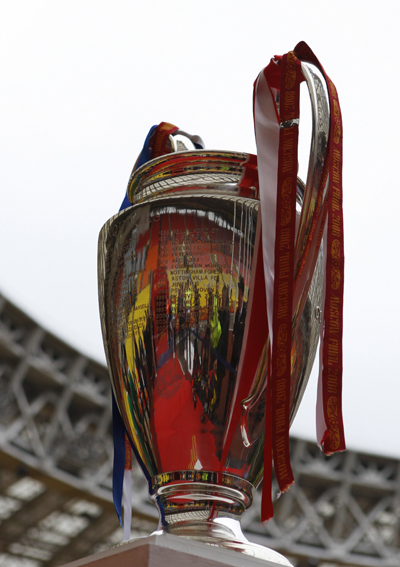 As part of my occasional dipping into soccer coverage here on the blog, I'm hosting a live chat during this afternoon's Champions League Final on the blog's Twitter feed.

So if, like Bill Conlin, you're watching the game today, come join me by clicking here.
Jonathan Tannenwald, Philly.com
Bob Ford has an outstanding column about the Preakness in this morning's Inquirer, and about how watching Affirmed 30 years ago compares to other sports memories he's gathered down the years.
But for all the great prose in the piece, this paragraph stands out above the rest:
There are places in our town where we share those things still. I see Julius Erving and Charles Barkley in the Spectrum, and Bobby Clarke and Bill Barber. If the numbers crunch the right way, Ed Snider and the Comcast boys will knock it down soon. I can live with that. Someone knocked down Connie Mack and JFK Stadium and the Vet, after all. That's life. If they ever come for the Palestra, however, I'll lie down in front of the bulldozer.
Jonathan Tannenwald, Philly.com
It's now been over two weeks since the New York Times' college sports blog, The Quad, began its series profiling every single football team in Division I-A.
You had to figure they would get to Temple sooner or later, because, well, they had to. It took 15 days for the Gray Lady to get from Western Kentucky to Broad Street, where the Owls were unveiled this morning as No. 105.
Were it not for the fact that the series won't end until some time in late August, I'd consider it a good thing that it took more than two weeks of profiling football teams to get to Temple. That's certainly a sign of progress by the program.
Jonathan Tannenwald, Philly.com
More odds and ends...
-- Breaking news out of State College that Joe Paterno was taken to Mount Nittany Medical Center today because of dehydration. Thoughts and prayers are with him, of course, though it's no surprise to read team spokeman Guido D'Elia's words that Paterno is "mad as heck" about not being at work.
(UPDATE: Paterno has since been released; information in the link above.)

Jonathan Tannenwald, Philly.com
Daily News sports editor Josh Barnett, who is a blogging fiend in his own right, sent along an AP dispatch a few days back that I've been meaning to post.
But because of the redesign I've been asleep the last two days... actually, I've been cleaning up and wishing I was asleep. Thanks for all the feedback, though; feel free to post more here.
Anyway, there's plenty to consider in this:
Jonathan Tannenwald, Philly.com
You might have noticed by now that things look a bit different around here all of a sudden. I've been waiting for quite a while to share this with all of you, and now I can finally do so.
Over the last few months, Philly.com has been working on a massive redesign project, which we've finally unveiled to you today. And despite the various things I've said about why posting on the blog was light during much of March and April, the redesign was the real reason.
I've told this to quite a few people, but in case you didn't know, that's my real job with Philly.com -- along with producing the region's most-read sports website on a daily basis.