Archive: April, 2010
Jonathan Tannenwald, Philly.com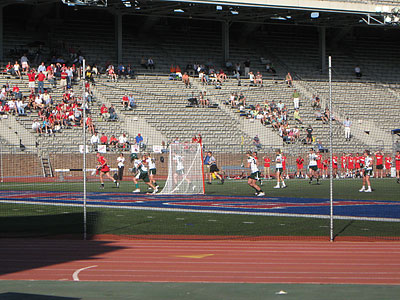 Robin Harris is not shy about calling the Ivy League "traditional" in its ways.

But the conference's executive director is overseeing something distinctly non-traditional at Franklin Field this weekend: a postseason tournament in one of the Ancient Eight's most important sports.
This year brings the first ever postseason tournaments in lacrosse, for both men and women. The highest seed hosts the semifinals and the finals, and on the women's side that's Penn. The top men's seed will be determined today, when Cornell visits Princeton to finish the regular season.

Even though the Ivy League has more sports and athletes competing than any other Division I conference, this is the first time the Ancient Eight has put its toes in this kind of water.
Up until now, the only team-sport postseasons in the league were for baseball and softball. But the Ivy League splits its teams into two divisions for those competitions, so the "championship series" isn't quite the same.

So why lacrosse? For one thing, the coaches really wanted it.

"I think it's going to help promote our lacrosse as one of the best leagues in the country," Dartmouth coach Amy Patton said. The No. 2 seed Big Green beat No. 3 Cornell in the semifinals, and will face top-seed Penn in the final tomorrow at 12:30 p.m.

But why lacrosse in particular? Why not - to pick a sport completely at random - basketball?

The biggest reason is that lacrosse is a sport at which the Ivy League succeeds on a national level. Multiple programs are ranked each year on the men's side, with Princeton and Cornell the best-known. On the women's side, Penn has been to three straight Final Fours, including the 2008 national championship game.

This year, Penn and Dartmouth are the top two teams. Quakers coach Karin Brower Corbett said it's "the best-case scenario for the league" that both teams won their semifinals.

"I'm happy that Dartmouth [won], because they have a big win over Syracuse and we really need to try to get as many teams into the tournament as we can," Corbett said. "I think it gives both of us an opportunity to make the [NCAA] tournament no matter who wins tomorrow."

Harris made a similar point, using language that might sound familiar to basketball fans.

"There is the opportunity by having an extra game or two for our teams against another highly ranked team, their RPI goes up and the selection committee looks at their success in the tournament and it gets another team in," she said. "Whether that exists in men's basketball is really a separate issue, and that's one that at this point is not on the table."

Well, there's a news item. An Ivy League men's basketball postseason tournament "at this point is not on the table."

"With this economic climate, we're not looking to add more tournaments right now," Harris said. "We're waiting to see how lacrosse does, and really that's going to be a decision to come from within the league as to what they want to do."

Historically, most of the league's basketball coaches have been in favor of a basketball tournament. Harris has only been in the job since last summer, and there's been a lot of turnover among the league's coaching ranks this offseason.

But most of the pro-tournament stances have come from coaches who didn't play in the league, and both of the new coaches so far - Dartmouth's Paul Cormier and Cornell's Bill Courtney - fit that bill.

"What's happened in the past is that coaches might be in favor, and then you say: 'How many teams, where should it be, what's the format?" Harris said. "Then there hasn't been as much unanimity."

Still, it's not off the table entirely.

"We'll just have to see how it goes," Harris said. "I think that's something we're open to considering in the future, but right now there are no plans."

I then asked whether things could have changed had the NCAA Tournament expanded to 96 teams. It was floated by more than a few people that as part of expansion to 96, regular-season champions and conference tournament champions would have received automatic bids. Would that have forced the issue?

"That would enter into the discussion, but I knew it was a long shot for 96 teams to pass," Harris said. "The other conference commissioners weren't unanimous at all about that."

Another news item, sort of. Then again, it's done with for now.

The other postseason from which the Ivy League is noticeably absent is the FCS football playoffs. There have been many reasons given over the years for this, most notably that the final rounds of the football playoffs overlap with end-of-semester exams.

But that argument was dented when the lacrosse tournament was announced. None of the eight schools are technically in finals yet, but they start soon. The Ivy League being what it is, I would venture a guess that the athletes probably need at least a little bit of time to study beforehand.

Harris was ready for the question, and gave about as thorough an answer as I've ever heard from a league official.

"That's an issue that with the presidents is absolutely a non-starter, and it has to do with more than class time and exams," Harris said. "It also has to do with focusing on the tradition of intra-league competition in football, and our history, and the tradition of culminating with certain games at the end of the season - certainly the Harvard-Yale tradition."

There, for the first time ever, was an on-the-record statement of something I've heard off the record from a lot of people over the years. The belief is that Harvard and Yale are the biggest obstacles to the Ivy League participating in the playoffs, because they want their rivalry game to be the most important of the season.

I put that to Harris.

"It's actually the presidents in general," Harris said. "It's really based on the tradition and the focus on intra-league competition, and not intruding on the student-athletes' time demands."

Ah, yes. A reminder that Harris doesn't actually have much decision-making power. The Ivy League schools' presidents make the rules. So I guess the Penn-Cornell game still matters to some people, even though it's been quite a few decades since Franklin Field was sold out for it.

I asked Harris whether anything could change the current situation.

"One thing I've learned is to never predict what presidents will do," Harris said. "This is a presidential issue and we'll just have to see how it plays out. But at this point, it's a non-starter."

So there we have it. As interviews go, I thought Harris was pretty forthright. But it doesn't look like things in her conference are going to change much any time soon.

Do you think they should?
Jonathan Tannenwald, Philly.com
Four and a half years ago, Penn fullback Kyle Ambrogi committed suicide.

I still remember being at the church in Bryn Mawr a few days after Ambrogi's death on October 10, 2005. So many people came to the service that I had to stand outside and listen to the eulogies through an open window.
The event shook the Penn community to a degree that nothing else I've covered at the school has matched. I thought for the longest time that nothing ever would.

Then yesterday came. Out of nowhere, Quakers defensive end Owen Thomas was found dead in his off-campus apartment in the middle of the afternoon.

There is no known cause of death right now. There is just shock, horror... and for me, and I'm sure many others, a tidal wave of memories.

The memories weren't just triggered by the news that a Penn football player's life has ended prematurely for the second time in five years.
What did it for me was Penn coach Al Bagnoli's reaction, and how similar his words were to the ones he uttered after Ambrogi's death.

"Unfortunately, I have a little more experience handling this than I did then," Bagnoli told the Inquirer's Joe Juliano yesterday. "Certainly, there was no outward indication about anything being wrong."

After Ambrogi's death, Bagnoli told the Daily News' Mike Kern:

You're dealing with robust 22-year-old kids who seem invincible. You're always around them, so we think we're invincible. You get jolted back to reality, and realize how fragile everything is.

Bagnoli knew, as did Ambrogi's family, that Kyle was suffering from depression. This time, we don't know the cause of death - and let's emphasize that as loudly as possible.

But the shock is just as strong, that's for sure. Bagnoli said yesterday:

We know we can't get through this on our own. We're going to handle it as one big family. We want to make sure his roommates are OK. We're going to pay particular attention to them because they stumbled upon him. It's a delicate situation but right now; our whole team is an emotional mess...

The kids gravitated to him all the time. So this is devastating under any circumstances, but he's the most popular kid on our team. He was a kid that reached out to everybody, embraced everybody. He was always positive and upbeat.
Jonathan Tannenwald, Philly.com
It was everything we hoped it would be. Franklin Field was packed to the rafters and beyond, with 54,310 fans inside the old brick walls on a spectacular spring day. Even when Usain Bolt just galloped across the infield on a warmup run, the place exploded.

And when Bolt came down the home stretch in the 4x100, anchoring Jamaica to a victory in a Penn Relays record time of 37.90 secods, the noise at Franklin Field was among the loudest you'll ever hear on 33rd Street.

If you didn't get to see the race, either in person or on TV, there's a video below that includes Bolt's portion of the 4x100. I don't know who shot it, but whoever it was had a field-level pass during the race. It's some great footage.

You'll also see some photos I took in attemtpt to capture just how massive the crowd was. The final image, taken by staff photographer Ron Cortes, is of Bolt waving to the crowd after his race. It's a fitting way to close out another year of Penn Relays coverage here on the blog.

Jonathan Tannenwald, Philly.com
I don't know if any of us can really visualize just what Franklin Field is going to be like today.
Ever since it was announced that Usain Bolt would be here, everyone's been trying to figure out just how big the Saturday crowd will be. Now, we get to find out.
I've already heard rumors that Relays officals expect to sell out of programs this morning. My guess is that five of the six sections of Franklin Field will be full: the upper and lower decks of the south and east ends, and the lower deck of the north end.
Jonathan Tannenwald, Philly.com
We did it once already; why not do it again?
If there's a school whose results you want to know about or a memory you want to share, please jump right in and post your comments.
Jonathan Tannenwald, Philly.com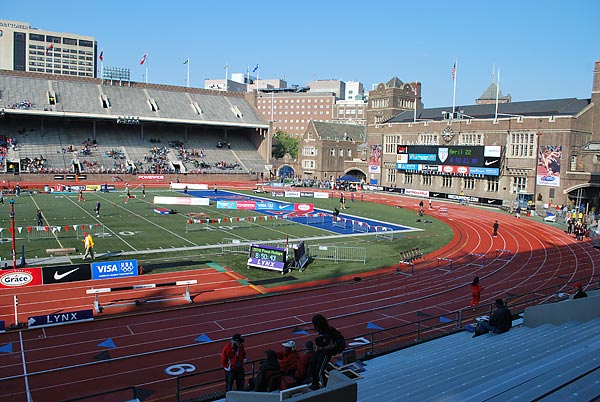 It's amazing how quickly time passes. So much has happened over the last year, but it feels like it can't possibly have been 12 months since the last time we gathered at Franklin Field for the Penn Relays.

But here we are again, ready for another year of sunshine and spectacle. The Penn Relays are one of the most fun things I get to cover, and I'm thrilled to be able to liveblog it all for another year.

There's so much to look forward to. Of course there are the big stars coming Saturday for USA vs. the World, but today and tomorrow there will be all kinds of stories from the high school and college races.

In past years, I've done this as a series of short blog posts over the three days. This year, I'm just going to do one running chat each day. Of course, there will also be plenty of photos and video to go with the commentary.

And for the first time ever, I have some help this year. My Philly.com colleague Matt Hoffman will be joining me on press row througout the weekend, and he'll be anchoring the coverage at times too.

One thing hasn't changed: your role in all this. If there's a school whose results you want to know about or a memory you'd like to share, I hope you'll jump right in. I want this to be as interactive as possible.

So let's get started, shall we?
Jonathan Tannenwald, Philly.com
We already knew about Usain Bolt, and today we found out which other big-name runners are in the pool of participants at Franklin Field this weekend.

I've posted some of the biggest names below. The full list is here. Keep in mind that this is just a pool. It's subject to change. But if it holds up, the atmosphere on Saturday is going to be off the charts.

United States

Men

Shawn Crawford, 4x100 (2004 Olympics 200 gold, 4x100m silver; 2008 Olympics 200 silver)
Walter Dix, 4x100 (2004 and 2008 Olympics 100 bronze)
Darvis Patton, 4x100 (2003 and 2007 World Championships gold, 2004 Olympics bronze)
Xavier Carter, 4x400 (Two-time Penn Relays 4x400 winner with LSU)
Kerron Clement, 4x400 (2008 Olympics 4x400 gold, 400 silver)
David Neville, 4x400 (2008 Olympics 4x400 gold)
Angelo Taylor, 4x400 (2000 and 2008 400 hurdles gold, 2008 4x400 gold)
Leonel Manzano, 4x800 (2007 and 2008 Penn Relays Outstanding Men's Athlete)
Nick Symmonds, 4x800 (won 2008 Olympic Trials 800m)

Women

Allyson Felix, 4x100 and 4x400 (2008 Olympics, 2007 and 2009 World Championships 4x400 gold)
Sanya Richards, 4x400 (2004 and 2008 Olympics 4x400 gold, 2008 400 bronze)
Natasha Hastings, 4x400 (2008 Olympics 4x400 gold)
Nicole Leach, 4x400 (West Catholic alum/Philadelphia native)

Jamaica

Men

Yohan Blake, 4x100
Usain Bolt, 4x100 (2008 Olympics and 2009 World Championships 100, 200 and 4x100 gold)
Nesta Carter, 4x100 (2008 Olympics 4x100 gold)
Michael Frater, 4x100 (2008 Olympics and 2009 World Championships 4x100 gold)
Asafa Powell, 4x100 (2008 Olympics and 2009 World Championships 4x100 gold)

Women

Simone Facey, 4x100 (2009 World Championships 4x100 gold)
Shelly Ann Fraser, 4x100 (2008 Olympics 100 gold, 2009 World Championships 4x100 gold)
Jonathan Tannenwald, Philly.com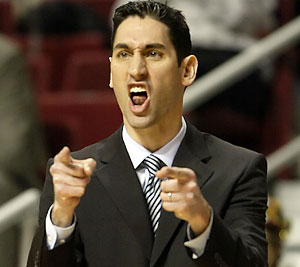 Correction: Leibovitz didn't play varsity basketball at Penn. Thanks to Stu Suss for the information.
This is pretty surprising.
ESPN.com's Andy Katz is reporting that Hartford coach Dan Leibovitz has resigned that job so that he can take John Gallagher's spot on the Penn bench as an assistant to Jerome Allen.
Jonathan Tannenwald, Philly.com
The Penn Relays office released the schedule of races for the three-day event yesterday. There are a total of 367 events, but one will stand out far above the rest: the USA vs. the World Men's 4x100-meter relay.
It is the race that will feature Jamaican star and 100m sprint world record-holder Usain Bolt, and you can bet Franklin Field will be at its loudest and most crowded when Bolt takes the track.
So after laying out a few more words to make you stick around here for a moment longer, I will tell you that Bolt's race will go off at...
Jonathan Tannenwald, Philly.com
This is not a blog post that I ever wanted to write, or news that I wanted to break. But I knew it would happen sooner or later. We all did.
Longtime Penn football assistant coach, cheerleader, and all-around supporter Dan "Coach Lake" Staffieri passed away this morning. He was 85 years old, and succumbed to the bladder cancer that kept him away from Franklin Field throughout last year.