Archive: March, 2010
Jonathan Tannenwald, Philly.com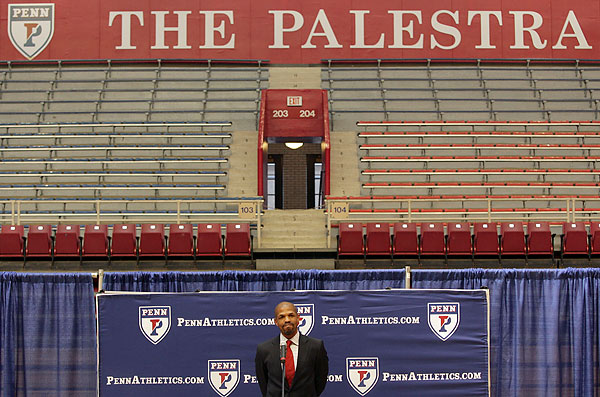 Photo by Yong Kim/Staff Photographer
The first thing Jerome Allen did after being officially introduced as Penn's basketball coach was thank everyone.

And by everyone, I mean each individual who was sitting in the stands of the Palestra Wednesday afternoon.

Fran Dunphy got a mention. So did his assistant, Shawn Trice, who was Allen's roomate at Penn. So did former Quakers star Stan Greene. Penn's athletic director, Steve Bilsky, was thanked multiple times.

The basketball team's equipment manager got a shoutout, and informed Allen that he wouldn't have to steal stuff from the Palestra anymore. Allen's former academic advisor, Dr. Harriet Joseph (a longtime reader of this blog, it should be said) was mentioned. And of course credit was given to Allen's wife, children, parents and grandparents, one by one.

It took a while to get through all the names, but no one seemed to care. This was a day in which the Penn basketball program somehow managed to take in its past, present and future all at once.

In a way, though, it was impossible to avoid doing just that. The man standing on the podium was one of the all-time great players in Quakers history, but now he was wearing a suit and tie instead of a jersey and shorts.

Allen's players were seated in the front rows of the sideline chairbacks. His former coach was seated up high in the bleachers, almost right under the 1994 Ivy League championship banner.

There were moments of silence and moments of storytelling. Some of it was humorous, and some of it was profound.

But it was certainly all heartfelt. And its ending was as straightforward as it gets.

"We will get it done," Allen said. "We will get it done."

I've transcribed some of Bilsky's and Allen's remarks below.

In the audio player at the bottom of the post you can listen to the entire press conference. There is some static on the line, but it's pretty clear overall. After the formal remarks were over, I took out my video camera and interviewed Bilsky, Dunphy and Zack Rosen. You can watch that in the video player at right.

And of course, you can share your thoughts below.
---



Jonathan Tannenwald, Philly.com
Now that the interim tag has been removed from Penn basketball coach Jerome Allen's title, it's time to look at the tasks that Allen faces.
The obvious one is to get the Quakers winning again. The task isn't necessarily easy, but it is relatively straightforward. Find good players, sell them on the Palestra and Wharton, run a system in which they can thrive. It's not that hard to win the Ivy League in basketball, frankly.
Believe me, there's not a coach in the Ancient Eight who doesn't think Penn will come back to prominence very soon. That includes Steve Donahue, whose Cornell squad's lone Ancient Eight loss was at the Palestra. Yeah, it was a freakish night for both teams, but it happened, and Jerome Allen got his players to believe they could beat the Big Red.
Jonathan Tannenwald, Philly.com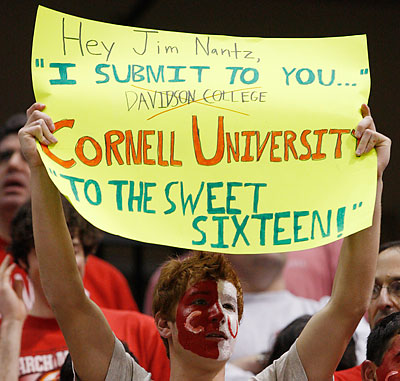 [Comment From Philly hustler]
Cornell is a pretty good ballclub, but you still shouldn't be losing to an IVY league squad in the big Dance.

[Comment From CK]
temple's going to lose by 20 pts to an Ivy League team!!! Pathetic!

Those remarks were posted in my Cornell-Temple liveblog on Friday.

You probably noticed that I didn't say much during the last 10 minutes of that game. That was in part because of the enormous volume of comments that you all were posting, but also because I really didn't have much to say - and I wasn't sure what to say either.

I've already told you why I thought Temple would beat Cornell. But just because I thought the Owls would win didn't mean the Big Red couldn't. I knew that Cornell could deal with Temple's style and pace; I just thought that the Owls would do a better job of executing.

I thought Wisconsin would be a good matchup for Temple, and it turned out to be a good matchup for Cornell too. I thought the Big Red could beat the Badgers, but I certainly did not expect it to be a blowout.

Now Cornell is in the Sweet 16. The Big Red are the first Ivy League team to get this far in an NCAA Tournament since Penn's run to the Final Four in 1979.

It would be self-aggrandizing and cheap for me to say I told you so. It would also be a lie, for the reasons stated above. But I have said here and elsewhere that this is the best Ivy League team I've seen in person since Ugonna Onyekwe's Penn team of 2002-03.

I never saw Jerome Allen's Penn dynasty with my own eyes. Same with the Princeton powerhouse that finished the 1997-98 season ranked No. 8 in the nation and was the last team before Cornell to win a game in the NCAA Tournament.

I have, however, seen the Big Red four times in person this year: at Drexel, at Columbia, at Penn and hosting Penn. I know that some of the nationally prominent voices who will sing Cornell's praises this week have not seen the Big Red in person this season. Some of them have told me so in person; Jay Bilas did so on my blog.

So you can judge my saying the following for yourself: This team is no fluke.

It is a Cinderella of the highest order. It has a tremendous story to tell. It is doing something that not very many people expected it would - other than Bilas, who will call Cornell's game against Kentucky on Thursday.

But it is not a fluke. Not by any means.

Steve Donahue assembled a cast of players that hails from 15 state and one Canadian province, and he did much of his work before Penn fell off the map under Glen Miller. Princeton was down when Ryan Wittman and Louis Dale were high school seniors in 2006, but the Quakers were midway through a run of three straight Ivy League titles.

Even if Penn and Princeton had not stumbled, Cornell's success could have happened anyway. The perennial powers' struggles may have helped the Big Red win the league, but it didn't get them to the Sweet 16.

Before Penn's game at Princeton last season, I spent a while chatting with the Ivy League's executive director at the time, Jeff Orleans.

I told Orleans that there are two things I fundamentally believe about Ivy League sports: that its football teams deserve to go to the I-AA playoffs, and that its basketball teams can win in the NCAA Tournament without using athletic scholarships to recruit players.

The latter of those beliefs has been challenged by many people in many forms since I've been covering the league. But now it has been borne out - and yes, it does feel fulfilling. I'm not afraid to say that.

Nor am I afraid to say this: you should all think about how the mentality of impossibility affects the teams you follow.

It's not impossible for a team coached by Fran Dunphy to win in the NCAA Tournament. It's not impossible for Temple to reach the Final Four. It's extremely difficult, perhaps even improbable, but it's not impossible.

Think about it this way. It is clearly not impossible for Villanova and Georgetown to be nationally succesful at basketball, even though they both have I-AA football programs that produce very little revenue.

(I know Villanova's a big deal at its level, but you know what I mean - and Georgetown's program is even smaller. I've been to the Hoyas' football stadium, and you could fit its entire capacity into one side of Villanova Stadium.)

If Villanova and Georgetown can succeed at basketball, then it can't be impossible for Penn State and Rutgers to do so given the amount of money their BCS-level football programs bring in. Sure, there are structural problems, but they can be overcome - and I think we can all agree that they should be, whether you root for those teams or not.

The Cornell-Kentucky game is already being portrayed as an epic battle between all that is right about college sports and John Calipari. I don't think it's a morality play of quite that scale, but the Big Red bandwagon is filling up fast.

So let me offer a few pieces of advice to those of you who want to join the party. First, make sure you hide your fish from the ticket-takers, because they'll confiscate it if they find it.

Second, make sure to stop at Theodore Zinck's before heading to the Carrier Dome. It's not a long trip from Ithaca to Syracuse, but there will be a lot of traffic going north on Interstate 81 on Thursday morning. So plan accordingly.

And finally, remember this: There is no such thing as impossible.
Jonathan Tannenwald, Philly.com
Here's the schedule of tip times and announcer pairings for the regional semfinals...
Thursday
7:07 p.m.: W1. Syracuse vs. W5. Butler at Salt Lake City (Gus Johnson and Len Elmore)
7:27 p.m.: E2. West Virginia vs. E11. Washington at Syracuse (Dick Enberg and Jay Bilas)
9:37 p.m.: W2. Kansas State vs. W6. Xavier (Gus Johnson and Len Elmore)
9:50 p.m.: E1. Kentucky vs. E12. Cornell at Syracuse (Dick Enberg and Jay Bilas)
Jonathan Tannenwald, Philly.com
On the strength of 32 sensational points from center Omhar Samhan and a combined 29 points from sharpshooting guards Mickey McConnell (15) and Matthew Dellavedova (14), Saint Mary's threw Villanova out of the NCAA Tournament by a 75-68 margin at the Dunkin' Donuts Center in Providence, R.I.
The Gaels shot exactly 50 percent from the field, 24-for-28. The Wildcats shot only 25-69, 36 percent. Just as importantly, Saint Mary's attempted 26 free throws to Villanova's 11.
Corey Stokes was Villanova's leading scorer with 15 points on 5-for-9 shooting. Scottie Reynolds scored only eight points on 2-for-11 shooting in the last game of his college career.
Jonathan Tannenwald, Philly.com
You all know that during my liveblogs, I cite a statistic at halftime called points per possession. It's not something that appears in the boxscore; I get it by plugging numbers into a spreadsheet.

Before I put in the final points total, the spreadsheet displays the following error message based on its inability to compute the outcome:

#DIV/0!

For much of this afternoon, my brain was a large and bewildered lump of #DIV/0!. It couldn't compute the numbers it had processed.

It was never fair to either Temple or Cornell that they were drawn against each other in the first round. None of the many people I know who follow those both teams wanted one to lose.

But someone had to advance, and someone had to go out. So I went with the coach who had never lost to the other head-to-head. I went with the coach who had the higher seed in an NCAA Tournament game for the first time in his career, after nearly two decades of watching his players wear dark jerseys in mid-March.

I spent much of this week screaming as loudly as I could that Fran Dunphy was 22-1 all time against his former assistant coaches. But the other reason why I didn't think Temple would lose because I didn't think the Owls would let Cornell win. I felt that Temple's defense this year was too good, and that Fran Dunphy would prepare his team for everything the Big Red would do.

The exact opposite happened. Temple shot 51.9 percent from the field, which in a given game would be spectacular, but Cornell shot 56.3 percent from the field - 27 made field goals out of 48 attempts. The Big Red completely shredded the Owls' defense, as Louis Dale erupted for 21 points and Jeff Foote scored 16 on 6-for-8 shooting.

In Dale's two previous NCAA Tournament games, he was 1-for-11 from the field against Missouri last year and 4-for-16 against Stanford in 2008.

As a result, for the first time since 1998, the Ivy League has won a game in the NCAA Tournament.
You all know that I've covered Ancient Eight basketball for a while now. I've long believed that the league's teams are capable of winning NCAA Tournament games without having to use athletic scholarships to recruit players.
(The Ivy League's eight schools do not offer merit-based aid of any kind - not for sports, playing the tuba, academics or anything else. All aid is need-based.)

Just because I thought it could happen, though, doesn't mean I thought it actually would happen any time soon. Now it has. And of course, it had to come at the expense of the man who led the Ivy League onto college basketball's biggest stage 10 times in his 17 years at the conference's flagship program.

(Sorry, Cornell and Princeton fans. You know it's true.)

I believe that Fran Dunphy is one of the nation's best college basketball coaches. I believed it last year, I believed it yesterday and I still believe it today. And I'm not alone, having been told many times of Dunphy's high standing within the coaching fraternity. Ask Roy Williams, Rick Barnes or Bo Ryan. Ask Mike Krzyzewski, who endorsed Dunphy to Penn in 1989 and Temple in 2006.

This will go down as one of Dunphy's worst losses, though. The margin was not as great as Penn's 85-65 defeat by Boston College in 2005, but this was the first time Dunphy's team was more athletic than its opponent.

Dunphy was beaten, and convincingly, by the coach he raised to follow in his footsteps. Reading Steve Donahue's postgame quotes, the degree to which the student beat the teacher becomes even more clear:

You know what, we're a very good experienced passing team, and I sensed that in the A-10 they haven't seen many teams like us that would maybe take advantage if you go under a ball screen or a triple handoff. So if you saw that Louis Dale has a couple threes they went under.
Jonathan Tannenwald, Philly.com
And all the years
No one knows
Just how hard you worked
But now it shows
As if yesterday's mayhem wasn't enough, we're doing it all over again today. I'm ready if you are.
A reminder that our live scoreboard has box scores for every game and a dynamic bracket that updates automatically as results come in.
Jonathan Tannenwald, Philly.com
The ball is tipped
And there you are
You're running for your life
You're a shooting star

At long last, the 2010 NCAA Tournament has arrived. I am not traveling to any venues this year, so I'll be taking in March Madness on TV along with all of you. I will be hosting live chats all day today and tomorrow, starting when CBS goes on the air and not ending until Greg Gumbel calls it a night.

In addition to the chat, you'll want to keep our live scoreboard open as another tab in your browser. It includes a dynamic bracket that will update automatically as results come in.
There's one more thing I need to do before today's games tip off: tell you who I think will win the national semifinals and the championship game. It's pretty simple.
National Semifinals
Jonathan Tannenwald, Philly.com
We have made it all the way across the country now. While the West may not have the star power of the other regions, it's the hardest one of all for me to figure out.

Part of that stems from not being familiar with a number of the teams in the region, most notably BYU and Vanderbilt.

But more than anything else, the outcome of the West hinges on one body part: Syracuse forward Arinze Onuaku's right quadriceps.

Onuaku injured the quad in a collision with Georgetown center Greg Monroe during the Syracuse-Georgetown Big East Tournament game last week. Orange coach Jim Boeheim told ESPN's "Pardon the Interruption" on Monday that Onuaku won't play Friday, and that "there's a possibility he might play a little at the end of the week - we just don't think that right now."

"We don't drop off the map" without Onuaku, Boeheim told Messrs. Kornheiser and Wilbon. But there's a very real chance that Syracuse will be sent packing much earlier without Onuaku than they would be with him.

Boeheim is very good at his job, as we all know, and that includes his public speaking skills. I am not quite willing to assume that Onuaku will be back to full health in time for the Sweet 16. And given the path Syracuse has been given in this bracket... well, let's take a look at my projection and see where the Orange end up.

First round

1. Syracuse over 16. Vermont

Gus Johnson will be calling the game, and former Catamounts star T.J. Sorrentine will be in the house at HSBC Arena if Brown coach Jesse Agel lets him go. But there won't be any miracle shots from the parking lot this time around.

That has more to do with Vermont than it does with Syracuse. The Catamounts won in 2005 because they hit a storm of threes over the Orange's famed 2-3 zone defense. This Vermont squad is ranked 258th in three-point shooting. Its best player, Marques Blakely, is an interior threat who's only 1-for-15 from beyond the arc this season.

8. Gonzaga over 9. Florida State

For a team that already knew it was going dancing, the WAC championship game had as high stakes as you could imagine for Gonzaga. A win in that game could have allowed the Zags to play the first two rounds of the NCAA Tournament in their home town, Spokane. But Gonzaga lost to Saint Mary's, and was punished with a trip all the way across the country to face the most efficient defense in the nation.

I still think Gonzaga pulls out the win. Florida State's offense ranks an abysmal 335th in turnover percentage given up, and 298th in free throw percentage. Gonzaga isn't much better from the charity stripe, ranked 250th. But the Bulldogs are ranked ninth in their ratio of free throw attempts to field goal attempts, which says they get to the line a lot. The Seminoles lost in the first round last year and hadn't been to the NCAA Tournament prior to that since 1998. I'll take Gonzaga, which is making its 11th consecutive Tournament appearance.

5. Butler over 12. Texas-El Paso

A lot of people see UTEP as a fashionable upset pick. I think people are seriously overlooking the Bulldogs, who have wins over Ohio State and Xavier and haven't lost since December 22. Both of these teams are ranked in the top 20 in defensive efficiency, but the Miners are 226th in free throw shooting and Butler is 21st. If this is a low-scoring game, the foul line becomes even more important.

4. Vanderbilt over 13. Murray State

Here's another game that's a trendy upset pick. Murray State has some really gaudy numbers, such as a No. 9 rank in offensive efficiency and a No. 4 rank in two-point shooting and two-point defense.

But 16 of the Racers' 30 wins this season were over teams ranked below 250 in Pomeroy. The only team in the top 100 Murray State beat was No. 97 Morehead State, once at home and once on a neutral floor in the Ohio Valley Conference Tournament. The Commodores are just a bit better than that.

6. Xavier over 11. Minnesota

If I told you that the winner of an NCAA Tournament game between a BCS team and a non-BCS team could be decided by a couple of ridiculously hot three-point shooters, which team would you expect to win the game? I bet you'd say the non-BCS team. But in this case, it would be Minnesota, and the shooters would be Blake Hoffarber and Lawrence Westbrook.

Minnesota as a whole is the eighth-best three-point shooting team in the country at 40.4 percent, but Xavier holds its opponents to 29.4 percent from beyond the arc - the 11th-lowest rate in the country. The Musketeers' worst loss by Pomeroy this season was at No. 51 Wake Forest; Minnesota lost at Miami (Fla.), Indiana and Northwestern.

3. Pittsburgh over 14. Oakland

Oakland is 259th in the country in three-point shooting, 250th in two-point defense and 212th in overall defensive efficiency. Pittsburgh's starless roster figured out how to win at Syracuse and Marquette. I would not cast this game as a likely upset possibility.

7. Brigham Young over 10. Florida

I am not as sold on BYU as others are, but the Cougars are really good at scoring. They're 10th in offensive efficiency, third in three-point shooting and the best team in the nation at the free throw line. Florida is 282nd in three-point shooting and has lost four of its last five.

(Yeah, I know. I saw it as soon as I wrote it. But it's true, so I'm leaving it there.)

2. Kansas State over 15. North Texas

It's less than a three-hour drive from the North Texas campus in Denton to the Oklahoma City. So it's more than likely that some of the 30,874 students enrolled at the school will drive up Interstate 35 to watch the Mean Green's third NCAA Tournament game in program history.

Unfortunately, they won't see an upset. North Texas is a middling 157th in offensive efficiency and a lowly 220th in three-point shooting. Kansas State is fifth in offensive rebounding percentage and 17th in defensive efficiency.


Second round

1. Syracuse over 8. Gonzaga

This will be a game where Onuaku's abscence matters, but it will also be a game where the venue matters even more. The Orange will have a huge home-court advantage in Buffalo, where secondary-market ticket prices are rising quickly.

Gonzaga has plenty of good wins this season, but I really can't see Syracuse losing in Buffalo. This game could be close, but the Orange will prevail in the end.

5. Butler over 4. Vanderbilt

I see two key stats in this game. Butler plays at 4.5 possessions per game slower than Vanderbilt, and their defense is 12th in the nation in lowest offensive rebounding percentage given up. Vanderbilt's offense is 190th in offensive rebounding percentage gained.

Butler forwarwd Gordon Hayward will have to match 6-11 Commodores center A.J. Ogilvy. If he does, the Bulldogs will be able to win this game. I don't think Vanderbilt has a good enough backcourt to spread the Bulldogs' defense out.

3. Pittsburgh over 6. Xavier

For the second year in a row, no less - and not all that far from Cincinnati. When two teams have a big difference in tempo, I generally take the slower team, and Pittsburgh averages almost nine fewer possessions per game than Xavier.

The Panthers also love playing before revved-up crowds, and the Bradley Center should be rocking on Sunday. Consider that the four teams I have playing in the second round in Milwaukee are Ohio State, Oklahoma State, Pittsburgh and Xavier. You wonder who will be rooting for whom.

7. Brigham Young over 2. Kansas State

While I can't really dispute Kansas State's seed, I haven't been sold on them this season either. That stems mainly from the Wildcats' three losses to Kansas, but I also look at K-State's 123rd-ranked three-point defense and think Jimmer Fredette and Jonathan Tavernari could light it up for the Cougars.

Add in that BYU will be playing to get to Salt Lake City for the Sweet 16, and I think the Cougars win.


Regional Semifinals

5. Butler over 1. Syracuse

This is where Arinze Onuaku's injury decides the region. I've talked to some people who follow Syracuse closely and they aren't convinced he'll be at full strength for this game. Salt Lake City is also a Thursday-Saturday site, so the Orange will be on short rest after playing in Buffalo on Friday and Sunday. If Onuaku is out, I think Butler's forwards can get Rick Jackson and Kris Joseph in foul trouble.

The other thing to watch for is Syracuse's offensive rebounding. The Orange lost to Georgetown at the Garden in part because they couldn't hit even the easiest layups down the stretch. Butler's defense is 12th in the country in lowest offensive rebounding percentage given up. Add to that the fact that Syracuse will lose its home-court advantage traveling across the country, and I think Butler can do this.

3. Pittsburgh over 7. Brigham Young

As I wrote on Tuesday, I voted for Jamie Dixon as national coach of the year because of how much he's done with so little star power on his roster.
It would be nice to see BYU win one for the home fans, but Pittsburgh has won in the Carrier Dome and the Bradley Center this season. So the atmosphere won't rattle them.

I also look at the Cougars' schedule and see that their best win of the season by Pomeroy was at No. 33 UTEP on January 9. It's been a very good year for the Mountain West, but Pittsburgh has taken down Syracuse, West Virginia, Marquette and Villanova. Combine that with an 11-possession-per-game difference in tempo, and I think the Panthers slow the game down and grind out a win.


Regional Final

3. Pittsburgh over 5. Butler

The three stupidest things you can do when filling out a bracket, as far as I can tell, are: Pick a 16 to beat a 1; pick Maryland to beat a hot mid-major with a high-scoring guard; and pick Pittsburgh to make the Final Four. I've now done two of the three.

But maybe it's good to take the plunge in a season when Pittsburgh has flown under the radar almost since November. The Panthers were picked to finish ninth in the Big East preseason poll and finished with the No. 2 seed in the conference tournament.

This game will be slow, and probably close at the end. Both teams have strong three-point defenses, but Pittsburgh's two-point defense ranks 29th to Butler's 114. I'll go with that, and send three Big East teams to the Final Four.
Jonathan Tannenwald, Philly.com
I think I know where this is going, and rather fast...
We learned yesterday that President Obama has Villanova in his Final Four. Today we got the rest of the bracket, and Obama has Temple losing to Cornell in the first round.
You can see Obama's bracket here. ESPN has made the video of his bracket breakdown with Andy Katz embeddable, so I'll put it right here for you to watch.