Archive: February, 2013
Jonathan Tannenwald, Philly.com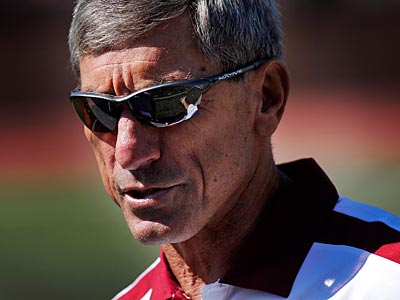 The Penn football team announced its 2013 football schedule today. As with last season, there will three games against scholarship programs - and that includes the Patriot League this year. The incoming freshman class is the first in the conference's history that has access to merit-based aid.
Of more importance, though, is that the annual Penn-Villanova game will take place on the Main Line this time. It will be on September 28.
A week before that, Penn will open its season against Lafayette. There's also a trip to William & Mary on October 12. It comes seven days after the Quakers' first Ivy League contest, at home against Dartmouth.
Jonathan Tannenwald, Philly.com
La Salle visits the Liacouras Center to take on the Temple Owls on Thursday for a Big 5 showdown. CineSport's Noah Coslov and the Daily News' Mike Kern preview this and Villanova vs. Marquette.
Jonathan Tannenwald, Philly.com
So here we are in mid-February, and the pressure is really starting to build on local teams hoping to make the NCAA Tournament.
Right now, the city has three candidates: La Salle, Temple and Villanova. They've all had roller-coaster seasons, and there are lots of twists and turns yet to come.
We could end up with all three in the Big Dance, and we could end up with none. Anything's possible.
Jonathan Tannenwald, Philly.com
Time: 7:00 p.m.
Venue: Lavietes Pavilion, Boston, Mass.
Radio: WXPN 88.5-FM
In addition to updates this game, you'll be able to get live updates and scores from other games across the Ivy League.
If you're on a mobile device, click here.
Jonathan Tannenwald, Philly.com
A few weeks ago, I had the privilege of writing an essay on the Palestra for the Philly Love Notes project.
To my great surprise and pleasure, I got an e-mail recently from legendary former Palestra custodian Dan Harrell complimenting the piece. Dan also sent along an essay on the Palestra that he wrote last year, before he formally retired from Penn's athletic department.
(Though as any of you who go to Penn games know, he's still in the building plenty often.)
Jonathan Tannenwald, Philly.com
It would be a stretch to say that Penn's 71-48 rout of Brown at the Palestra on Saturday felt like old times.
After all, it was just the Quakers' second win in five conference games so far this year. And the announced crowd of 3,103 only got to what it was because of a ticket promotion for students in the senior class.
But there's also a point at which a 23-point win is a 23-point win. That's especially true when the victor is in the midst of the longest stretch of consecutive seasons without a conference title in the Ivy League era. The drought of Ivy League championships on 33rd Street stretches back to 2007, matching the previous record set between the 1987 and 1993 campaigns.
Jonathan Tannenwald, Philly.com
Time: 7:00 p.m. EST
Venue: The Palestra, Philadelphia, Pa.
Radio: WFIL 560-AM
If you're on a mobile device, click here.
Jonathan Tannenwald, Philly.com
Although Saint Joseph's lost at Dayton on Wednesday, Hawks big man C.J. Aiken nearly stole the headlines with a spectacular slam dunk early in the second half.
If you watched the game on local TV here, you saw it. If not, you might have heard your friends talking about it on Thursday.
The St. Joe's athletic department got a video clip of the play up on YouTube and gave it a nifty Twitter hashtag: #LobCityAve.