Archive: December, 2010
As you would expect, Jay Wright and his players faced a storm of questions after last night's 78-74 win over Temple at the Pavilion.

But one fairly significant point almost got lost in the deluge: the victory gave the Wildcats the Big 5 championship.

Almost the entire press conference passed before the subject was raised. Near the end, though, Maalik Wayns finally spoke about how it felt to win the City Series title for the year.

"It means a lot," the Philadelphia native said. "I grew up with a lot of those guys, I know those guys from high school, and last year they had the bragging rights for the whole year. Now I get to brag back to them."

Wayns certainly earned the right to boast, as he scored 21 points and dished out eight assists on the night. A big part of his scoring was a perfect 9-for-9 performance from the free throw line, including 8-for-8 in the second half.

Corey Stokes and Mouphtaou Yarou also had big games, with 24 and 14 points respectively. Stokes' shot 7-for-13 from the field, including 5-for-8 from three-point range, and 5-for-6 from the free throw line. Yarou shot 6-for-10 from the field and 2-for-3 from the free throw line.

As for Temple, Lavoy Allen scored a remarkably quiet 22 points and pulled down nine rebounds. Just as impressively, he played all 40 minutes of the game, as Micheal Eric was reduced to only 12 minutes on the floor because of foul trouble.

A lot of people in my live game chat were not pleased with Juan Fernandez's performance in the latter stages of the second half. He did not make a field goal in the final 12 minutes and 13 seconds of the game, in part because of some bad decisions with the ball.

Having said that, Owls fans might also want to look elsewhere in the box score. While Fernandez shot 6-for-12 from the field in the game, Scootie Randall shot 4-for-10 and Ramone Moore shot 5-for-18.

The stat that really stands out for me was that Temple as a team made only five of their 15 free three throws in the second half. That's a lot of points left on the table.

On the whole, though, the game lived up to the billing. According to Stats Inc., it was the first game between two AP-ranked City Six programs since the 1988 Villanova-Temple game at McGonigle Hall. Both teams showed why they have earned their prominence this season.

Here's one example: the offensive efficiency by both teams was outstanding, especially when you consider how rugged Big 5 games can be. Temple and Villanova both averaged over a point per possession in the game, with Villanova coming in at 1.134 and Temple coming in at 1.100. Those are great numbers.

Although there wasn't nearly the kind of atmosphere there would have been if the game had been played at the Palestra, there were plenty of fans of both schools in the house. It took the Villanova fans a while to get warmed up, as it often does, but there was a lively contingent of Temple students right in the middle of the Villanova student section.

That gave the national television audience at least a taste of what makes college basketball in the Philadelphia area so special.

When it was over, Villanova walked off the floor with its 21st Big 5 title in program history. The Wildcats have won the City Series seven times in this decade, including five times outright. Although the Big 5 isn't as tough as it used to be, the Wildcats got good tests from La Salle and Temple this season en route to reclaiming the crown.

You can listen to both teams' postgame press conferences in the audio player below. There's also a video below with game highlights and some analysis from me, Dick Jerardi of the Daily News and Keith Pompey of the Inquirer.



Jonathan Tannenwald, Philly.com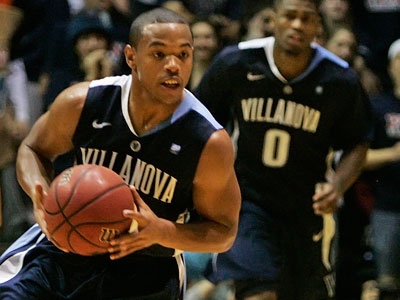 Time: 7:00 p.m.
Venue: The Pavilion, Villanova, Pa.
TV/Radio: ESPN2 (Scott Graham and Bill Raftery)/WPHT 1210-AM/WPEN 950-AM
It's finally time to settle this thing. Which team is the best in the Big 5? We'll find out tonight.
If you're on a mobile device, you can follow along and post comments by clicking here.
Jonathan Tannenwald, Philly.com
The fur and feathers are flying ahead of the big game at the Pavilion. We'll have live updates here on Philly.com; stay tuned for more information on that soon.
1. Villanova, 26 points
- "Coach Wright did his best Jim Boeheim impression this year. Monmouth was Nova's only true road game outside Philly." (Nick Catrambone)
- "Hopefully enough Villanova students make it back from break to create a home court advantage at the Ski Lodge. Otherwise, keeping this game from being played at the Palestra will be for naught." (Joe McNamara)
Jonathan Tannenwald, Philly.com
With the big Villanova-Temple game just over 48 hours away, here's our weekly check on where the local teams stand in the major national computer rankings.
| Team | Record | Conf. | Big 5 | | | | | |
| --- | --- | --- | --- | --- | --- | --- | --- | --- |
| Drexel | 8-2 | 0-0 | 2-0 | 87 (82) | 16 (25) | 33 (31) | 83 (80) | 114 (198) |
| La Salle | 6-6 | 0-0 | 0-1 | 123 (126) | 131 (97) | 145 (124) | 188 (167) | 47 (62) |
| Penn | 5-4 | 0-0 | 0-1 | 180 (200) | 141 (196) | 148 (193) | 246 (264) | 162 (172) |
| St. Joseph's | 3-8 | 0-0 | 0-1 | 172 (173) | 121 (88) | 173 (168) | 182 (175) | 30 (26) |
| Temple | 9-2 | 0-0 | 0-0 | 29 (27) | 15 (18) | 23 (23) | 15 (17) | 27 (32) |
| Villanova | 10-1 | 0-0 | 3-0 | 13 (20) | 34 (27) | 25 (27) | 39 (34) | 199 (159) |
Jonathan Tannenwald, Philly.com
The votes are in, and now it's time to unveil your choices for the best player of the decade from each City Six school.

Perhaps not surprisingly, five of the six players you picked are guards. But our region's coaches have never been shy about playing small lineups when their stars are in the backcourt. So we won't be shy either about crowning these players as our region's best from the 2000s.

You can see the results of each school-specific poll by clicking on the school name.

Drexel: Robert Battle, 33.1 percent
La Salle: Rasual Butler, 72.5 percent
Penn: Ibrahim Jaaber, 31.5 percent
Saint Joseph's: Jameer Nelson, 95.0 percent
Temple: Lynn Greer, 48.9 percent
Villanova: Scottie Reynolds, 50.6 percent

Whether you're celebrating Christmas, Festivus or any other holiday at this time of year, best wishes to all of you for a peaceful season and a happy and healthy new year. I feel really privileged to have such a terrific group of readers here on the blog, and I hope our community continues to grow in the future.
Jonathan Tannenwald, Philly.com
Okay, now it's time for you to pick the best player of this decade from each City Six school.
Click here to cast your votes.
Jonathan Tannenwald, Philly.com
If you haven't yet seen my all-Decade teams for each of the City Six schools, check them out. Temple and La Salle are here, St. Joe's and Villanova are here, and Drexel and Penn are here.
In the morning, I'll post a page where you'll be able to vote for the player of the decade from each school.
Now for the latest edition of the Schuylkill 16, which I suspect will also give you quite a bit to talk about...
Jonathan Tannenwald, Philly.com
UPDATE: I admit I should have put Robert Battle on Drexel's all-decade team. I overlooked him, but I got a number of emails and comments on the blog rightly pointing out his career statistics and awards.
To make up for that, I'll include Battle in the voting for Drexel player of the decade. That poll will be posted tomorrow. Commenter 94Dragon posted his career stats below for reference.
Drexel and Penn have put a lot of physical investment into building up their campuses in this decade, and they've also put a fair amount of emotional investment into building up one of the city's better hoops rivalries. Here are my picks for the best Dragons and Quakers of the 2000s.