Archive: December, 2008
Jonathan Tannenwald, Philly.com
Jonathan Tannenwald, Philly.com
Okay, let's admit it: last night's game was pretty tough to watch. If you were hoping for strong displays of offense by both teams, you didn't get it; instead, the two halves were almost exact opposites of each other in terms of who played well when.

As of now, there's no reason to think Temple won't recover in conference play, and the door is also open for St. Joe's and Penn State to rack up some wins.

But will anything be enough to knock Villanova out of first place? Maybe if the Wildcats lose a few games in a row, and you can't rule anything out in the Big East. I don't see it happening, though. Do you?
Jonathan Tannenwald, Philly.com
Note:

I originally posted this at the Inquirer's women's basketball blog, Women's Hoops Guru. I don't normally write about the women's game on here, but I do follow it and enjoy it. So I figured it would be nice to cross-post the story here and fill some time before Monday night's Temple-Villanova game. Remember that I'll be live-blogging it, and I invite you to join me for the 7 p.m. tipoff. Until then, enjoy what I think is a pretty interesting story from the local women's basketball scene.
There are 342 teams competing at the Division I level of college basketball this season. Between them, there are a total of three Romanian players.
Naturally, two of them play at schools located four blocks apart.
Jonathan Tannenwald, Philly.com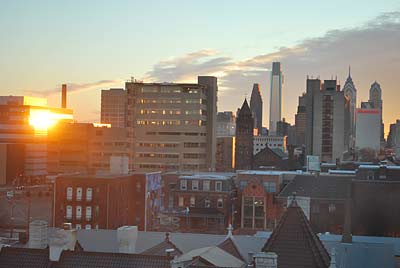 Greetings from my second annual turn on Philly.com's Christmas morning shift. I hope the holiday is going well for all of you, though I figure (and hope, frankly) that you're all still asleep as I write this post.

Yesterday afternoon, I had the chance to speak with ESPN TV analyst Fran Fraschilla. He'll be the color analyst for the Villanova-Marquette game on New Year's Day, and although he's a New York native, he's very well-versed in the Big 5 as well as the national scene.

Indeed, before I could even ask Fraschilla a question, he told me that there's "nothing better than being at a Big 5 game with a soft pretzel and mustard."

The guy knows his audience.

We started by talking a bit about this coming Monday's big showdown between Temple and Villanova on the Main Line. Fraschilla gives the Wildcats the edge because the game is on their floor, but he's been impressed by the Owls' play so far this season.
Jonathan Tannenwald, Philly.com
Breaking news: St. Joe's wins when Ahmad Nivins scores lots of points.

That's what happened last night, as Nivins poured in 26 points on 10-for-13 shooting in the Hawks' 71-67 win over Cornell.

From what we've seen so far this season, you can make a pretty fair case that the only team capable of stopping Nivins is St. Joe's itself. If the Hawks don't get him the ball and the guards struggle from the perimeter, Phil Martelli's team doesn't put too many points on the board.



| Name | Min | FG | FT | 3pt | OR | DR | TR | A | S | TO | Blk | PF | Eff | Pts |
| --- | --- | --- | --- | --- | --- | --- | --- | --- | --- | --- | --- | --- | --- | --- |
| A. Nivins | 39 | 10-13 | 6-8 | 0-0 | 9 | 7 | 16 | 1 | 2 | 4 | 1 | 1 | 34 | 26 |
Jonathan Tannenwald, Philly.com
Columbia played Villanova at the Pavilion last season, and Princeton visited Temple in 2005. But other than that, I can't remember an Ivy League team playing a non-conference game in Philadelphia since I moved here in 2002.

This time, it's the reigning conference champion Cornell Big Red, which beat La Salle in Ithaca, N.Y., on Saturday. As well as the Big Red played Saturday, a win down here would be a big upset. It would also make them 2-0 in the Big 5 this season, with a chance to record four wins against City Series teams this season.

If they do so, they'd have more Big 5 wins this season than Drexel did in 2007. Should we give them the Dragons' honorary city championship crown from that season if it happens?
Jonathan Tannenwald, Philly.com
This week's poll features another disturbingly low ballot count. But with Schuylkill 16 voter Jon Solomon's 24-hour Christmas music special on WPRB-FM in Princeton just a few days away, I needed to get this done tonight.

There also weren't many pithy comments either, but at least I'm getting used to that.

Anyway, we soldier on. If you're interested in joining the voter group, feel free to email me and I'll add you to the list.
Jonathan Tannenwald, Philly.com
I am at least halfway drowned in Eagles postgame stuff, but this email popped into my inbox tonight and I should pass it along. From the CAA's press release:

RICHMOND, Va. (December 21, 2008) – Colonial Athletic Association Commissioner Tom Yeager has issued a one-game suspension to Drexel University men's basketball coach Bruiser Flint for a violation of the conference's standards of sportsmanship.

Flint was ejected from the Dragons' game at Bucknell on December 20. He will sit out Monday afternoon's contest between Drexel and the University of Memphis.


If you were there and can tell us what led to the ejection, please do. Thanks.

I'll be back tomorrow night with Schuylkill 16 results and live coverage of Cornell-St. Joe's.
Jonathan Tannenwald, Philly.com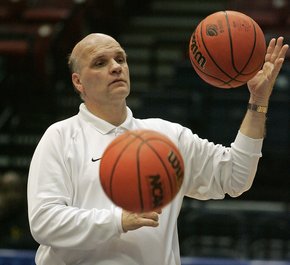 Although I've been swamped with work all week, I couldn't let this day pass without noting Bill Conlin's column in this morning's Daily News. While most of it deals with the Phillies and Eagles, Conlin does ask one question on behalf of the the region's hoopheads:

BC:

Speaking of hoops, the Saint Joseph's Hawks have a typical overachieving squad. Are you a Phil Martelli fan?

Bard:

What he [God] hath scanted men in hair, he hath given them in wit. (The Comedy of Errors)


The market research types tell me Philly.com readers like light reads at lunchtime. So there you go.

I'll be back Monday for Cornell-St. Joe's. I'm not sure how much liveblogging there will be, but I'll definitely open a chat and we can have at it.