Archive: November, 2010
Jonathan Tannenwald, Philly.com
I had a bit of extra time to put together this week's stats roundup. So in addition to the usual table, I decided to put together some of the team statistics that stand out so far this season.
I can't promise that I'm going to do this every week, but I'll try to do it a few times this season.

For each of the City Six teams, I've put together a report that highlights their good and bad traits so far. Statistics considered "good" are those in which a team ranks above 100, and statistics considered "bad" are those in which a team ranks 300 or below.

Statistics in which a team is raned in the top 10 nationally are italicized.

All numbers come from Ken Pomeroy's team pages. You can get at them via the main Pomeroy ratings page here.
---
Drexel

Offensive efficiency: 117th (102.9 points per 100 possessions)
Defensive efficiency: 88th (95.1 points per 100 possesions)

Good

Effective field goal percentage, offense: 50th (53.3%)
Offensive rebounding percentage, offense: 3rd (45.2%)
Three-point shooting percentage, offense: 30th (40.7%)

Two-point shooting percentage, offense: 88th (50.9%)
Steal percentage, offense: 60th (7.7%)
Two-point baskets as percentage of total points, offense: 39th (58.9%)

Effective field goal percentage, defense: 62nd (43.8%)
Offensive rebounding percentage, defense: 40th (27.1%)
Three-point shooting percentage, defense: 24th (26.4%)

Free throw percentage, defense: 98th (64.9%)
Assists to field goals made ratio, defense: 29th (43.0%)
Two-point baskets as percentage of total points, defense: 78th (55.6%)

Bad

Free throw percentage, offense: 317th (59.4%)
Three-point attempts as a percentage of field goal attempts, offense: 325th (23.8%)
Turnover percentage, defense: 320th (16.9%)
---
| Team | Record | Conf. | Big 5 | | | | | |
| --- | --- | --- | --- | --- | --- | --- | --- | --- |
| Drexel | 3-1 | 0-0 | 1-0 | 95 (126) | 48 (10) | 70 (77) | 147 (158) | 263 (233) |
| La Salle | 5-2 | 0-0 | 0-0 | 138 (151) | 75 (137) | 111 (130) | 167 (176) | 170 (232) |
| Penn | 2-3 | 0-0 | 0-0 | 217 (229) | 189 (112) | 229 (240) | 273 (284) | 108 (204) |
| St. Joseph's | 3-2 | 0-0 | 0-0 | 160 (168) | 108 (168) | 150 (207) | 142 (214) | 134 (129) |
| Temple | 3-2 | 0-0 | 0-0 | 39 (33) | 132 (128) | 55 (34) | 34 (32) | 65 (237) |
| Villanova | 5-1 | 0-0 | 0-0 | 9 (7) | 68 (109) | 19 (27) | 41 (64) | 153 (261) |
Jonathan Tannenwald, Philly.com
I was in soccer mode for most of the day, so I wasn't able to get to this until early in the evening. Wednesday's games were not a factor in the voting, but all of Tuesday's games were.
1. Villanova, 26 points (12 first-place votes)
- "I am dropping Villanova because of where they placed Tannenwald on press row at the Pavilion for the BU game. He was sitting all the way in the corner." (Todd Falkenberg)
Thanks, though I honestly didn't mind. I'm usually at the other end of the floor, so this was a nice change of perspective.
Jonathan Tannenwald, Philly.com
It's news enough these days that Penn won a basketball game, in this case beating Lafayette 74-65 at the Palestra. And while the Leopards did not present much of a test to Penn's offense, especially in the paint, there were still two things worth noting last night.
The first is that the Quakers summoned enough defensive resolve to battle back from an eight-point deficit. It wasn't a huge deficit, and it wasn't a huge amount of defense either, but it was enough to make a difference. Let's see if Penn can do that for something closer to 40 minutes as the season goes on.
The second is that it Zack Rosen and Miles Cartwright can play together on the floor. Both players are nominally point guards, but they are also versatile enough that they can create space and opportunities for themselves off the ball. Playing both at the same time also gives Jerome Allen an element of surprise, as either player can bring the ball up the floor and set up plays.



| Team | Record | Conf. | Big 5 | | | | | |
| --- | --- | --- | --- | --- | --- | --- | --- | --- |
| Drexel | 2-0 | 0-0 | 1-0 | 126 (152) | 10 (t75) | 77 (120) | 158 (117) | 233 (143) |
| La Salle | 3-1 | 0-0 | 0-0 | 151 (149) | 137 (t75) | 130 (146) | 176 (204) | 232 (197) |
| Penn | 1-2 | 0-0 | 0-0 | 229 (196) | 112 (t75) | 240 (234) | 284 (154) | 204 (124) |
| St. Joseph's | 1-2 | 0-0 | 0-0 | 168 (177) | 168 (t315) | 207 (166) | 214 (195) | 129 (191) |
| Temple | 2-0 | 0-0 | 0-0 | 33 (30) | 128 (t1) | 34 (23) | 32 (25) | 237 (275) |
| Villanova | 4-0 | 0-0 | 0-0 | 7 (22) | 109 (t57) | 27 (15) | 64 (72) | 261 (177) |
Jonathan Tannenwald, Philly.com
We could talk about any number of storylines from Drexel's 77-56 blowout win over Penn at the Palestra last night.

We could talk about Drexel's remarkable offensive efficiency (at least by the standards they've set in recent years), averaging 1.18 points per possession on 56 percent shooting from the field.

We could talk about Penn's similarly drastic offensive woes, highlighted by the seven-plus minute stretch at the start of the second half without a field goal scored. That was the decisive period of the game, no question - and it is not a good sign that it was the second straight Quakers game in which their offense fell silent for a long period.

If you don't mind, though, I would like to focus on another aspect of what we saw. On a typically cold November Saturday night, a bipartisan crowd of 6,879 fans turned up the heat inside the Palestra and gave the occasion a terrific atmosphere despite the lopsided score.

I understand, and sympathize with, Dragons coach Brusier Flint's desire to get more home games for his team. It is a problem faced by mid-major basketball programs across the country, and Flint's cause is a perfectly noble one.

But let's be absolutely clear: a night like this could not happen at the DAC. It is a great venue for Drexel basketball, and a great venue for its size no matter the program. A city game deserves a grander stage, though - especially when that stage is all of a five-minute walk from the visiting team's campus.

It should be noted that the Drexel students seemed to contradict themselves during the second half. Early in the end of the second half, they unveiled a rollout that said, "SUCH A SHAME WE CAN'T BEAT YOU AGAIN NEXT YEAR SINCE YOU ONLY AGREE TO LOSE IN YOUR OWN BUILDING." By the end of the game, they were chanting "This is our house!"
I have a hunch that if the Dragons are to win in the Palestra, then it can't really be that hard to convince the people who matter to keep the game there.

This night was about more than just the DAC Pack, though. In addition to the wall of gold in the east stands, there was a sea of red and blue in the west stands the likes of which I haven't seen in years. For as much work as Penn has to do on the court, we all know that the program has work to do off it as well.

If the students really are coming back now, that is a good sign. We'll see if it remains the case on Tuesday, when the Quakers host Lafayette. That will be a bigger test, as it is on a weeknight and not long before the Thanksgiving break begins.

At the end of last night's game, we were treated to another fun moment: the Drexel students threw streamers to celebrate their win. Granted, it was partly to fire a barb at the Penn students, who have given the old tradition new life. Drexel's streamers were accompanied by a rollout stating, "HEY PENN, WE'LL TAKE CARE OF THE STREAMERS TONIGHT." They certainly did.

In light of that, it is worth posing this question: wouldn't it be great if we could have that after every city game? Streamers have a special place in Philadelphia basketball lore, and it means something that a new generation of fans has been able to have the experience for themselves.

I am under no pretense that I might be able to influence the people who actually matter, but I do think it is a discussion worth having. Now that Penn and Drexel have shown that throwing streamers after the final buzzer does not run afoul of NCAA rules, do you want to see the new tradition spread across the city? I hope you'll share your thoughts in the comments.
---
In the audio player below, you'll hear from players and coaches at Drexel and Penn. Before we get there, though, we must nost the tremendous performance by La Salle center Aaric Murray yesterday. In the Explorers' 79-74 win over Morgan State, Murray finished one blocked shot short of a triple-double in blocks, rebounds and points. Here was his final line:



Jonathan Tannenwald, Philly.com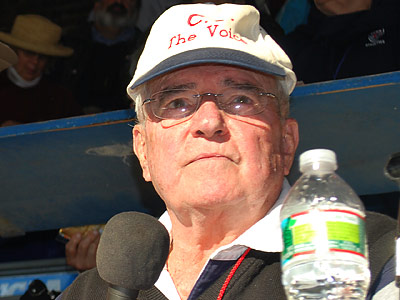 There has been plenty written already about the action we will see on the feild today, especially regarding Villanova and Penn state. So I wanted to take a bit of a different tack.

Last Saturday marked the end of a significant era. For the last 50 years, C.T. Alexander has served as the public address announcer for Penn football games at Franklin Field. Alexander might not have ben in the limelight as often as John McAdams, who announced games at the Palestra from 1981 to 2005, but think about how much football Alexander has seen.

In 1956, Alexander's first year at the mic, Penn's season-ending game against Cornell was broadcast on NBC. A year later, Penn played No. 19-ranked Penn State and No. 16 Navy at Franklin Field. In 1963, Alexander watched the Qukaers beat Rutgers, 7-6.

Obviously, the college football landscape was very different back then. Penn was not a national powerhouse as such anymore, in part because of the Ivy Group Agreement in 1945 that removed athletic scholarships from varsity football. But Penn football remained an important part of the local sports landscape.

Penn did not have many winning seasons in Alexander's early years at Franklin Field. Between 1956 and the split between I-A and I-AA football in 1978, Penn only finished above .500 in Ivy League play seven times. The Quakers only won the Ivy League title once, in 1978.

But in 1982, Alexander - a Penn alum, it should be said - and the rest of Penn football's long-suffering fan base finally got its reward. In perhaps the most famous game in Quakers history, they beat Harvard at Franklin Field to win the Ivy League.

That game is known well beyond Penn circles because of its dramatic ending. Penn kicker Dave Shulman missed his first attempt, but was roughed by Harvard's defense. The second attempt was true, and Penn had its first championship in 23 years. You can watch the play here, including Merrill Reese's radio commentary.

A decade later, Al Bagnolit took the helm. From there, we know what happened: historic success for the program. Penn has won eight Ivy League titles under Bagnoli, including this season's championship.

I spoke with Alexander before his Franklin Field finale last Saturday to get his perspective on all that history. Perhaps it was fitting that Alexander went out on a high, with Penn beating Harvard yet again to win the Ancient Eight.

Q. Is it hard to believe that this is your last game as the public address announcer at Franklin Field?
A. It is, when you look back. I never thought that I would go 50 years with only missing three games.
Q. Probably the biggest thing that has changed for Penn football over that time is the move down to I-AA. Other than that, what do you think the biggest change has been?
Jonathan Tannenwald, Philly.com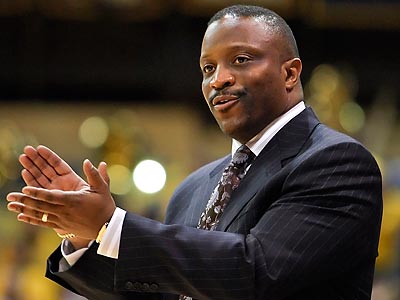 Time: 7:00 p.m. EST
Venue: The Palestra, Philadelphia, Pa.
TV/Radio: None/WXPN 88.5-FM
I said all day this game would be broadcast on the Comcast Network. I was wrong, and didn't find out until a few minutes before tip-off. Apologies.
Jonathan Tannenwald, Philly.com
It did not take long for the voting to become a head-to-head contest for the top spot between Villanova and Temple. All of the No. 1 votes cast this week went to the Wildcats or the Owls, and they were spread out pretty evenly.
One quick note before we get to the rankings: I'll be at the Pavilion tonight to liveblog the Preseason NIT doubleheader featuring Villanova in the nightcap. The Wildcats will be facing Boston University, an interesting matchup of Jay Wright and his former assistant Patrick Chambers.
The first game will pit Marist, which Villanova beat yesterday, against George Washington, which lost to Boston U. The Red Foxes will be playing Penn later in the season, and the Colonials will face the usual slate of local Atlantic 10 teams. So there will be plenty to discuss from both games.
Jonathan Tannenwald, Philly.com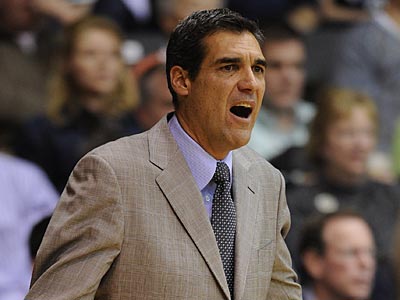 Game 3: Marist vs. George Washington

Time: 5:30 p.m.
Venue: The Pavillion, Villanova, Pa.
Live video/audio: None
Game 4: Boston University vs. Villanova