Archive: November, 2008
Jonathan Tannenwald, Philly.com
A few random thoughts while watching Georgetown blow Maryland's doors off...

- Villanova made a serious statement in its 78-65 win over Rhode Island at the Palestra last night. I thought that Joe Juliano hit the point right out of the gate in his game recap:

This was the kind of game Villanova needed after two weeks of playing against opposition that didn't come close in caliber to the teams the Wildcats will face in the Big East Conference.


Dick Jerardi also summed it up well tonight on Philly Hoops Insider:
Jonathan Tannenwald, Philly.com
Greetings from the Palestra, which is as roasting hot as ever for tonight's championship game of the 2008 Philly Classic.

Rhode Island put a serious scare into Duke at Cameron Indoor Stadium at the beginning of the season, beat Virginia Commonwealth at home and took down Penn State here on 33rd Street last night.

The Wildcats, meanwhile, are 5-0 and are playing their second of three games at the Palestra in a five-day span that will end Tuesday night against Penn.
Jonathan Tannenwald, Philly.com
This long weekend is full of really big rivalry games, and I want to know what you think is the best one.

Locally, there's senior day for Temple and Villanova's playoff game against Colgate. I can't go, but if you can, you should. It could be the last playoff football game in the region for a while.

Nationally, there's Bedlam, the Iron Bowl, the Civil War, the Backyard Brawl and Philip Fulmer's last game as Tennessee head coach (with a shoutout to a Twitter friend of mine in Knoxville). There's also an intra-state rivalry game that was created by pressure from politicians back in 1958.
Poll: What's the Spectacle of the Week?

(55 votes)
Jonathan Tannenwald, Philly.com
Another Tuesday, another Schuylkill 16 matchup in University City.

It's been six years since Penn State last played the school whose students insist on calling themselves Not Penn State, and the two programs have changed quite a bit since then.

It's also the first of three games at the Palestra this week for the Nittany Lions, as they'll be back on 33rd Street for the Philly Classic this weekend.
Jonathan Tannenwald, Philly.com
Before we start, congratulations are due to the Atlantic 10 for moving its men's basketball tournament championship game to CBS starting in 2010. Yes, that's the actual television network, not the cable channel that Comcast puts on some high-priced digital tier.

The TV deal accompanies a significant change in the tournament's format. There will still be 12 teams in the field and the top four seeds will get byes, but the first round of games will be played on campus at the higher seeds on Tuesday of Championship Week. The tournament will then move to a neutral site for the quarterfinals, semifinals and championship game.

The press release from the conference notes that the venue for the 2010 tournament will be announced later this winter. Here's hoping that it stays somewhere on the East Coast within close range of Philadelphia, even if it's not Atlantic City anymore. Despite the conference's recent expansion, a majority of the conference's teams and fans are on the East Coast. I hope the tournament continues to reflect that.
| Rank | AP | McLane | Coaches | Sagarin | Harris | BCS |
| --- | --- | --- | --- | --- | --- | --- |
| 1. | Alabama | Alabama | Alabama | Texas | Alabama | Alabama |
| 2. | Florida | Florida | Oklahoma | Oklahoma | Florida | Texas |
| 3. | Oklahoma | Texas | Florida | Florida | Oklahoma | Oklahoma |
| 4. | Texas | Oklahoma | Texas | Texas Tech | Texas | Florida |
| 5. | USC | USC | USC | USC | USC | USC |
| 6. | Penn State | Penn State | Penn State | Alabama | Penn State | Utah |
| 7. | Texas Tech | Texas Tech | Utah | Penn State | Texas Tech | Texas Tech |
| 8. | Utah | Ohio State | Texas Tech | Utah | Utah | Penn State |
| 9. | Boise State | Boise State | Boise State | TCU | Boise State | Boise State |
| 10. | Ohio State | Utah | Ohio State | Ohio State | Ohio State | Ohio State |
Jonathan Tannenwald, Philly.com
Note:

Voters were instructed to not include this afternoon's La Salle-Valparaiso and St. Joe's-Texas results when casting their ballots.
As I look at the results of this week's poll, I can't help thinking that Villanova, Temple and St. Joe's are going to be the top three teams for a while to come.
There is once again a big gap between the third-ranked Hawks and the fourth-ranked team, which this week is Penn State. Rutgers took a hit for losing to St. Bonaventure, though I'm a bit surprised that the Scarlet Knights didn't fall farther. Then again, Drexel's blowout loss at Georgetown made for a sizeable gap between the sixth- and seventh-ranked teams in the poll.
Jonathan Tannenwald, Philly.com
Here's a game recap with some photos, here's a box score and here will be a deeper box score at some point tonight when Basketball State's database gets the stats fed in. the game or not.

We had a good time with the blog this afternoon. The next one will be tomorrow night for Penn State at Penn.

The Schuylkill 16 poll results will come later tonight.
Jonathan Tannenwald, Philly.com
I'm debating whether I should do a live chat during the St. Joe's-Texas game. I'm not in Maui, obviously, but I'll be at my desk watching on TV. So there might be some play by play along with your questions on whatever you want to talk about.

Thoughts?
Jonathan Tannenwald, Philly.com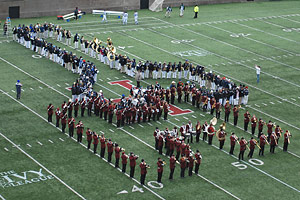 BOSTON - What are the elements of a great rivalry?

Proximity often plays a big role. So do passionate fan bases. There's usually some history too, and with the great rivalries in sports that history involves great success achieved at the direct expense of the other team.

The Big 5 has all of these things, of course; so do Villanova and Georgetown, Penn and Princeton, the Phillies and the Mets, and so many other clashes that make our sports landscape as rich as it is.

In basketball, the best rivalry game I've ever seen in person is without question the Holy War. It is always the night when the Palestra is at its loudest, hottest, and fullest to the corners of the very last rows.

In football, however, the best rivalry game I've seen in person is not in the Philadelphia area. It is the Harvard-Yale game, and this afternoon I was at Harvard Stadium for its 125th edition.

It is not, by any stretch of the imagination, a major rivalry on the national sports stage. It certainly does not register much on our local radar.

Nor, frankly, does it have a right to be judged on the quality of the football played - especially on a day like today, when a ferocious wind made for freezing temperatures in the enclosed press box and far worse conditions in the stands.

But as I watched the two teams warm up in the shadows of Harvard Stadium's grand old concrete columns, I definitely felt the pull of the game's storied history.
Jonathan Tannenwald, Philly.com
It's a big day for college football and a big weekend for college basketball. The floor is yours for questions, answers and predictions on all the big games.