Archive: October, 2012
Penn State vs. Ohio State is one of several big games this weekend. CineSport's Brian Clark and the Daily News' Mike Kern discuss this, Temple football and Notre Dame vs. Oklahoma.
Jonathan Tannenwald, Philly.com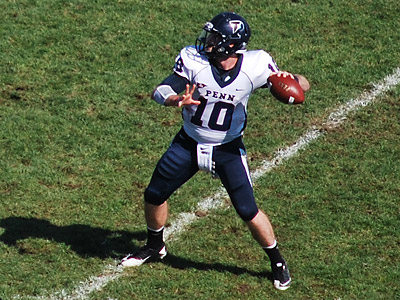 WEST HAVEN, Conn. - Penn quarterback Billy Ragone grew up just a few miles down the road from the Yale Bowl. So whenever he travels north to face the Bulldogs, he inevitably ends up being the center of attention.
That was the case again Saturday, but likely not for a reason Ragone would have wanted. The Cheshire, Conn., native threw an interception midway through the third quarter that turned the game decisively in Yale's favor, and led to a 27-13 Penn loss.
It is the first time Penn (2-4, 2-1 Ivy League) has lost to Yale since 2007. Every year since then, Penn had started Ivy League play 3-0, with wins over the Bulldogs (2-4, 1-2 Ivy) and perennial underachievers Dartmouth and Columbia.
Alabama & Florida rank atop the first BCS standings, but are these rankings meaningless? Is Florida a legit BCS title contender? The Daily News' Mike Kern discusses these issues in a chat with Justin Shackil of Cinesport.


Jonathan Tannenwald, Philly.com
The scale of the task ahead this season for Jay Wright was made even more stark Wednesday morning, when Villanova was picked to finish 12th in the Big East men's basketball preseason coaches' poll.
In addition, no Wildcats were named to any of the preseason all-conference teams.
Here are the poll results:
Jonathan Tannenwald, Philly.com
It came as no surprise that Drexel was picked first in the Colonial Athletic Association men's basketball preseason poll.
I'm not sure it was quite as expected, though, that Delaware came in second.
But there stand Monté Ross' Blue Hens, right behind the Dragons in the rankings. Both teams also have two players each on the all-CAA preseason first team.
Jonathan Tannenwald, Philly.com
The state of New Jersey's announcement that it will begin issuing sports betting licenses on January 9 has provoked a quick and powerwful response from the NCAA.
College sports' governing body has pulled the hosting rights to five NCAA championship events that are due to take place in New Jersey in 2013. The most prominent among them is the East Regional round of the Division I women's basketball tournament, which was to be played at the Sun National Bank Center in Trenton.
As the NCAA said in a statement issued Monday night:
Jonathan Tannenwald, Philly.com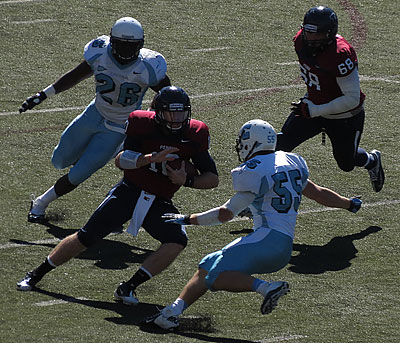 A guest post from The Inquirer's Marc Narducci, who covered Sunday's Penn-Columbia football game at Franklin Field. Read his recap here or in the paper.
From a Penn perspective, the positive news is that the Quakers are very much in the running for the Ivy League football title. Penn is 2-3 overall, but 2-0 in the Ivy after Saturday's comeback 24-20 win over Columbia.
On the negative side, it's the third straight game in qhich the Quakers have played only one good half, and they still haven't put together a strong 60 minutes in any game. In its 28-21 win at Dartmouth to open conference play, the Quakers held a 20-0 halftime lead.
Jonathan Tannenwald, Philly.com
Here's a good a sign as any that Drexel is expected to have a very strong season: the Dragons are featured in eight of the CAA's 15 nationally-televised games on the NBC Sports Network.
Among the marquee contests involving the Dragons are visits to the DAC from Davidson and Old Dominion, and the big trip to George Mason.
The Peacock's cable network will also carry both semifinals and the final of the conference tournament. It's the first time ever that the semifinals will be on national TV.
Jonathan Tannenwald, Philly.com
I was out of the office on Thursday so I wasn't able to post the announcement of the Ivy League's slate of its nationally-televised home games in the coming basketball season.
With that information now out there, here's a schedule of every nationally-televised game involving an Ivy League team that I know of so far. If you find others, let me know.
Tuesday, November 13: Harvard at Massachusetts (Tip-Off Marathon), 10:00 a.m. (ESPN)
Sunday, November 18: Cornell at Wisconsin (Las Vegas Invitational), 6:00 p.m. (ESPN3.com)
Tuesday, November 20: Columbia at Villanova, 7:00 p.m. (ESPN3.com)
Tuesday, November 20: Cornell at Arizona State (Las Vegas Invitational), 9:00 p.m. (Pac-12 Network)
Video: Should Penn State have parted ways with Joe Paterno earlier than they did? Is Alabama a legit #1 team? CineSport's Noah Coslov and the Philadelphia Daily News' Mike Kern discuss.