Archive: October, 2008
Jonathan Tannenwald, Philly.com
This is the third of four posts about the Phillies' parade and celebration at Citizens Bank Park.

Click here

to see the others.

After the ceremony at Citizens Bank Park finished, members of the media were allowed onto the field for interviews. It was, as you might expect, a bit hectic. But I managed to get a hold of four people whose views I think you'll appreciate:

- Phillies pitcher and World Series MVP Cole Hamels
- Phillies president and CEO David Montgomery
- Citizens Bank Park public address announcer (among other duties in the region) Dan Baker
- Philadelphia mayor Michael Nutter
Jonathan Tannenwald, Philly.com
This is the second of four posts about the Phillies' parade and celebration at Citizens Bank Park.
Click here
to see the others.
Journalism as a concept is technically a right protected by the constitution. But the ability to practice journalism as a profession is in many ways much more of a privilege than a right.
Never was that statement proven more true to me than it was today. I was truly privileged to be among the credentialed media for yesterday afternoon's parade, which allowed me to ride down Market Street and Broad Street on an open-top double-decker bus instead of making the journey on foot.
Jonathan Tannenwald, Philly.com
This is the first of four blog posts about the Phillies' parade and ensuing celebration at Citizens Bank Park. Click here to see the others.
I did some video reporting for Philly.com this morning as part of a feature on the Phillies' parade that was put together by our video team.
You'll see below why I don't think I have all that much of a future in television.
Jonathan Tannenwald, Philly.com
I'm tempted to give it to the Phillies' parade in a walkover, but baseball remains ineligible to compete in a football-related poll.

Texas-Texas Tech and Florida-Georgia are huge, of course, but there's little else to choose from. Heck, the Brown-Penn game is on national television.

So back to baseball, then. I was interviewed for the World Series celebration edition of the On the DL Podcast, which is definitely the biggest media stage I've been on yet. The show will be available Friday morning for you to download at this link.
Poll: What's the Spectacle of the Week?

(33 votes)
Jonathan Tannenwald, Philly.com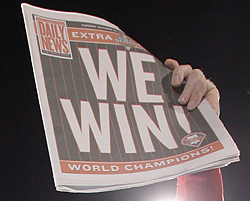 Wow.

I've been on this earth for 24 years and 357 days, and never in my life have I seen anything like this.

In the midst of trying to shepherd our postgame coverage of the Phillies' World Series title, I found myself with just enough time to go downstairs and check out the scene on Broad Street.
Jonathan Tannenwald, Philly.com
Thanks to the rainout last night, I was able to get to Villanova this afternoon for the football coaches' luncheon. It was, by far, the best yet this season. Among the highlights:

- Penn coach Al Bagnoli said that the one field goal that Quakers kicker Andrew Samson missed at Yale on Saturday went over the upright but was called no good. Penn fans know this fate has befallen their team before at the Yale Bowl, where the uprights are 20 feet tall -- ten feet shorter than the NCAA regulation height.

- Bagnoli once again left the media in the dark about who his starting quarterback will be for Saturday's clash against fellow Ivy unbeatens Brown. The most Bagnoli would say was that he'll know at "about 11:59... I'll give him seven minutes' notice" with the official kickoff time scheduled for 12:06 p.m.



Jonathan Tannenwald, Philly.com
All the audio is here, conveniently broken out by team and coach.

Temple's Dionte Christmas and Ahmad Nivins of St. Joe's were named to the all-conference preseason first team. La Salle's Rodney Green was named to the third team. Christmas and Garrett Williamson of St. Joe's were named to the all-defensive team.

Here are the preseason poll results, with first-place votes in parentheses:
Jonathan Tannenwald, Philly.com
"We hope that it's beneficial and sufficient for all of the coaches on their campuses."

-- New Atlantic 10 commissioner Bernadette McGlade on the conference's decision to conduct its media day by a teleconference.



That, and the fact that the second word I heard come out of the mouth of A-10 PR chief Stephen Haug after I was placed in the call was "cost-cutting." Then came further admissions that the cost of travel and the economic downturn led to the conference's decision to have everything done by teleconference instead of in person.

Look, I have no objection to having a teleconference or to doing so in the name of saving money. I mean, you could spin it as being greener than having everyone get on planes and buses and be telling the truth.
| Rank | AP | McLane | Coaches | Sagarin | Harris | BCS |
| --- | --- | --- | --- | --- | --- | --- |
| 1. | Texas | Texas | Texas | Texas | Texas | Texas |
| 2. | Alabama | Alabama | Alabama | Penn State | Alabama | Alabama |
| 3. | Penn State | Penn State | Penn State | USC | Penn State | Penn State |
| 4. | Oklahoma | Oklahoma | Oklahoma | Alabama | Oklahoma | Oklahoma |
| 5. | Florida | Florida | Texas Tech | Oklahoma | Texas Tech | USC |
| 6. | Texas Tech | Texas Tech | USC | Oklahoma St. | Florida | Georgia |
| 7. | USC | Oklahoma St. | Florida | Florida | USC | Texas Tech |
| 8. | Georgia | Georgia | Georgia | Georgia | Georgia | Florida |
| 9. | Oklahoma St. | USC | Utah | Texas Tech | Oklahoma St. | Oklahoma St. |
| 10. | Utah | Missouri | Oklahoma St. | Boise State | Utah | Utah |