Archive: January, 2013
The Villanova Wildcats and La Salle Explorers were a combined 4-0 against top-20 teams this past week. CineSport's Noah Coslov and the Daily News' Mike Kern discuss who had the better week.
Jonathan Tannenwald, Philly.com
I have a group of guys who are childhood friends who are so special to me. I was a sophomore in high school and this same group of guys got into some legal trouble in 1995, and unfortunately they are still not here today. But these same guys call me all the time just to let me know how proud they are of me. And I love them so dearly.
Last, but not least, Phil Martelli. Phil, as of today, you have 330 wins at St. Joe's, and you're the number one all-time. But to be honest with you, those numbers really mean nothing to me. It's the time you took out to give me words of encouragement and just the things that you've done for all the players.
I could possibly write a book just from some of things you've done for so many guys that you've encountered. And I love you for that.
Jonathan Tannenwald, Philly.com
"P" is for "Passion," and did my father ever have passion for the Big 5. Through his years at the Temple News, and through Penn's 1979 Final Four run at the Daily News. That's nearly 20 years of stories, which he chased with passion every day – no matter how tired he was, no matter how busy he was...
"P" is for "The Palestra." What more can you say about the Palestra? People who know me know how I feel about this building. It's why I spent more hours here than I did at home. I did my homework, I watched tripleheaders, I saw my dad work a 25-hour day while never complaining. How can you complain here at the Palestra? It would be impossible...
You were taken from us much too early, but I know you're looking down and smiling as this event is unfolding.
Jonathan Tannenwald, Philly.com
After Temple rallied past Penn for a 76-69 at the Liacouras Center, I got together with the Inquirer's Keith Pompey to discuss some highlights from the game. We also talked about what each team can take from the night as they head into conference play for the rest of the season.
Jonathan Tannenwald, Philly.com
Time: 7:00 p.m. EST
Venue: The Liacouras Center, Philadelphia, Pa.
Radio: WPHT 1210-AM
If you're on a mobile device, click here.
Jonathan Tannenwald, Philly.com
INDIANAPOLIS - I'm out here for the week covering Major League Soccer's college draft. But I couldn't pass up the opportunity to swing by Butler University's famed Hinkle Fieldhouse, so I headed there Wednesday night to watch the Bulldogs' first ever Atlantic 10 conference home game.
I had been here once before, but only to get a tour of the place. If you ever get the chance to visit Hinkle, I would highly recommend doing so. It really is a kindred spirit to the Palestra. The brick foundation, steel arches and big glass windows cast a familiar warmth across the court on a cold winter night.
Along with the good building, there was some good basketball too.
Jonathan Tannenwald, Philly.com
One of my Philly.com colleagues, Anna Strong, is a devout Notre Dame fan who lucked into a chance to attend the BCS title game in person. She is a senior at Penn and a product of Episcopal Academy, and her family has deep ties to the Fighting Irish.
Before she left for south Florida, I asked Anna if she'd be interested in writing a first-person account of her trip. She was happy to do so.
Here's her account. It was quite a whirlwind trip, as she left Philadelphia on the morning of the game and came back here the next day. And even though Notre Dame lost badly to Alabama, I would think this trip is one we'd all take in a heartbeat if we got the chance.
Jonathan Tannenwald, Philly.com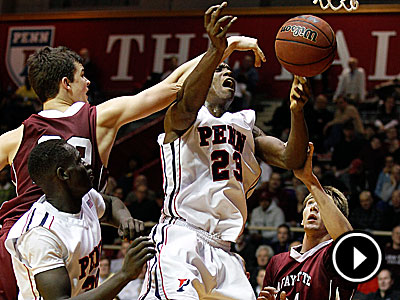 After writing up the Inquirer's recap of Penn's dramatic 85-83 loss to Lafayette, I got together with videographer Samantha Corrado to do a wrap-up of the night. I figured it would be a good time to survey the state of the Quakers heading into their Ivy League opener on Saturday at Princeton.
So instead of writing, this post is in video form. Enjoy.