Archive: January, 2010
Jonathan Tannenwald, Philly.com
PROVIDENCE, R.I. - Would it be too clichéd to call this a shot of confidence?
Okay, yeah, it would be. But still, what has been a historically bleak season for Penn basketball took a dramatic turn for the brighter last night at the Pizzitola Center.
I think I did a pretty good job of describing the play that led up to Dan Monckton's buzzer-beating putback in my story for the Inquirer. Hopefully the play will end up on YouTube, and if it does I'll post the video on here so you can see it.



Jonathan Tannenwald, Philly.com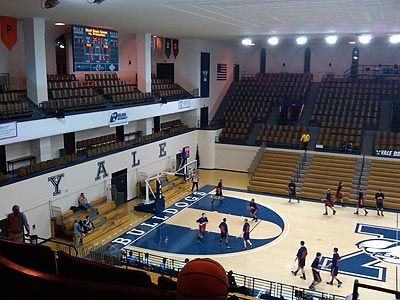 NEW HAVEN, Conn. - Remember how I said I was going to get what I deserved?
Yeah.

Zack Rosen didn't start because of a team rules violation, and when he came off the bench two minutes into the game Yale was already up 6-0. That lead grew to 11-0 at 6:52, and the Bulldogs never looked back.

Penn cut the Bulldogs' lead to six points with 10:44 left and eight with 3:48 left. But the Quakers went 4:40 without scoring after the first push, and made only two field goals for the rest of the game after the second.

The box score is here, and the enhanced box is here. Audio of the postgame press conferences is below, and game recaps will be available on our Penn page in the morning.

(You'll note that Yale's press conference had a special guest who did his best to lighten the mood.)

Meanwhile, earlier this afternoon at the Palestra, John Chaney took the crowd on a 35-minute ride through everything you could want to hear from him at the Big 5 Hall of Fame induction luncheon.

Dick Jerardi has the details on Philly Hoops Insider. There's also a photo gallery and this great video put together by my Philly.com colleagues Ryan Wixted and Litty samuel, along with Mike Kern of the Daily News.
Enjoy La Salle-Temple. I'll probably be back on here tomorrow night after all the games are over.



Jonathan Tannenwald, Philly.com
IN A TUNNEL UNDER THE HUDSON RIVER - This is going to be quite a weekend, isn't it? It's always a big deal when the Big 5 inducts a new class into its Hall of Fame, but this year's group of John Chaney, Rollie Massimino and Speedy Morris is a blockbuster. Saturday's La Salle-Temple game should be pretty exciting too.

And I'm not going to be around for any of it.

Yeah, really.

As I write this, I'm on a train to New Haven, Conn., to cover Penn's opening games of Ivy League play. The Quakers go to Yale tonight and Brown tomorrow, and I'll have a recap of the latter game in Sunday's Inquirer.

Why am I doing this? Well, as you all know, I do this every year. I've been at Philly.com since 2006, and this is the first time I can remember that I'm missing a big City Series game for a road trip. One game in four seasons is a pretty good record, I'd say.
I'll also be in Boston for Penn-Harvard next weekend, though at least up there I'll have family to visit. The Quakers have two home weekends after that, which will finally let me see the region's other teams again.
Back in December, I had convinced myself that this season I would stay in town. But after Glen Miller was fired, I decided I needed to make this trip to see Jerome Allen's debut in the Ancient Eight.
Jonathan Tannenwald, Philly.com
Coming into last night, the Charlotte 49ers were in third place in the Atlantic 10, one game behind Temple, with a 4-1 conference record and a 14-5 overall mark.
Bobby Lutz's squad won at then-No. 20 Louisville in November and eight days ago at NCAA Tournament contender Richmond. They're ranked No. 88 in Pomeroy and No. 49 in offensive efficiency.
So I was more than a little surprised when I checked the wire last night and saw that the students at Dale Halton Arena stormed the floor after their team beat No. 15 Temple, 74-64.
Jonathan Tannenwald, Philly.com
I'm working on Philly.com's sports desk, which means that for yet another night I'm not at any games. But at least I'm still employed, which counts for something from what I can tell.
To make up for it, you can follow all of tonight's action via our live stats pages.
Here are tonight's City Six results:
Jonathan Tannenwald, Philly.com
(In a conversational sense. Not on the basketball court, thankfully.)
Say what you will about ESPN's Jay Bilas, but he gets to see some pretty good games this week. After calling Georgetown-Syracuse last night, Bilas will be courtside at the Wachovia Center for Notre Dame-Villanova tomorrow. Then he'll head west to join the College GameDay crew at Bramlage Coliseum for Kansas State-Kansas on Saturday.
I spoke with Bilas for a few minutes this afternoon to get his thoughts on Villanova, Temple and some of the other big stories across the nation. I even got in a question about some mid-majors.
City Six rankings table
| Team | Record | Conf. | Big 5 | | | | | |
| --- | --- | --- | --- | --- | --- | --- | --- | --- |
| Drexel | 11-10 | 6-3 | 1-2 | 146 (165) | 119 (117) | 140 (150) | 153 (175) | 126 (78) |
| La Salle | 10-9 | 2-3 | 1-1 | 126 (131) | 111 (102) | 124 (123) | 137 (134) | 82 (42) |
| Penn | 1-13 | 0-0 | 0-4 | 324 (317) | 316 (305) | 332 (330) | 321 (317) | 122 (69) |
| St. Joseph's | 8-11 | 2-3 | 2-1 | 174 (194) | 139 (167) | 166 (193) | 156 (180) | 35 (21) |
| Temple | 17-3 | 5-0 | 2-0 | 30 (27) | 12 (11) | 15 (18) | 25 (27) | 28 (20) |
| Villanova | 18-1 | 7-0 | 3-1 | 14 (19) | 4 (5) | 5 (6) | 7 (11) | 40 (44) |
Schuylkill 16 NCAA Tournament teamsheets

Selected other teams


Jonathan Tannenwald, Philly.com
I'm in the office tonight, but I'm watching the game on TV. We can also talk about Villanova, Temple or whatever else is on your mind.
Jonathan Tannenwald, Philly.com
NEW YORK - Villanova trailed at halftime, but dominated the second half in a 81-71 win over St. John's at Madison Square Garden. Scottie Reynolds led the Wildcats with 19 points, while Bronx native Corey Stokes tallied 18 and Maalik Wayns added 16.
(It was announced over the public address at the end of the game that Wayns and Reynolds had 17 each, which is why I had written that earlier. I also heard later that there was an error in the initial box score, so that might have been part of it.
I would say that at least half the crowd of 14,440 was Villanova fans, if not more. The visitors' contingent was certainly louder.



Poll: Which is the better basketball arena?

(179 votes)
Jonathan Tannenwald, Philly.com
Dick Jerardi was at the RAC last night to cover Villanova-Rutgers for the Daily News.

In his game recap, Jerardi made an assertion that should get us all talking:

This is Villanova basketball, 2009-10. You could make a really good argument that 1 through 11, this is the most talented team in Big 5 history.

Well now. I suspect that Chuck Daly and Harry Litwack would have something to say about that, not to mention Kenny Durrett.
And I'm not even sure this year's Wildcats are better than the Ray-Foye-Sumpter-Fraser squad of 2005.
Yeah, you heard me right. I've long believed that had Curtis Sumpter not blown out his knee in Nashville, that Villanova team would have made the Final Four. They certainly wouldn't have had to play North Carolina before the national semifinals. And the '05-'06 team would have been even better had Sumpter not torn his ACL a second time.

Is this year's 'Nova squad better than last year's, which did make the Final Four? We can probably agree that it is. What about the 1985 national championship team? We can probably agree that these Wildcats are better than those as well.
Poll: Which is Villanova's best ever team?

(286 votes)