Villanova
Jonathan Tannenwald, Philly.com
Sheila Reid finally has her Penn Relays watch. Villanova's anchor leg in the college women's distance medley relay talks about what it took to lead the Wildcats to the Championship of America at the 2012 Penn Relays.
(Video by Joe Juliano/The Philadelphia Inquirer)
Jonathan Tannenwald, Philly.com
Joe Juliano and I got together for a quick chat Thursday afternoon to look at some of the major storylines for local college teams at the Penn Relays.
We discussed whether Villanova's Sheila Reid can finally add a Championship of America to her long résumé of success; whether Villanova's men can repeate as Distance Medley Relay champions; and how far Penn high jumper Maalik Reynolds, last year's Championship of America winner, can take his blossoming talents.
Jonathan Tannenwald, Philly.com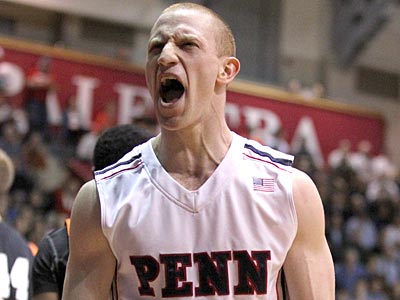 When Zack Rosen got to Penn four years ago, his potential as a program leader became clear almost right away.
But few people, if anyone, could have forseen at that point just how extraordinary Rosen's career on 33rd Street would be.
Rosen never made it to college basketball's version of the promised land, the NCAA Tournament. But he will graduate from Penn with as big an individual honor as any Quakers player can receive: Big 5 Player of the Year.
Jonathan Tannenwald, Philly.com
WASHINGTON - Sometimes I write posts based on facts, and sometimes I write posts based on opinions. This post is squarely in the latter category, save for a few facts that should be established at the start.
On Saturday, I watched a college basketball game between a private university with an undergraduate enrollment of just under 10,500 students, and another private university with an undergraduate enrollment of just under 7,500 students.
The game was played in an NBA arena, and the announced attendance of 19,277 was larger than the combined total of the aforementioned enrollment figures.
Jonathan Tannenwald, Philly.com
I know I haven't been the only person wondering when the Big 5 Hall of Fame class would finally be announced. The news finally came down Thursday afternoon.
This year's class is:
- Marc Jackson, Temple
- Matt Maloney, Penn
- Kelly Greenberg, La Salle (later coached at Penn)
- Jenn Beisel, Villanova
- Melissa Coursey, Saint Joseph's
Jonathan Tannenwald, Philly.com
Before the Temple-Maryland game Saturday morning at the Palestra, I spent a few minutes chatting with Joe Lunardi about postseason scenarios for the city's teams and leagues.
It is getting to be that time of year where the ESPN.com. bracketologist and St. Joe's radio analyst is quite busy. In his most recent bracket, Lunardi has Temple in the field as an at-large, Penn in the play-in game [on a league standings technicality], and La Salle among the Next Four Out.
So we had plenty to discuss. Enjoy.
Ramone Moore scored 32 points to lead Temple over Big 5 rival Villanova on Saturday. Philly.com's Jonathan Tannenwald reports from the Liacouras Center with the Inquirer's Joe Juliano and Keith Pompey.
Jonathan Tannenwald, Philly.com
Time: 5:00 p.m. EST
Venue: The Liacouras Center, Philadelphia, Pa.
TV/Radio: ESPN2 (Mike Breen and LaPhonso Ellis)/WPEN 950-AM (Villanova)/WPHT 1210-AM (Temple)
I don't think I need to say much more than this: it's the game of the year in the Big 5. So follow along and fire away with your own comments throughout the evening.
If you're on a mobile device, click here.