Soccer
Did you get any work done this afternoon?
At the very least, I bet you were less productive than you usually are. Literally hundreds of millions of people around the world watched today's titanic Champions League final between Barcelona and Manchester United, and judging from Twitter and the rest of the Internet a lot of people in Philadelphia were paying attention.
It was a great game between two teams stacked with superstars, from Man U's Cristiano Ronaldo and Wayne Rooney to Barcelona's Andres Iniesta and Lionel Messi.
Jonathan Tannenwald, Philly.com
They came with a string band.

Seriously.

We were all standing at Dilworth Plaza wondering when the press conference to officially introduce Philadelphia Union would start. Then, all of a sudden, a few hundred Sons of Ben came marching out from City Hall, belting out "I'm Looking Over a Four-Leaf Clover" at the top of their lungs as the Polish American String Band played the tune.

I've followed Major League Soccer for a long time, including a few years spent covering the league before I moved to Philadelphia. I've never seen anything quite like that.

Yet it was so classically Philly. For a sport that defines itself as being the most global of games, this was the ultimate local spin on the kind of passion for which soccer fans are so well-known.

They came witth a sense of humor, too. MLS Commissioner Don Garber got the perfect reaction from the crowd when he said that while they might applaud him now, they won't be when he suspends a Union player for the first time.

He got booed, of course, but there was plenty of laughter first.

And they came with a spirit of inclusion. From the top of the front office on down, team officials talked about how they wanted to draw not only the youth soccer players and Europhiles, but also the Mexican population in South Philadelphia and the West African community that plays pickup games in University City's Clark Park.

You can hear from Garber and Union president Tom Veit in the audio player below.

If it all comes together, the atmosphere in Chester could genuinely be unlike anything this city has seen in quite a while. Yes, that may sound like hyperbole, but from what I've seen, soccer fans in this country are a bit of a different breed from fans of other sports I've covered.

The biggest question left now is whether and how all those fans that Union wants to attract will go to the stadium every weekend. It will be answered in due time.

For now, though, I'll reiterate something I've said before: if I'm still blogging on here come the summer, I intend for soccer to be a significant part of what I write about. I know that a number of Sons of Ben read this blog and I've certainly noticed the spikes in traffic on here when I write about the sport.

So I ask you: are you interested in this team? How do you think it will fit into the local sports landscape?

And can we please get a string band playing at the games?



Jonathan Tannenwald, Philly.com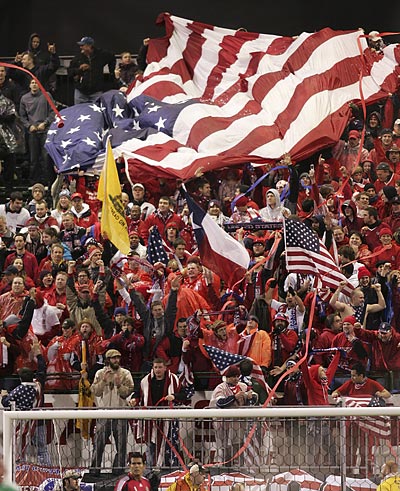 Lots of results flying around tonight: La Salle over GW at Tom Gola, Drexel upsetting Northeastern in Boston, Dayton routing Xavier at home, Connecticut blowing out Syracuse in Storrs, and North Carolina exploding past Duke in the second half for a 101-87 triumph.
It was the first time in 457 games that Duke gave up triple digits, the last one having come against UCLA (100-77) on February 26, 1995.
(You might have noticed that the ESPN graphic said 2005. I saw that and thought it wasn't possible to play 457 games in four years. So I went to the Duke media guide and found the real answer.)
| Name | Min | FG | FT | 3pt | OR | DR | TR | A | S | TO | Blk | PF | Eff | Pts |
| --- | --- | --- | --- | --- | --- | --- | --- | --- | --- | --- | --- | --- | --- | --- |
| T. Lawson | 34 | 8-11 | 9-9 | 0-1 | 1 | 3 | 4 | 5 | 2 | 5 | 0 | 1 | 27 | 25 |
Jonathan Tannenwald, Philly.com
Taking a diversion to soccer for a moment...

I've been asked many times what I think the name of Philadelphia's forthcoming Major League Soccer team should be.

Honestly, what has mattered to me the most over time is that the city has a team, not that it has any particular name.
Jonathan Tannenwald, Philly.com
The Philadelphia area's college soccer programs made their first entry in Major League Soccer's odds and ends file four years ago, when Drexel's Jeff Parke was the Mr. Irrelevant of the 2004 SuperDraft.

Last night, the Dragons' University City neighbors watched as a former Penn Quaker made MLS history.

Until the 83rd minute of the New York Red Bulls' home game against the Columbus Crew, no goalkeeper in the league had ever scored a goal.
Jonathan Tannenwald, Philly.com
You know how people say hockey goaltenders are just a different breed from other players? Well, soccer fans are a different breed from other sports fans.

Okay, that might be overstating things a little bit. But it was great to see the Sons of Ben make their first official appearance at Lincoln Financial Field since Philadelphia was awarded a Major League Soccer franchise.

I counted around 20 or 30 Sons (and Daughters), which is an impressive number for a women's game. It's quite a few more than Sam's Army brought to the Women's World Cup games in Philadelphia five years ago.
Jonathan Tannenwald, Philly.com
Here's the recap of the United States' 2-0 win over Ireland from Inquirer staff writer Kate Fagan.

And here's what coach Pia Sundhage, midfielder Carli Lloyd, defender Heather Mitts, goalkeeper Hope Solo and forwards Natasha Kai and Heather O'Reilly had to say about the win:


Jonathan Tannenwald, Philly.com
It's a Saturday night and there's football at Lincoln Financial Field.

Join me for live coverage of the United States women's national team's first game since the Olympics. And feel free to share your thoughts about soccer, college football or or whatever else is on your mind sports-wise in the chat window below.
Jonathan Tannenwald, Philly.com
Surely you've heard of Heather Mitts.

You know, the former Philadelphia Charge defender. Longtime starter for the U.S. women's national team, though she did miss last year's Women's World Cup because of an ACL injury.

She's famous for something else, too, but I forget what it is...
Jonathan Tannenwald, Philly.com
Carli Lloyd has gotten plenty of attention in her hometown of Delran, N.J., since coming home from the Olympics with a gold medal around her neck.

Tonight, she gets another big prize: a night under the bright lights of Lincoln Financial Field as the U.S. women's national soccer team visits Philadelphia for the first time in four years.

Lloyd and her teammates spent this afternoon practicing in the Eagles' bubble at the NovaCare center, and I got to talk to her for a few minutes afterwards. The session would have been at the Linc, but Mother Nature drove us all indoors.