Soccer
Jonathan Tannenwald, Philly.com
I spent so much time blogging and editing video last night that I forgot to put together the gallery of Ron Cortes' photos from the doubleheader. They're quite good, so check them out above.

Next, as promised, is audio of U.S. World Cup bid executive director David Downs' interview with reporters last night. Prior to taking that position, Downs was the president of Univision Sports, and worked at ABC before that. As a result, he understands both the English- and Spanish-speaking sports fans in this country particularly well. He's not a bad politician either, which will also help as the U.S. tries to land either the 2018 or 2022 World Cup.

The full interview is in the audio player below, but here are a few key excerpts:

On whether the playing surface at Lincoln Financial Field will have to be widened in order for Philadelphia to host World Cup games:
"The field dimensions are going to be an issue at almost all the NFL stadiums. I was walking down on the field today and there's obviously some solutions that could be put into place to add a little bit more grass ... I think it's playing slightly under 70 yards tonight and that's probably not going to cut it with FIFA, but we'll see ... I think 70 yards is basically considered the international minimum standard."

On whether any cities are considered locks to be part of the U.S.' World Cup bid package:

"I really wouldn't say so. Although, you know, I'm not going to name them, but there are a couple, three, cities that it's hard to imagine the World Cup not taking place in. But there really aren't any locks."

(I told you he's not a bad politician.)

On the growth in popularity of the U.S. national team among Hispanic-Americans:

One of the things I was involved with at Univision was trying to make the team more attractive to Hispanics. It may not necessarily be the number one team for somebody that's just arrived from Ecuador or Colombia or Mexico, but certainly it can be a team that's respected as the number two team.

And then this, which I'm breaking out separately because it's one of the most surprising statements I've ever heard about American soccer on television:

"The ratings for the Confederations Cup [Final] for Univision, USA-Brazil, were very high. As a matter of fact, higher than what Telemundo received earlier in the week for a Mexico national team friendly."

Granting that the U.S. game was on a weekend, against the world's most popular team and in a tournament final, that's still an enormous accomplishment. Mexican soccer is a ratings juggernaut for the Spanish-language networks, even rivaling some English-language broadcasts sometimes.

For example, the semifinal match in the 2007 Gold Cup between Mexico and Guadeloupe, broadcast on Telefutura, drew a higher rating between 10 and 11 p.m. Eastern Time than any of the English- or Spanish-language networks.

Univision's telecast of the championship game between Mexico in the United States drew a 2.5 rating on a Sunday afternoon. A few hours later, NBC's prime-time telecast of Game 6 of the Stanley Cup Finals between Ottawa and Anaheim drew a 1.8 rating.

Again, I realize that there are a lot of flaws in this data. I'm not trying to compare soccer to football or baseball, and I'm certainly not one of those people who prostletyzes about how soccer is going to take over everything. It's not.

But I think you get the point I'm trying to make. And to go back to Downs' comment about the U.S.-Brazil game, keep in mind that a lot of the English-speaking audience watched ESPN's broadcast because it was in high definition and Univision's was not. Had Univision's broadcast been in HD, it probably would have been even higher.

If American soccer is making serious inroad with the nation's Hispanic population, that's a huge deal. One of the best things about yesterday's doubleheader was the number of Honduras fans who stayed after the first game to root for the U.S. in the second. And in the long term, American soccer's popularity among Hispanic immigrants could lead to more American-born children of immigrants wanting to play for the U.S. national team.

We've already seen that with José Francisco Torres, a Texas native who plays for Pachuca in the Mexican league. Torres chose to play for the U.S. instead of Mexico.

Torres' decision garnered major headlines in part because of Edgar Castillo, a midfielder who was born in the United States but played for the Mexican national team in qualifying for the 2008 Summer Olympics. Recently, there have been reports that Castillo is considering a switch to the U.S. team, which he can do because of a technicality in FIFA rules.

It's all part of the same trend. If it continues, it will only mean good things for the future.
---
Let's close out the week with a few more videos. I spent a few hours before yesterday's game interviewing fans from all four countries who were tailgating outside Lincoln Financial Field. It took me a while to find fans from Panama and Canada, but they were there. I had hoped to post the video on here before the U.S. game, but couldn't because of a glitch in our video server.

You can see highlights of the game here, including Kyle Beckerman's golazo early in the second half. I'm not sure how much bitterness there was in the shot, but there was plenty of soul, life, heart and power in that right leg.



Jonathan Tannenwald, Philly.com
I'm going to keep this post as short as I can because it's 4 a.m. as I write this and I really want to go to sleep.

Here's all the multimedia from after the game. You've got full audio of the coaches' postgame press conferences as well as that of man of the match Kyle Beckerman. You've also got video highlights of U.S. coach Bob Bradley's press conference and remarks from Beckerman, midfielder Stuart Holden and goalkeeper Troy Perkins.

Special thanks to Fox Soccer Channel's Mark Rogondino for letting me tape his interview with Beckerman in the mixed zone.
My view of the result (click here for the Inquirer's recap) is that it's good that the U.S. won, because in the end that's what matters. But I think the U.S. will have a very hard time with Honduras in the semifinals Thursday night in Chicago, mainly because this team just is not as talented as the one that beat the Catrachos at Soldier Field in a World Cup Qualifier last month.
That's not to say that the U.S. can't win. But as we saw in the first game, Carlos Costly and Walter Martinez can be really difficult to contain, and if they get an early goal I'm not sure this U.S. squad has the firepower to reply.



Jonathan Tannenwald, Philly.com
Here we go. It's the United States national soccer team's first visit to Philadelphia since 1991, and its first official match here since 1968.
It's also a quarterfinal game in the CONCACAF Gold Cup against Panama. The winner will face Honduras, which beat Canada 1-0 in the first game, in the semifinals.
Jonathan Tannenwald, Philly.com
So here we are in the final hours before the United States faces Panama at Lincoln Financial Field. This will be the last post on here until the match kicks off, so let's lay out a few things you should know before you head to the stadium.
- I'll be live-blogging the U.S. game, and I hope you'll join me whether you're on your couch or at the stadium. Those of you who will be in the stands can participate by Tweeting with the hashtag #usmnt, which is the standard tag adopted by U.S. Soccer.
Also, if you have an iPhone, this blog and the chat software are fully compatible with the mobile version of Safari, so you can follow and join the conversation that way too.
Jonathan Tannenwald, Philly.com
As promised, tonight we look back at the U.S. national team's last full international match in Philadelphia: a 4-0 loss to Israel on September 25, 1968. It was played at the now-defunct Temple Stadium, and drew a crowd reported at 7,000. Here's how the story was played in the sports section of the next morning's Inquirer:
There was also a box score on an inside page, which I've replicated below the game story.
Jonathan Tannenwald, Philly.com
I said yesterday that I'd be featuring the U.S. soccer team's 1968 game against Israel in Philadelphia here on the blog today, but I'm going to push that to tomorrow for a reason that I think you'll appreciate.
I went down to the NovaCare Complex this morning for the U.S. team's practice, figuring I'd do some video interviews with Bob Bradley and a few players.
But when I got there, Eagles kicker David Akers was standing next to the field, and it soon became apparent that he was going to do some drills with the soccer players.
Jonathan Tannenwald, Philly.com
The quote in the headline was uttered by Bruce Murray, a midfielder on the United States national team that beat Dnepr of Ukraine, 1-0, at Franklin Field on August 25, 1989.
A total of 43,356 fans descended upon 33rd Street that night. At the time, it was the largest crowd ever to watch a U.S. match outside of the 1984 Olympics in Los Angeles.
I wasn't there, but I wish I had been. Knowing the stadium as we all do, I'm sure the atmosphere was outstanding. Not that the Union would have ever played there, perhaps even if they had been able to get a grass surface installed. But I can't help thinking it would be a lot of fun if it ever happened.



Jonathan Tannenwald, Philly.com
Welcome to a historic week in Philadelphia sports.
This coming Saturday, the United States men's national soccer team will play here for the first time since 1991. Their match against Panama at Lincoln Financial Field will be a quarterfinal showdown in the CONCACAF Gold Cup, the regional championship for North and Central American national teams. It will also be the second game of a doubleheader, with Canada facing Honduras in the first game.
We were really close to having the U.S. play Mexico, a game which would have easily made the doubleheader a sellout, after El Tri stumbled through its first two games and was in danger of finishing third in its group.
Jonathan Tannenwald, Philly.com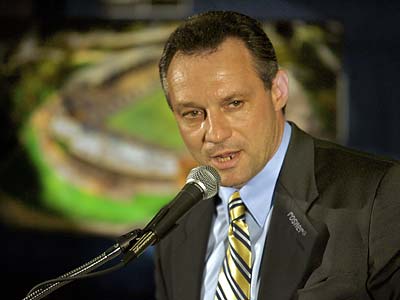 "I understand that soccer is not perfect."

Of everything Peter Nowak said this afternoon, I think that's the line that stands out to me the most.

Soccer is a capricious game. It can tempt you with free-flowing passes and Iverson-worthy dribble fakes, like what we saw from Barcelona on Wednesday. But it can also discourage you with crunching, studs-up tackles and balls hammered up the field from the back line by players who don't know any better.

(No, I won't pin that style on anyone specifically, but if you want to point to the English or the Greeks you're more than welcome to.)

How do you make up for it?

"I don't believe in words, I believe in hard work," Nowak said. "My old coach in Germany believed that if you run twice as much as me, you're going to win the game, and I believe that too."

It's a philosophy that seems perfect for a Philadelphia coach. But as I mentioned in my earlier post, Nowak is about much more than running and tenacity.

"I am more [of an] offensive guy - sometimes I overlook the defensive part," he said, though he added that he's spent a lot of time recently studying defense. "It would be nice to have one or two playmakers."

Nowak cited Barcelona's Andres Iniesta and Xavi as examples of his ideals: "Two guys who just run the offense," he said, snapping his fingers quickly and in rhythm to symbolize their movement.

But he added that "if you see the defensive work of Iniesta and Xavi, it's just amazing."

He made a basketball analogy about them too, not even knowing what I write about the rest of the year, stating that in both sports, "you've got to go in the shortest way to the positions."

It would be something to see Nowak and Phil Martelli talk to each other, wouldn't it?

That Nowak so willingly acknowledged the game's essence this afternoon was refreshing to hear - even more so in the context of my epic fail of a liveblog.

I thank those of you who read along and submitted questions. As a reward for your patience, I give you a healthy serving of multimedia from this afternoon.

There are also three audio tracks. The first is Nowak's Q&A during the press conference (and yes, I asked the first question); the second is my interview with team president Jay Sugarman; and the third is Nowak's conversation with reporters after the formal press conference.

On that third track, I got into the pack of reporters in the middle of a question. So the track starts with him talking about how he studied players while in charge of the U.S. Olympic team.

Later in the track, I'm sure you won't miss the part where Nowak accuses me of working for D.C. United. Believe me, I never did. But I did cover Nowak's United teams when I was living in Washington, and I was quite surprised to see that he recognized me.
And by the way, since the team's official press release uses the Anglicized version of Nowak's first name, I'll stick with that instead of the Polish version I used earlier.



Jonathan Tannenwald, Philly.com
Greetings from Chester, where Philadelphia Union is holding a press conference this afternoon to introduce Piotr Nowak as its first coach.
As John Smallwood wrote in this morning's Daily News, Nowak is a very good choice. He won MLS Cup as a player with the Chicago Fire in 1998 and as a coach with D.C. United in 2004, then led the U.S. men's Olympic team to a creditable 1-1-1 record in Beijing last year.
It is of no small consequence that Nowak rose to the coaching ranks after being a playmaking midfielder on the field. Yes, he's a fiery guy, and I think that passion will play very well with Philadelphia fans. But he and his teams have a track record of playing attractive, attacking soccer.