Soccer
Jonathan Tannenwald, Philly.com
A schedule update to start things off. After tomorrow afternoon's football coaches luncheon, I am headed to Washington to cover the U.S.-Costa Rica soccer game for the Inquirer.

Many of you have heard by now that star U.S. forward Charlie Davies was seriously injured in a car crash in the early hours of this morning on a highway near the team's hotel in Arlington, Va.
The U.S. Soccer Federation announced this evening that Davies suffered a lacerated bladder and fractures to the tibia and femur bones in his right leg. He also suffered facial fractures and a left elbow fracture

You can get more information from the Washington Post, SI.com and the Associated Press.

This is obviously a very big deal and it will overshadow tomorrow night's game to no small degree. But the game is of consequence. With a win, the U.S. would finish in first place outright in the final round of CONCACAF World Cup qualifying for the first time in its history.
Costa Rica will be playing to avoid fourth place, which would put it in a playoff with the fifth-placed team in South America for a World Cup berth. That team could be Argentina if it does not win or tie at longtime rival Uruguay tomorrow.

The U.S. game starts at 8:00 tomorrow, with ESPN2 coming on the air at 7:30. I hope to do a live chat from RFK Stadium during the game, and I'll also have another widget for you bringing in the nationwide conversation on Twitter.

Now for this week's Crunchy Numbers.
---
Jonathan Tannenwald, Philly.com
Recaps: AP | Washington Post | New York Times | ESPN.com | Sports Illustrated
Video highlights at the bottom of the post. But be nice to me and read everything else first, please?
It has to go down as one of the all-time results in American soccer history, doesn't it?

After giving up a free kick goal to Honduras early in the first half, the U.S scored three straight, then withstood a furious rally that included a second Honduran goal and a missed penalty kick by Carlos Pavon, and held on for a 3-2 win.

The result qualifies the United States for its sixth straight World Cup. If the U.S. wins Wednesday night against Costa Rica in Washington, they will finish in first place in CONCACAF's final round of World Cup qualifying for the second straight cycle.

The first half was scoreless. The key moments in the second half were as follows:

47' USA 0-1 Honduras: Honduras midfielder Julio De Leon struck a brilliant free kick from close range that U.S. goalkeeper Tim Howard could not stop.

58' 1-1: U.S. defender Oguchi Oneywu played a long free ball to Charlie Davies, who headed the ball into the air. The ball came to fellow forward Conor Casey, who redirected the ball past Honduras goalkeeper Noel Valledares with his shoulder.

66' 2-1: U.S. midfielder and top playmaker Landon Donovan split two defenders with a through ball to Casey, who slotted it neatly past Valledares after one touch. It has to be said that at the start of the match, a lot of fans thought should not have been in the starting linep. As you'll see in the Twitter coverage below, quite a bit of crow was consumed over the course of the night.

71' 3-1: The U.S. won a free kick from a few yards farther out than Leon's, and Donovan curled it past Valledares to the far post.

78' 3-2: Howard was drawn off his goal line by a loose ball at the side of the U.S. 18-yard box. Honduras took possession and while Howard got back in time, the U.S. defense could not close down any of the Honduran attackers. The ball came to De Leon, and he thumped it into the net from the middle of the box.

87' 3-2: A handball in the box was correctly called on the U.S.' Stuart Holden. Carlos Pavon stepped up to take the penalty kick and smashed it over the crossbar.

94' 3-2: The final whistle after four minutes of stoppage time. ESPN.com's Ives Galarcep, blogging from the stadium in San Pedro Sula, reported that the Honduran fans gave the Americans an ovation as they left the field. Nice touch.
---
Jonathan Tannenwald, Philly.com
It's way too nice a day to stay indoors, so I'm going to keep this post as short as possible.
Both of this weekend's biggest games kick off at the same time: 8:00 p.m. Saturday night. Michigan-Iowa and Florida-LSU are certainly deserving of that honor, but there are a few other interesting matchups this weekend too.
Of course, there's Phillies-Rockies Game 3 and US-Honduras as well. Steven Goff of the Washington Post has a great piece this morning explaning how the closed-circuit broadcast situation for the soccer match came to be.
| Rank | AP | Coaches | Sagarin | Harris |
| --- | --- | --- | --- | --- |
| 1. | Florida | Florida | USC | Florida |
| 2. | Texas | Texas | Florida | Texas |
| 3. | Alabama | Alabama | Alabama | Alabama |
| 4. | LSU | LSU | LSU | LSU |
| 5. | Virginia Tech | Virginia Tech | Oregon | Boise State |
| 6. | Boise State | Boise State | Boise State | Virginia Tech |
| 7. | USC | USC | Virginia Tech | USC |
| 8. | Cincinnati | Ohio State | Ohio State | Ohio State |
| 9. | Ohio State | TCU | Iowa | Cincinnati |
| 10. | TCU | Cincinnati | Texas | TCU |
Poll: What's the Spectacle of the Week?

(12 votes)
Jonathan Tannenwald, Philly.com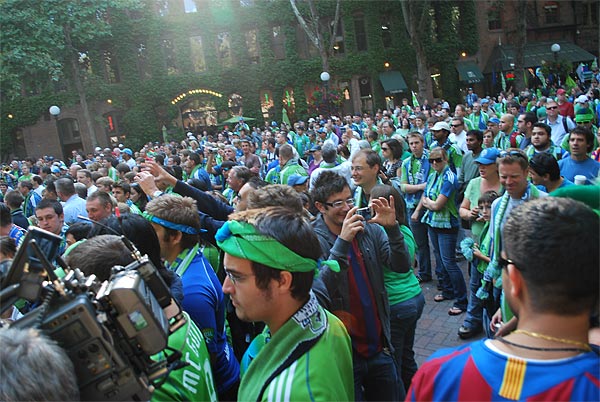 Seattle Sounders fans at Pioneer Square before their game against Barcelona this past August.
I said I'd be back with my thoughts on today's Philadelphia Union news, and here I am. This could take a while, but I hope you'll stick with me.

Let's start with the announcement that the Union's home opener will be played at Lincoln Financial Field. I suspect it will be a controversial decision, and here's why.
Jonathan Tannenwald, Philly.com
We start today with some bad news and some good news. Let's get the bad news out of the way first.

I was told at this afternoon's local football coaches luncheon that Dan Staffieri, known to Penn fans as "Coach Lake," is not in good health. This is why he was not at the Villanova game Saturday, and I have been told that we might not see him at Franklin Field at all this season.

Staffieri will be familiar to you all as the guy who stands on the Penn sideline with the bullhorn and red-and-blue suit, leading the student section in various chants.

It is my view that he, Dan Harrell and the late John McAdams best represent the essence and history of Penn sports. I have been fortunate to know all three rather well.

McAdams' passing a few years ago deprived us all of so much institutional knowledge about college basketball in the region. Losing Staffieri would be another serious blow.

Having said that, Staffieri's stamina and energy are legendary. If you'll allow me to say so, we should all hope he wins this fight as well.

Now for the good news. The Daily News has heard further confirmation from a source at Major League Soccer that Philadelphia Union will play its first game at Seattle on March 25, and the Inquirer has reported that the Union will play its home opener at Lincoln Fiancial Field on April 10 against D.C. United.
Yes, that latter thing is good news. I will explain why and share my thoughts about the significance of opening in Seattle later tonight, but I don't have time right now to get it all together. Stay tuned.

For now, though, let's get back to our regular Wednesday schedule. Here's what the local small colleges are up to, and the audio highlights from the football luncheon.

West Chester
Last week: Road win vs. Millersville, 63-10
This week: 9/26 vs. Kutztown, 6:00 p.m.

Delaware Valley
Last week: Home loss vs. Wesley, 31-13
This week: No game

Rowan
Last week: Road loss vs. SUNY-Cortland, 24-14
This week: 9/26 at William Paterson, 1:00 p.m.

Ursinus
Last week: Road loss vs. Juniata, 31-0
This week: No game

Widener
Last week: Road loss vs. Ithaca, 41-17
This week: 9/26 vs. Frostburg State, 1:00 p.m.

Lincoln
Last week: Home loss vs. Shaw, 68-6
This week: 9/26 at Livingstone, 1:00 p.m.

Cheyney
Last week: Road loss vs. LIU-C.W. Post, 51-0
This week: 9/26 vs. East Stroudsburg, 1:00 p.m.



Jonathan Tannenwald, Philly.com
Construction in all its forms continues for the region's soccer teams.

We had the news last week about the Union's stadium situation, and prior to that there was the Independence's expansion draft.

Now comes another event on the women's side, as the Independence picked up five new players in an international player draft.

The biggest name is Caroline Seger, a midfielder who is the captain of Sweden's national team. Perhaps the most intriguing name is English forward Lianne Sanderson, a 21-year-old who comes to Philadelphia from English powerhouse Arsenal.

I know there are a few Gunners fans out there, so I figured you might be interested to know that.

You can find more information about the players the Independence drafted here and in the photo gallery above.


Jonathan Tannenwald, Philly.com
UPDATE: Kerith Gabriel of the Daily News talked to Philadelphia Union president Tom Veit this morning and sent along some quotes that I have permission to post here:
"Right now everything is running on schedule construction-wise, but we are on a real tight schedule and with MLS yet to announce opening day dates, we just want to make sure that we are covered," Union president Tom Veit told the Daily News. "If we have to open on a certain date that doesn't meet our deadlines then that is a problem, so we are just making sure we do our due diligence."
Veit also confirmed the Washington Post's report that the team explored playing at 52,000 seat Franklin Field on Penn's campus was an option but noted the 68,594 seat Linc as a more suitable fit.
Jonathan Tannenwald, Philly.com
I haven't had much to say in a while about the Philadelphia Independence, the women's soccer team that will start playing in Chester next spring. But this afternoon's expansion draft for the Independence and Atlanta Beat brought some notable news.
You will want to remember the name Lori Lindsey. The veteran midfielder spent this past season and part of the old WUSA's existence with the Washington Freedom, including the team's championship season in 2003.
Lindsey is a holding-type midfielder. The Virginia graduate is one of only two people to have ever won back-to-back ACC Player of the Year awards, and the other is Mia Hamm.