Soccer
Jonathan Tannenwald, Philly.com
The state of New Jersey's announcement that it will begin issuing sports betting licenses on January 9 has provoked a quick and powerwful response from the NCAA.
College sports' governing body has pulled the hosting rights to five NCAA championship events that are due to take place in New Jersey in 2013. The most prominent among them is the East Regional round of the Division I women's basketball tournament, which was to be played at the Sun National Bank Center in Trenton.
As the NCAA said in a statement issued Monday night:
Jonathan Tannenwald, Philly.com
As you have probably seen by now, the Daily News broke the story Saturday evening that there have been "preliminary discussions" between Villanova's athletic department and the Philadelphia Union about having the Wildcats' football team play at PPL Park.

I covered last night's Union game for my soccer blog, The Goalkeeper, and after the 'Nova story broke I asked Union president Tom Veit for more information. Veit is a former associate athletic director for external affairs at the University of South Florida. So he fully understands what Villanova is trying to do, and also the dynamics currently at play in the Big East.

(It is not a coincidence that the men's soccer teams of Villanova and South Florida will play at PPL Park later this fall.)

Below, you'll find a transcript of my interview with Veit. I hope you'll share your thoughts on his remarks in the comments. And I hope that those of you who don't pay too much attention to soccer will be respectful towards the soccer fans who will be here to discuss the issue.

The next few paragraphs are thoughts from me that I've also posted on The Goalkeeper.

From everything I have read in the media and heard from my sources, there is still a very long way to go with this. I would not make any assumptions about what will happen until we get official statements, especially as regards the decisions about what facilities Villanova will use.

This is especially true regarding PPL Park. There are dynamics at play with the Union and with Major League Soccer as a whole that are very specific to soccer facilities. They are unlike any Villanova would have to deal with at Franklin Field or Lincoln Financial Field. In particular, the philosophical objection on the part of the Union and MLS as a whole to gridiron lines at soccer-specific stadiums will be very, very hard to overcome.

The move to soccer-specific stadiums is a large part of what has brought Major League Soccer legitimacy from fans in the U.S. and around the world. When soccer teams play on top of gridiron lines, there is a definite feeling of second-class citizenship. Even those of you who are new to soccer can understand why that is the case.

Having said that, PPL Park also presents advantages in terms of scale, amenities and availability that the Linc and Franklin Field do not offer. So it should not be ruled out.

Q: Have there been any discussions with Villanova about them playing here?

A: Very preliminary. We've been approached by Villanova about this being an option for them to play at, and we are always open to discussions. For us, although there would be a lot of questions for us to answer - which all may have answers - but first and foremost, this is a soccer faciliy. It will always be geared to that. With that said, if there's a possibility to do something else, we definitely would look at it. We're very supportive of Villanova. Being a former Big East guy myself, I'd love to see it happen. So we're definitely willing to look at the possibility.

Q: One of the stumbling blocks, I would think, would be gridiron lines. Would you be willing to have gridiron lines on the field?

A: No. That would be one of the things we'd have to work out, to figure out a way that they wouldn't show. MLS has a league directive that you can't have football lines on the field, unless you're in New England or some place like that.* So that, field conditions and all that, are things we'd have to look at. With that said, there could be answers to all those. So again, it's a soccer facility first. But if we can accomplish that and be able to help Villanova, we're more than open to talking about it. We're at the very, very preliminary stage. Really, Villanova has called and said, "Would you talk to us," and we've said, "We'd be more than happy to."
[* - The New England Revolution and Seattle Sounders play in the NFL stadiums owned by the NFL's Patriots and Seahawks, respectively. The Houston Dynamo play in the University of Houston's stadium. The directive is aimed at the soccer-specific stadiums owned by MLS franchises, including PPL Park.]

Q: Given your prior experience with the Big East, is this stadium currently too small for what the Big East wants to do with football?

A: You'd have to ask the Big East, but I think it's a possibility. There's a possibility that the stadium could be expanded, there are a lot of things going on. But I don't think it's necessarily too small.

Q: Knowing what you do, if there was to be expansion, what do you think would come first: expansion of the stadium or Villanova playing here?

A: You know what, that's a big hypothetical. I have no idea.
Jonathan Tannenwald, Philly.com
What is it that makes college basketball so enjoyable for all of us?

There are plenty of reasons. Many people have a strong attachment to their alma mater. Others root for schools near where they grew up or that a relative attended. The raucous atmosphere of a sold-out arena with a big student section is also a draw, as is the allure of a scrappy mid-major upsetting a BCS power in the NCAA Tournament.

I would submit to you that there is another major reason why we enjoy college basketball so much: the role of the pass. Maybe it's a Philadelphia thing because of this city's long history of great guards, though I suspect it spreads beyond just our region. For as much as we celebrate scoring, we also take a certain joy in watching a team that passes the ball well and sets up good shots as a result.

Take Fran Dunphy for example, and the motion offense for which he is renowned. Dunphy's system is predicated on great passing. You've seen the play countless times: the ball is passed around the perimeter from Juan Fernandez to Ryan Brooks or Luis Guzman, as the guards look for a good shot. If there isn't one, they feed the ball to Lavoy Allen, who kicks it back out to Craig Williams for an open three.

Another play: Villanova went to the Final Four last season as much because of a pass as because of a made basket. Scottie Reynolds made his dash down the floor because of Reggie Redding's inbounds pass and Dante Cunningham's dish to Reynolds as the hinge in the picket fence.

There are so many examples. We might not be Supreme Court Justices, but to paraphrase Potter Stewart, we know them when we see them.

The value of a pass varies from sport to sport. It certainly matters in hockey. There is some passing in baseball - the 6-4-3 double play comes to mind - but the game is built on other skills. Football has plenty of passing, but unlike in basketball, a football pass is a play in and of itself. And you can't win football games without running the ball as much as you throw it.

(Ahem.)

If there is any sport in which passing is as intrinsic to the game as it is in basketball, it is soccer. Throughout the ages, the best teams in soccer history have been those who win games by passing the ball well.

Think about the great players: Cruyff, Pele, Maradona, Zidane. Sure, they scored goals, but they also were exceptional passerse. Indeed, no position in the sport is more celebrated than the playmaking midfielder who sets up goals with a good pass.

Yes, strikers get the big salaries and endorsements these days. But that's in part because the number of great passers is declining, and the game has become more defensive in general.

Still, when we see a great pass, we know it. We rise when a through ball splits two defenders and sets up a clinical finish. Fans around the world chant "Olé" when their team strings a series of passes together. Remember Argentina's goal at the 2006 World Cup that was set up by 26 consecutive completed passes?

Think back also to the goal that sealed Barcelona's victory in last season's Champions League final. Lionel Messi's header was set up by an exquisite cross from the right flank by Xavi Hernandez. We remember the goal just as much as the pass.

So why do I bring all this up today? Because today, I'm passing my soccer coverage into a new era. Philly.com has launched a dedicated soccer blog that I'll be writing called The Goalkeeper. I've cross-posted this piece on it and on Soft Pretzel Logic as an introduction.
Rest assured that I'll still be writing about college sports on Soft Pretzel Logic. But as you've probably noticed, the soccer and college basketball coverage have started to step on each other a bit.

From tomorrow morning through Saturday, I'll be covering the National Soccer Coaches Association of America convention on the new blog. That will include live coverage of the Major League Soccer and Women's Professional Soccer drafts, as well as a range of video features and interviews with some of the big names who will be in town.

This is going to be a historic year not only for the sport in Philadelphia but for American soccer as a whole. I know that many of you have been waiting for a long time for it to arrive, and now it finally has. We're in this journey together, and I'm looking forward to being a part of it.
Jonathan Tannenwald, Philly.com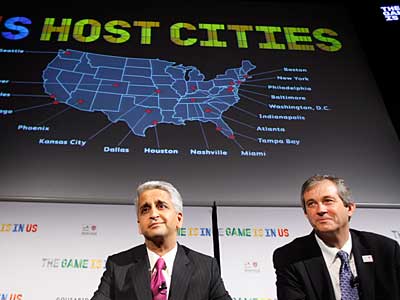 U.S. Soccer Federation president Sunil Gulati announced today that Philadelphia has made the final cut of 18 cities that will be submitted to FIFA for the U.S. bid to host either the 2018 or 2022 World Cup.
If the U.S. bid is accepted, there will be another round of cuts, probably to 12 venues.
"I'm very excited. We worked real hard at pulling it all together for Philadelphia, for the region, for economic development in the coming years," Philadelphia Union CEO Nick Sakiewicz said. "It's fantastic, I'm very excited for the fans here and for the community ... In a very short time, Philadelphia has become an international soccer city."
Jonathan Tannenwald, Philly.com
Philadelphia Union CEO Nick Sakiewicz held a conference call with reporters this afternoon ahead of Thursday's MLS SuperDraft at the Pennsylvania Convention Center. He offered a few interesting pieces of news and insight.

(What's that you say? The SuperDraft is only one of three days' worth of soccer events at the Convention Center? And you have a hunch I might be there blogging it all? I'm shocked that you'd think of that.)

The main highlight from Sakiewicz was an update on the Union's ticket sales. The word is that over half the stadium is sold out as of now.

"Basically both sidelines are gone, and the Sons of Ben section in the south end is 80 percent sold out," Sakiewicz said.

Most of the conversation centered around the Union's strategy for Thursday's draft, which is for college players.

The Union have the first pick, and speculation has centered around Oregon State forward Danny Mwanga.

I will be honest with you and tell you that I haven't been paying that much attention because of college basketball. But Mwanga is apparently the top forward avilable, and the Union are already pretty well-stocked defensively.

Sakiewicz admitted as much when asked about the roster so far by Kerith Gabriel of the Daily News.

"We do have some gaps in certain areas, and clearly there are some opportunities with offensive-minded players," Sakiewicz said. He added, thoguh, that he "wouldn't read into it that we won't pick any defensive players."

Sakewicz isn't allowed to say who the Union will take with the first pick, but he did say that "we certainly know who we're picking first."

Sakiewicz said he has been approached about trading that first pick, but hasn't seen anything worth dealing for.

"That offer has not come as of yet, but a lot happens in the next few days, so I I'll never discount anything," he said. "I think the tires started to get kicked just shortly after MLS Cup [in November]. The tires are flat they've been kicked so much."

Sakiewicz was also asked if the Union's draft strategy will be affected by the potential of a work stoppage when MLS' collective bargaining agreement with its players expires in February.

"We don't consider the negotiations of the CBA to imapct who we're going to pick and how we're going to pick them," he said. "One has nothing to do with the other."

Finally, I asked Sakiewicz about an issue that comes up every year at around this time: whether college soccer is a good way to develop the caliber of player that MLS clubs and the U.S. national team need to succeed at the top levels of the game.

Some people think it isn't, because most countries start developing players while they're in high school and don't take them off the field for academics at college age. Others think the college system has worked and still can, with Claudio Reyna and Charlie Davies as examples.

"Some [college programs] are terrific - their coaches and programs are doing an exceptional job of preparing young talent," Sakiewicz said. "Others aren't. There's different degrees of quality everywhere you go. The group of draftees that are in this class seem to have come from very good programs."

He continued: "But college is only one avenue that players can prepare themselves in. It's up to the individual to develop in whichever way he feels is best, whether it's in a college environment or a youth academy environment."
Jonathan Tannenwald, Philly.com
Rush hour is always a great time to get attention. So it wasn't a bad idea for the Philadelphia Union to hold a meet-and-greet with its players last night at Tir Na Nog as commuters went streaming by en route to Suburban Station.
I wrote a brief story about the reception in today's Inquirer, and Kerith Gabriel has a much longer piece in the Daily News.
I also put together a video of interviews with a bunch of players who appeared at the event. You'll see me talk to Stefani Miglioranzi, Brad Knighton, Sebastian Le Toux, Jordan Harvey and Andrew Jacobson.
Jonathan Tannenwald, Philly.com
This past Saturday, the Philadelphia Union held an open tryout at Rhodes Field, Penn's soccer facility.
Despite the foul weather, I made the trek to University City and put together a video feature of the day's events. The piece includes exclusive interviews with Union coach Peter Nowak and CEO Nick Sakiewicz, as well as a cameo appearance by Danny Bonaduce.
You can watch it here or in the video player below. I hope you enjoy it.
Jonathan Tannenwald, Philly.com
Draw recaps
AP | New York Times | SI.com | ESPN.com
BBC | London Times | Guardian | Independent
The United States soccer team has been given a favorable draw in Group C of next year's World Cup. After opening with a Saturday showcase game against England, they'll face Algeria and Slovenia.