Saint Joseph's
Jonathan Tannenwald, Philly.com
Atlantic 10 Tournament First Round: No. 10 Saint Joseph's vs. No. 7 Xavier
Time: 6:30 p.m. EDT
Venue: Barclays Center, Brooklyn, N.Y.
TV/Radio: NBC Sports Network (Mike Corey, Dave Kaplan and Brooke Weisbrod)/WIP 610‐AM (Matt Martucci and Joe Lunardi)
Big East Tournament Quarterfinals: No. 7 Villanova vs. No. 2 Louisville
Jonathan Tannenwald, Philly.com
Georgetown at Villanova
Time: 7:00 p.m. EST
Venue: The Wells Fargo Center, Philadelphia, Pa.
TV/Radio: ESPN2 (Mike Patrick and LaPhonso Ellis)/WHAT 1340-AM
Temple at Fordham
Jonathan Tannenwald, Philly.com
Although Saint Joseph's lost at Dayton on Wednesday, Hawks big man C.J. Aiken nearly stole the headlines with a spectacular slam dunk early in the second half.
If you watched the game on local TV here, you saw it. If not, you might have heard your friends talking about it on Thursday.
The St. Joe's athletic department got a video clip of the play up on YouTube and gave it a nifty Twitter hashtag: #LobCityAve.
Jonathan Tannenwald, Philly.com
I have a group of guys who are childhood friends who are so special to me. I was a sophomore in high school and this same group of guys got into some legal trouble in 1995, and unfortunately they are still not here today. But these same guys call me all the time just to let me know how proud they are of me. And I love them so dearly.
Last, but not least, Phil Martelli. Phil, as of today, you have 330 wins at St. Joe's, and you're the number one all-time. But to be honest with you, those numbers really mean nothing to me. It's the time you took out to give me words of encouragement and just the things that you've done for all the players.
I could possibly write a book just from some of things you've done for so many guys that you've encountered. And I love you for that.
Jonathan Tannenwald, Philly.com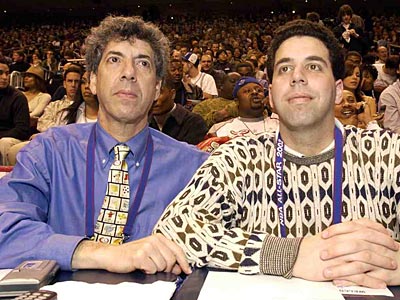 Legendary former Daily News basketball writer Phil Jasner and former Saint Joseph's backcourt standout Marvin O'Connor headline the 2013 Big 5 Hall of Fame class.
In addition to his many years covering the 76ers, Jasner also covered the local college basketball scene for a long time. He passed away in 2010, and it's too bad that he will be inducted posthumously. I'm sure the event will be a celebration of his life and career, though, and I'm also sure his son Andy - a talented writer in his own right - will help lead those celebrations.
Here's more information on O'Connor, Jasner and the rest of the Hall of Fame honorees, by way of the Big 5's media relations office:
Jonathan Tannenwald, Philly.com
Halil Kanacevic had a fairly quiet game against Drexel. He scored just two points on 1-for-8 shooting, and recorded two rebounds, one assist, two steals, one block and two turnovers. He also committed just one foul.
It wasn't much of a contribution in what turned out to be a 63-49 win for Saint Joseph's at the Daskalakis Athletic Center. But the fact that he didn't draw any attention to himself wasn't a bad thing. In fact, it may have been just the right thing for him.
Kanacevic returned to the Hawks' lineup Monday afternoon after serving a two-game suspension for aiming an obscene gesture at the Villanova student section. He didn't start, but playing 27 minutes in a seven-man rotation is plenty of time on the floor.
Jonathan Tannenwald, Philly.com
Time: 4:00 p.m. EST
Venue: Daskalakis Athletic Center/Philadelphia, Pa.
TV/Radio: The Comcast Network/WIP 610-AM (Saint Joseph's)
At one point, was the most anticipated game in the city this season. Now both teams surely must win their conferences' automatic bids to make the NCAA Tournament.
Click here if you're on a mobile device.
Jonathan Tannenwald, Philly.com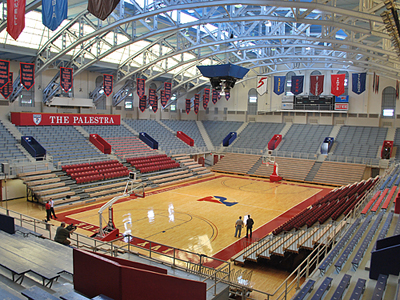 UPDATE: When I originally wrote this post Tuesday morning, I did not mean it to be entirely serious. It was just an idea to kick around.
But now ESPN.com's Andy Katz is reporting that the Atlantic 10 is in fact open to welcoming the Big East's Catholic contingent. As such, this idea becomes a lot more real, with the possibility of a 21-team league once Temple and Charlotte leave the A-10. I've added another potential division alignment to reflect the news.
---
Jonathan Tannenwald, Philly.com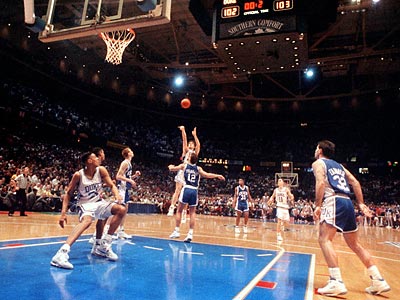 In honor of the upcoming 75th NCAA men's basketball championship, a panel of experts convened by the NCAA has selected the top players, moments and teams in tournament history.
You'll find all of the honorees below, with those featuring local ties in bold. If I missed any local connections, let me know and I'll highlight them.
And in case you're wondering how this was put together, here's the official explanation from the NCAA:
Jonathan Tannenwald, Philly.com
Thanks to the National Hockey League's continuing lockout, the Harvard-Saint Joseph's game on November 20 at Hagan Arena has been picked up by NBC Sports Network. The start time of the game has also been moved back half an hour to 8:00 p.m. Eastern.
NBCSN had originally been scheduled to show a hockey game in that timeslot.
St. Joe's also announced that the December 31 game at Drexel and the February 13 home game agaisnt Richmond will air on The Comcast Network. The Hawks will now have 15 games televised this season.