Riffs
Jonathan Tannenwald, Philly.com
NEW YORK - CBS' NCAA Tournament media day is important in and of itself. But yesterday's event was an even bigger deal than usual, because NCAA basketball chief Greg Shaheen and Selection Committee chairman Dan Guerrero were in attendance.

Shaheen, Guerrero and CBS Sports president Sean McManus all had very interesting things to say about the future of the NCAA Tournament - especially with regards to tournament expansion and broadcast rights.

You'll find excerpts of what Shaheen and McManus had to say below. There's audio of their full remarks in the player at the bottom of the post, as well as an exclusive interview I did with Guerrero afterwards.

In addition to the newsmakers above, I got to talk to some of CBS' top NCAA Tournament announcers. It was a real treat to be able to pick the brains of some of the most famous people in sports broadcasting about the best month of the year in college basketball.

In the audio player you'll find interviews with Bill Raftery, Verne Lundquist, Mike Gminski, Tim Brando, Seth Davis and Dick Enberg.

You'll especially want to hear where Lundquist ranks last season's Villanova-Pittsburgh East Regional Final among the best games he's ever called.

The full list of people talking in the first track is, in order of appearance: Sean McManus; senior vice president and general manager of CBS Interactive Jason Kint; CBS College Sports Executive Vice President Steve Herbst; Greg Shaheen; Dan Guerrero; Jim Nantz; Clark Kellog; and Greg Anthony.

Here's a rundown of the news items from the event:

- To the surprise of no one, the first questions asked of Sean McManus and Greg Shaheen were about NCAA Tournament expansion and whether the tournament would remain with CBS.

Quotes from McManus

Our plan is to carry the NCAA Tournament on CBS as long as we can. We're focused right now on this year and not on next year. As far as expansion of the tournament is concerned, that's something that Greg Shaheen would address. We really are focused on this year's tournament. I don't like to think about anything but this year's tournament right now. ...

I think we have a history at CBS of keeping the events that we want to keep on our network. We've always done a good job of renewing the rights, and I would like to think that would follow through to the NCAA Tournament.
When we have an event that we like on CBS Sports, I think the track record's pretty good about figuring out a way - whether it's the NFL, or SEC football, or the Masters, or the PGA Championship, or U.S. Open Tennis. We've been pretty successful at keeping those marquee events where I think they belong, which is on CBS.

Quotes from Shaheen

At this point, we are under contract to have the championship with CBS for another three years after this year. That's our plan as well. Everything related to what's happening with the championship, that relates to where it may be broadcast, how it may be broadcast, how many teams will participate - all of that is just part of a due diligence exercise that we've had under way for several months. ...

Contrary to what you've read on various blogs and the like, there's nothing that's a done deal or decided at this point in time. We're full steam ahead with our agreement with CBS through 2013. ...

Shaheen on whether this is the last year of the NIT:

Not that I'm aware of. We have an office and a lease here that we are intending to continue in that regard.

Other things we learned yesterday:

- The announcing crews are Jim Nantz and Clark Kellog; Dick Enberg and Jay Bilas; Verne Lundquist and Bill Raftery; Gus Johnson and Len Elmore; Kevin Harlan and Dan Bonner; Ian Eagle and Jim Spanarkel; Tim Brando and Mike Gminski; and Spero Dedes and Bob Wenzel. Dedes is new to CBS; he called the UCLA-Arizona State game this past Saturday. But those of you with longer memories might remember Dedes from this game he called at the Palestra a few years back.

- Lundquist and Raftery will call the Atlantic 10 Tournament championship game Sunday afternoon. Tip time is 1:00 p.m. at Boardwalk Hall.

- Once again this year, CBS College Sports will have out-of-market exclusivity on the 4:00 p.m. Eastern first round timeslot. There's a change this year, though, as there will be games in that timeslot on both Thursday and Friday. Both western venues, San Jose and Spokane, are in the Pacific time zone.

- CBS will broadcast the Final Four and National Championship games in 3-D in select movie theaters across the country. I do not have a list of theaters that will carry the broadcast, but I can tell you that the 3-D feed will have a separate announcing crew: Dave Ryan and Steve Lappas.

Thanks to CBS for putting on a great event. I'll be back at noon for live blogging from the Big East Tournament second round. We've got four games to take in, and I'll be focusing on the 2:30 p.m. matchup between St. John's and Marquette. The winner will face Villanova on Thursday.

St. John's looked pretty good in its blowout win over Connecticut, but the Huskies didn't play well. Now the Red Storm look to take down another bubble team, and given how easily they won yesterday they should have a decent amount of energy left in the tank.

It will also be worth watching South Florida-Georgetown, which tips off at noon. A win by the Bulls could put them in the NCAA Tournament, while a win for the Hoyas would give them a badly-needed dose of momentum in a season that has quickly gone in the wrong direction.



Jonathan Tannenwald, Philly.com
IN A TUNNEL UNDER THE HUDSON RIVER - This is going to be quite a weekend, isn't it? It's always a big deal when the Big 5 inducts a new class into its Hall of Fame, but this year's group of John Chaney, Rollie Massimino and Speedy Morris is a blockbuster. Saturday's La Salle-Temple game should be pretty exciting too.

And I'm not going to be around for any of it.

Yeah, really.

As I write this, I'm on a train to New Haven, Conn., to cover Penn's opening games of Ivy League play. The Quakers go to Yale tonight and Brown tomorrow, and I'll have a recap of the latter game in Sunday's Inquirer.

Why am I doing this? Well, as you all know, I do this every year. I've been at Philly.com since 2006, and this is the first time I can remember that I'm missing a big City Series game for a road trip. One game in four seasons is a pretty good record, I'd say.
I'll also be in Boston for Penn-Harvard next weekend, though at least up there I'll have family to visit. The Quakers have two home weekends after that, which will finally let me see the region's other teams again.
Back in December, I had convinced myself that this season I would stay in town. But after Glen Miller was fired, I decided I needed to make this trip to see Jerome Allen's debut in the Ancient Eight.
Jonathan Tannenwald, Philly.com
What is it that makes college basketball so enjoyable for all of us?

There are plenty of reasons. Many people have a strong attachment to their alma mater. Others root for schools near where they grew up or that a relative attended. The raucous atmosphere of a sold-out arena with a big student section is also a draw, as is the allure of a scrappy mid-major upsetting a BCS power in the NCAA Tournament.

I would submit to you that there is another major reason why we enjoy college basketball so much: the role of the pass. Maybe it's a Philadelphia thing because of this city's long history of great guards, though I suspect it spreads beyond just our region. For as much as we celebrate scoring, we also take a certain joy in watching a team that passes the ball well and sets up good shots as a result.

Take Fran Dunphy for example, and the motion offense for which he is renowned. Dunphy's system is predicated on great passing. You've seen the play countless times: the ball is passed around the perimeter from Juan Fernandez to Ryan Brooks or Luis Guzman, as the guards look for a good shot. If there isn't one, they feed the ball to Lavoy Allen, who kicks it back out to Craig Williams for an open three.

Another play: Villanova went to the Final Four last season as much because of a pass as because of a made basket. Scottie Reynolds made his dash down the floor because of Reggie Redding's inbounds pass and Dante Cunningham's dish to Reynolds as the hinge in the picket fence.

There are so many examples. We might not be Supreme Court Justices, but to paraphrase Potter Stewart, we know them when we see them.

The value of a pass varies from sport to sport. It certainly matters in hockey. There is some passing in baseball - the 6-4-3 double play comes to mind - but the game is built on other skills. Football has plenty of passing, but unlike in basketball, a football pass is a play in and of itself. And you can't win football games without running the ball as much as you throw it.

(Ahem.)

If there is any sport in which passing is as intrinsic to the game as it is in basketball, it is soccer. Throughout the ages, the best teams in soccer history have been those who win games by passing the ball well.

Think about the great players: Cruyff, Pele, Maradona, Zidane. Sure, they scored goals, but they also were exceptional passerse. Indeed, no position in the sport is more celebrated than the playmaking midfielder who sets up goals with a good pass.

Yes, strikers get the big salaries and endorsements these days. But that's in part because the number of great passers is declining, and the game has become more defensive in general.

Still, when we see a great pass, we know it. We rise when a through ball splits two defenders and sets up a clinical finish. Fans around the world chant "Olé" when their team strings a series of passes together. Remember Argentina's goal at the 2006 World Cup that was set up by 26 consecutive completed passes?

Think back also to the goal that sealed Barcelona's victory in last season's Champions League final. Lionel Messi's header was set up by an exquisite cross from the right flank by Xavi Hernandez. We remember the goal just as much as the pass.

So why do I bring all this up today? Because today, I'm passing my soccer coverage into a new era. Philly.com has launched a dedicated soccer blog that I'll be writing called The Goalkeeper. I've cross-posted this piece on it and on Soft Pretzel Logic as an introduction.
Rest assured that I'll still be writing about college sports on Soft Pretzel Logic. But as you've probably noticed, the soccer and college basketball coverage have started to step on each other a bit.

From tomorrow morning through Saturday, I'll be covering the National Soccer Coaches Association of America convention on the new blog. That will include live coverage of the Major League Soccer and Women's Professional Soccer drafts, as well as a range of video features and interviews with some of the big names who will be in town.

This is going to be a historic year not only for the sport in Philadelphia but for American soccer as a whole. I know that many of you have been waiting for a long time for it to arrive, and now it finally has. We're in this journey together, and I'm looking forward to being a part of it.
Jonathan Tannenwald, Philly.com
Over the next few days, you're going to see all kinds of year-in-review lists here on Philly.com. I'm getting the ball rolling with what I think were the top 10 college basketball games of the year involving local teams.
I didn't attend all of them, but I did write about all of them here on the blog. I'm sure you'll disagree with some (maybe all) of my picks, and I hope you'll share your thoughts in the comments.
As I put this list together, a thought kept coming back to me. There are people out there - we know who they are - who claim that various places in the country represent the heart of college basketball. Some say it's Indianapolis, others Dayton, and plenty of loudmouths think it's the Tobacco Road triangle.
Jonathan Tannenwald, Philly.com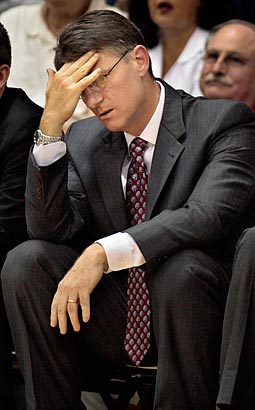 Here are highlights of Penn athletic director Steve Bilsky's teleconference from this afternoon. This post is very long, but I think you understand why it has to be. You can listen to a recording of the teleconference at the bottom of the post.
Opening statement
I think it's an opportuity for us to recapture the Penn identity, or begin to recapture that by hiring Jerome. He represnts to me the essence of what a student-athlete at Penn can accomplish here, in terms of how he got to Penn, what he did when he got here, how he feels about the school and how he has kept in touch with us subsequently... I welcome him as our interim head coach.



Jonathan Tannenwald, Philly.com
Penn 17, Harvard 7: My Inquirer recap | New York Times | Boston Globe
Postgame reactions from players and coaches on both teams are in the audio player below.
NEW HAVEN, Conn. - I've only covered two funerals in my life, and both were just a few months apart.



Jonathan Tannenwald, Philly.com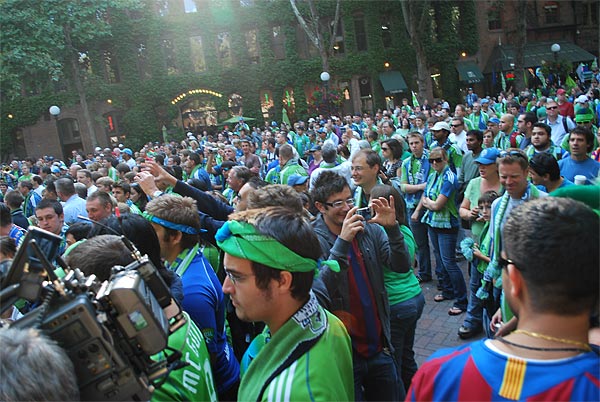 Seattle Sounders fans at Pioneer Square before their game against Barcelona this past August.
I said I'd be back with my thoughts on today's Philadelphia Union news, and here I am. This could take a while, but I hope you'll stick with me.

Let's start with the announcement that the Union's home opener will be played at Lincoln Financial Field. I suspect it will be a controversial decision, and here's why.
Jonathan Tannenwald, Philly.com
You all know that I've been covering Penn basketball for a while now. Of the many great names whose pictures adorn the walls of the Palestra, the Quaker who has always interested me more than any other has been Jerome Allen.
I never saw him play in person. I've seen highlight clips here and there, particularly of Penn's win over Nebraska in the 1994 NCAA Tournament. But there is almost an entire generation now of local college basketball fans who only know Allen from the history books.
After spending two years in the NBA, Allen played most of his professional career in Europe. But after this past season, he decided it was time to come home. So he moved back to Philadelphia and became an assistant coach at his alma mater.
Jonathan Tannenwald, Philly.com
You've probably noticed by now that one of the undercurrents of this blog is my interest in sports outside the traditional Big Four.

Thus far, the journey has taken us through college football, college basketball, track and field and soccer. Sometimes what I write generates interest, and sometimes it generates tumbleweeds.

Today, I'm killing this blog's audience once and for all.

I'm writing about tennis.

For all that I've ever said about the other sports I cover, believe me when I tell you that tennis is one of my very favorites.

So when I heard that Andre Agassi was coming to King of Prussia to play World Team Tennis for the Philadelphia Freedoms, I made sure my calendar was clear.

Even though he's been retired for a few years now, Agassi remains a star. If I went out on the street and asked 10 random people to name one American tennis player, I bet a few would pick him, and not just because he's married to Steffi Graf.
The real reason why Agassi is still so well-known is his place as the last link in a decades-long chain of American dominance in the sport.
From the mid-1990's through their famous 2002 U.S. Open final, Agassi and Pete Sampras were at their best on tennis' biggest stages. Sampras held the Grand Slam singles titles record for a time, winning the last of his 14 in the aforementioned duel at Flushing Meadows.
Jonathan Tannenwald, Philly.com
If I may analyze the Sixers' selection of UCLA guard Jrue Holiday from the perspective of a college basketball observer instead of a pro basketball observer...
We don't see a lot of Pac-10 basketball on the East Coast. This is in part because the conference's games are on Fox Sports Net, whose telecasts CSN doesn't always pick up, and in part because the big games are often at 10 p.m. our time.
So let's look at Holiday's stats from this past season, his only one in college basketball. Holiday averaged 8.5 points, 3.7 assists, 3.8 rebounds and 1.6 steals in an average of 27.1 mintues per game. He shot 45.0 percent from the field, 30.7 percent from three-point range and 72.6 percent from the free throw line. Collison played in 35 games this past season, starting in 34.