Riffs
Jonathan Tannenwald, Philly.com
Although Thursday's announcement that Penn athletic director Steve Bilsky will retire in June was not expected, it also was not surprising.
As Penn's release with the news noted, Bilsky just finished an enormous capital campaign that raised $125 million. Since returning to his alma mater 20 years ago, the Long Island native has overseen multiple renovations to the Palestra and Franklin Field, a complete overhaul of Hutchinson Gym, and construction of new baseball, softball, soccer, tennis and field hockey facilities.
Penn Park was created on his watch, turning a concrete wasteland between Walnut and South Street bridges into a spectacular green space. There's also Shoemaker Green, which serves as a wonderful gateway from 33rd Street to the Palestra.
Jonathan Tannenwald, Philly.com
To paraphrase the old chant:
Is that a college basketball venue?
Yes, that's a college basketball venue.
Or so the NCAA would like us to believe.
Jonathan Tannenwald, Philly.com
Just over a year ago, I wrote an essay in which I lamented the loss of the Big East conference that I grew up knowing.
It turned out that the conference's soul had not fully disappeared. It was rescued from extinction, and it will get new life when the new Big East arrives next season.
The formal announcement will come Thursday: the Big East's basketball-only schools are separating from the rest of the conference this summer. Instead of breaking up in a year or two, they're doing so on June 30. They will take the Big East name and they will take the right to play a conference tournament at Madison Square Garden.
Jonathan Tannenwald, Philly.com
INDIANAPOLIS - I'm out here for the week covering Major League Soccer's college draft. But I couldn't pass up the opportunity to swing by Butler University's famed Hinkle Fieldhouse, so I headed there Wednesday night to watch the Bulldogs' first ever Atlantic 10 conference home game.
I had been here once before, but only to get a tour of the place. If you ever get the chance to visit Hinkle, I would highly recommend doing so. It really is a kindred spirit to the Palestra. The brick foundation, steel arches and big glass windows cast a familiar warmth across the court on a cold winter night.
Along with the good building, there was some good basketball too.
Jonathan Tannenwald, Philly.com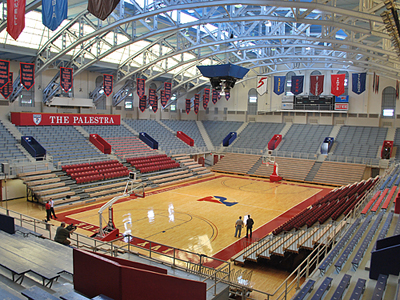 UPDATE: When I originally wrote this post Tuesday morning, I did not mean it to be entirely serious. It was just an idea to kick around.
But now ESPN.com's Andy Katz is reporting that the Atlantic 10 is in fact open to welcoming the Big East's Catholic contingent. As such, this idea becomes a lot more real, with the possibility of a 21-team league once Temple and Charlotte leave the A-10. I've added another potential division alignment to reflect the news.
---
Jonathan Tannenwald, Philly.com
When the news broke Wednesday afternoon that Pat Summitt was stepping aside from her duties as head women's basketball coach at Tennessee, my mind flashed back to the one time in my life that I met her.
Five years ago, I traveled to Knoxville for former Inquirer writer Mel Greenberg's induction into the Women's Basketball Hall of Fame. The day I arrived in town, Summitt hosted a welcoming party at her beautiful home on the banks of the Tennessee River.
At one point during the evening, Summitt sat down for a video interview with me and a few other freelance writers who contributed to Mel's blog at the time.
Jonathan Tannenwald, Philly.com
WASHINGTON - Sometimes I write posts based on facts, and sometimes I write posts based on opinions. This post is squarely in the latter category, save for a few facts that should be established at the start.
On Saturday, I watched a college basketball game between a private university with an undergraduate enrollment of just under 10,500 students, and another private university with an undergraduate enrollment of just under 7,500 students.
The game was played in an NBA arena, and the announced attendance of 19,277 was larger than the combined total of the aforementioned enrollment figures.
Jonathan Tannenwald, Philly.com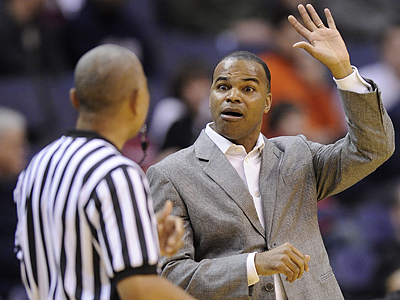 As those of you who saw Sunday's Inquirer know, I spent this past weekend in Boston for the Penn-Harvard football game. The night before the football game, Harvard's men's basketball team played a preseason exhibition against MIT, their neighbors down the subway line in Cambridge.
Even if you don't follow the Ivy League that closely, you may have heard some of the buzz about the Crimson this season. They came within a Princeton buzzer-beater of making the NCAA Tournament for the first time in decades last year, and did so with a roster that did not have any seniors.
Coming into this season, the Crimson were picked atop the Ancient Eight preseason poll for the first time ever this year - my vote included. That only added to the hype that has built up around the Harvard program in recent weeks.