Penn Relays
Jonathan Tannenwald, Philly.com
For all the thunderstorms that slammed New York City's Icahn Stadium this evening, the fans that did stick around until late tonight were richly rewarded.
Though I wasn't watching the TV telecast, it just crossed the AP wires that Jamaican star (and Penn Relays veteran) Usain Bolt has set a new world record in the 100-meter sprint at the Reebok Grand Prix.
Borrowing the AP copy because I'm about to go to sleep:
Jonathan Tannenwald, Philly.com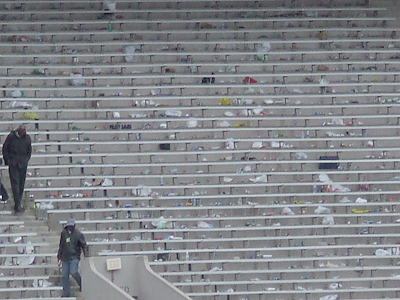 So this wraps up another year of live Penn Relays coverage here on the blog. It was, just like last year, a real privilege to be able to do this.
For any number of reasons, the Penn Relays is one of those events that just keep drawing you back year after year. A number of people I know in the local media who cover this thing talk often of just how much they enjoy being here.
Believe me, they don't say the same thing about covering the Eagles or Phillies.
Jonathan Tannenwald, Philly.com
The two hours after the USA vs. the World competition ends are the classic example of a dénouement.
Sure, there are plenty of races, and a lot of the fans stick around for them. They even get pretty excited for the high school boy's 4x400-meter Championship of America.
But it's pretty clear that everyone, from fans to administrators, is exhausted. So as the infield slowly clears out, the mood becomes a lot more laid-back.
Jonathan Tannenwald, Philly.com
It is always one of the most popular Saturday events with the fans: the 100-meter dash for competitors age 75 and up.
Here was the order of finish, including the runners' ages:
1. Joe Summerlin, 76, Dallas Masters: 14.92
2. Bill Melville, 80, Midwest Masters: 15.41
3. Edward Cox, 80, Syracuse Chargers: 16.27
4. Hal Goolsby, 77, Unattached: 16.50
5. Wilton Gordon, 78, Glenarden TC: 16.58
6. Byford Reed, 78, Unattached: 16.62
7. John Darrell, 75, Unattached: 17.16
8. Richard Dillon, 75, Unattached: 17.65
9. Bert Lancaster, 79, Philadelphia Masters: 18.55
10. Bob Matteson, 91, Mass Velocity TC: 22.05
Jonathan Tannenwald, Philly.com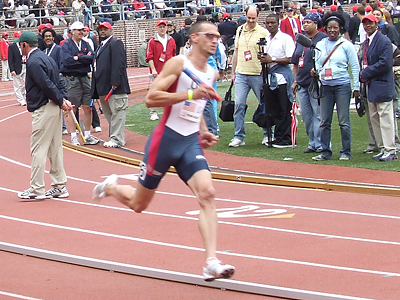 USA Blue rolled to a commanding victory in the women's 4x400-meter relay, its 3:22.16 beating Jamaica by a whopping 5.80 seconds.
Allyson Felix ran the decisive second leg in 50.0 seconds, with Sanya Richards anchoring in 50.3 seconds.
Jamaica was in third most of the time, but Kaliese Spencer ran a great anchor leg to overtake USA Red's LaShinda Demus in the home stretch.
Jonathan Tannenwald, Philly.com
West Catholic grad LaTavia Thomas just anchored LSU to victory in the college women's 4x800-meter Championship of America.
She had a nice battle going with Tennessee star Sarah Bowman going into the last turn, but Thomas pulled away in the end for a comfortable victory.
The Tigers' time was 8:30.98, the Volunteers' 8:32.60.
Jonathan Tannenwald, Philly.com
With a breathtaking burst of speed coming out of the final handoff, Texas A&M anchor Porscha Lucas raced away from LSU's Kelly Anne Baptiste to win the college women's 4x200-meter Championship of America.
The Aggies' final time was 1:31.21, to 1:31.77 for the Tigers.
I guess you can't win them all.
Jonathan Tannenwald, Philly.com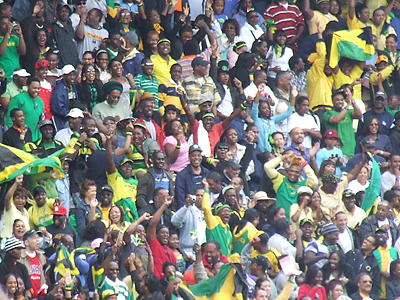 It's not much of a stretch to say that this was the one race the Jamaican fans craved victory in the most. Today, they finally got it.
The United States carried an 8-0 record into the men's 4x100-meter relay, and it looked for a while like they might stay undefeated.
Then Jamaica took over in the third leg. USA Blue's Shawn Crawford tried to make a charge in the anchor leg, but Jamaica's Dwight Thomas held on for perhaps the country's biggest ever Penn Relays victory.