Penn Relays
Jonathan Tannenwald, Philly.com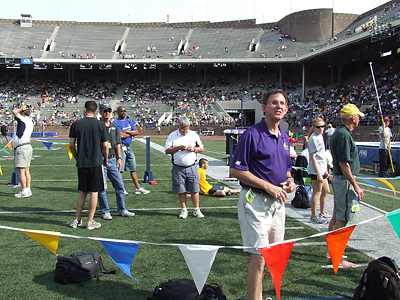 That's going to do it for Friday's live blogging. We saw a lot of action today, and many more records fell than just the ones I posted on here.
I'll be back bright and early tomorrow morning for the biggest day of all, as what should be a monster crowd makes its way to 33rd Street for the USA vs. the World races.
Today's announced attendance was 39,904, the second-largest Friday crowd in Penn Relays history.
Jonathan Tannenwald, Philly.com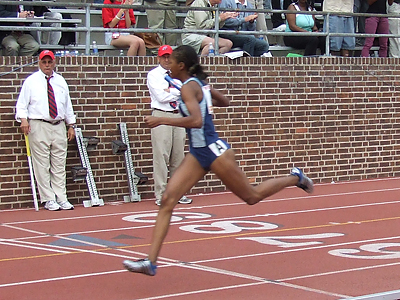 Eleanor Roosevelt's girls team refused to go home empty-handed.
Despite trailing heading into the final leg, Roosevelt anchor Tasha Stanley blazed ahead of the field en route to a dominant win.
Roosevelt finished in 3:37.16, with Manchester of Jamaica second in 3:40.89.
Jonathan Tannenwald, Philly.com
Make it three Championships of America in one day for the LSU women's team.
The Tigers' team of Samantha Henry, Kelly Ann Baptiste, Deonna Lawrence (52.9 second 400m) and West Catholic grad Latavia Thomas (2:07.6 800m) added the Sprint Medley Relay to the 4x100-meter relay and the Shuttle Hurdles titles they won earlier.
Baptiste was also on the 4x100m team, which makes for quite an indovidual haul.
Jonathan Tannenwald, Philly.com
We have ourselves a Championship of America-winning team from right here in Philadelphia.
Germantown Friends stormed to victory in the high school boys' Distance Medley Relay, beating La Salle College High -- who got some hype for this event coming into the meet -- by exactly five seconds.
The GFS team of Isaac Ortiz (1200m), Tom Waterman (800m), Jake McKenzie (400m) and Max Kaulbach (1600m/anchor) crossed the line in 10:11.54. La Salle's Pat Donnelly, Anthony Kent, Brian Ledder and Dan Lowry made it in 10:16.54.
Jonathan Tannenwald, Philly.com
I got a call from a blog reader who was sitting in the upper deck, so I went up there to take some pictures. Click on the photo at left to see a bigger version of the view from above the finish line.
Jonathan Tannenwald, Philly.com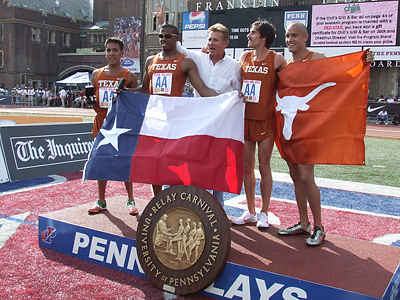 I missed the times because I was standing under the scoreboard, but Texas just won the men's college distance medley Championship of America. Stanford was second and Villanova was third.
I'll post times later, but it was close going right into the final stretch, when Texas finally pulled away.
UPDATE: Texas (Erik Stanley, Danzell Fortson, Jacob Hernandez and Leonel Manzano) finished in 9:32.89; Stanford (Garrett Heath, Andrew Dargie, Michael Garcia and Russell Brown) in 9:33.16; and Villanova (Michael Kerrigan, Garrett Kroner, Sean Tully and Robert Curtis) in 9:34.39.
Jonathan Tannenwald, Philly.com
In addition to the video from the USATF press conference, there was some big news.
According to USATF spokeswoman Jill Geer, Jamaican star Asafa Powell will not race tomorrow because of a pectoral injury suffered last week at the Mt. SAC relays in California.
He is quite possibly the biggest star in world track right now, and it would have brought a real serious buzz to Franklin Field tomorrow. Too bad.
Jonathan Tannenwald, Philly.com
Sanya Richards and Wallace Spearmon will race for the United States in tomorrow's USA vs. the World competition, but Penn Relays fans have known about them for a while. Richards ran at Franklin Field while at Texas, and Spearmon came here with Arkansas.
At this afternoon's USA Track and Field press conference, I asked both about the differences between running in the college and pro events. Watch the video below.
Jonathan Tannenwald, Philly.com
Watch your head, or you might get hit with one.
Earlier today, LSU and Texas A&M both broke the Penn Relays record in the college women's 4x100-meter Championship of America.
The Tigers (Kelly Ann Baptiste, Brooklynn Morris, Samantha Henry and Kenyanna Wilson) won the race in 42.59 seconds, and the Aggies (Elizabeth Adeoti, Porscha Lucas, Simone Facey and Gabby Mayo) finished second in 42.69.
Jonathan Tannenwald, Philly.com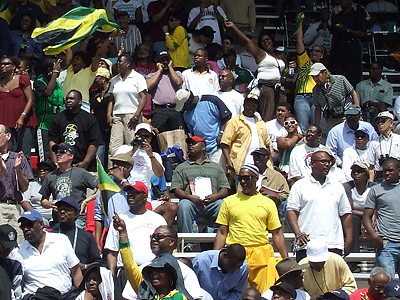 Eleanor Roosevelt High School from Prince George's County, Md., came in second in the girls' 4x800-meter and 4x100m Championship of America races.
They were sixth in the 4x100 at 46.66 seconds, won by Edwin Allen (44.79), and second in the 4x800 at 8:43.12, won by Holmwood Tech (8:41.92).
But Roosevelt, the defending 4x8 champs, got a nice consolation prize. That 4x8 time set a new American high school record by more than seven seconds.