Penn
Jonathan Tannenwald, Philly.com
Time: 8:00 p.m. EST
Venue: The Palestra, Philadelphia, Pa.
TV/Radio: NBC Sports Network (Randy Moss and Dalen Cuff)/WIP 610-AM (Villanova)/WNTP 990-AM (Penn)
We all know that Penn and Villanova are not at the level where either program wants to be. But it's still a Big 5 game, and it's still a Saturday night at the Palestra. So let's do this.
If you're on a mobile device, click here.
Jonathan Tannenwald, Philly.com
Here are some highlights from the postgame press conferences after Drexel's quite entertaining 61-59 win over Penn at the Palestra on Saturday.
You probably don't have to guess too hard as to which subject got Bruiser Flint the most animated, but I'll give you a little hint. There were 5,608 fans in the house to watch the game. That's more than double the capacity of the Daskalakis Athletic Center.
Drexel coach Bruiser Flint
Jonathan Tannenwald, Philly.com
Time: 4:00 p.m.
Venue: The Palestra, Philadelphia, Pa.
Radio: WFIL 560-AM
After a one-year hiatus, the Battle of 33rd Street is back. Follow along below for live game updates throughout the afternoon.
If you're on a mobile device, click here.
Jonathan Tannenwald, Philly.com
Ahead of Saturday's Penn-Drexel game at the Palestra, the two schools' athletic departments got together with a few filmmakers in the DAC Pack to put together a promotional video. The result is quite entertaining:
Jonathan Tannenwald, Philly.com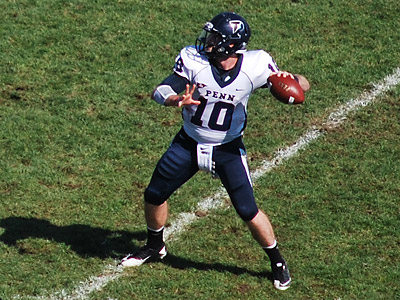 WEST HAVEN, Conn. - Penn quarterback Billy Ragone grew up just a few miles down the road from the Yale Bowl. So whenever he travels north to face the Bulldogs, he inevitably ends up being the center of attention.
That was the case again Saturday, but likely not for a reason Ragone would have wanted. The Cheshire, Conn., native threw an interception midway through the third quarter that turned the game decisively in Yale's favor, and led to a 27-13 Penn loss.
It is the first time Penn (2-4, 2-1 Ivy League) has lost to Yale since 2007. Every year since then, Penn had started Ivy League play 3-0, with wins over the Bulldogs (2-4, 1-2 Ivy) and perennial underachievers Dartmouth and Columbia.
Jonathan Tannenwald, Philly.com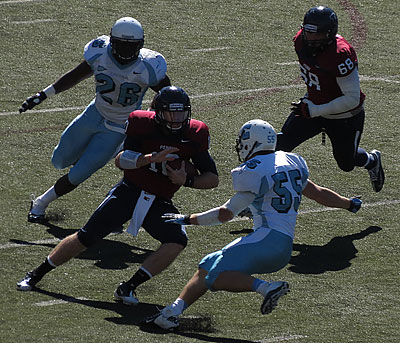 A guest post from The Inquirer's Marc Narducci, who covered Sunday's Penn-Columbia football game at Franklin Field. Read his recap here or in the paper.
From a Penn perspective, the positive news is that the Quakers are very much in the running for the Ivy League football title. Penn is 2-3 overall, but 2-0 in the Ivy after Saturday's comeback 24-20 win over Columbia.
On the negative side, it's the third straight game in qhich the Quakers have played only one good half, and they still haven't put together a strong 60 minutes in any game. In its 28-21 win at Dartmouth to open conference play, the Quakers held a 20-0 halftime lead.
Jonathan Tannenwald, Philly.com
I was out of the office on Thursday so I wasn't able to post the announcement of the Ivy League's slate of its nationally-televised home games in the coming basketball season.
With that information now out there, here's a schedule of every nationally-televised game involving an Ivy League team that I know of so far. If you find others, let me know.
Tuesday, November 13: Harvard at Massachusetts (Tip-Off Marathon), 10:00 a.m. (ESPN)
Sunday, November 18: Cornell at Wisconsin (Las Vegas Invitational), 6:00 p.m. (ESPN3.com)
Tuesday, November 20: Columbia at Villanova, 7:00 p.m. (ESPN3.com)
Tuesday, November 20: Cornell at Arizona State (Las Vegas Invitational), 9:00 p.m. (Pac-12 Network)
Jonathan Tannenwald, Philly.com
UPDATE: The Big 5 schedule at the bottom of the post has been corrected. Apologies for the initial error.
The Atlantic 10 announced Tuesday morning that it has signed an extensive set of television broadcast deals with ESPN, CBS and NBC. They will all start in the 2013-14 season and run through the 2020-2021 season.
Among the highlights is the fact that the men's and women's conference tournaments will be broadcast nationally from the quarterfinals on, instead of the semifinals. But there won't be any more games on over-the-air network television as has been the case in recent years with CBS.
Jonathan Tannenwald, Philly.com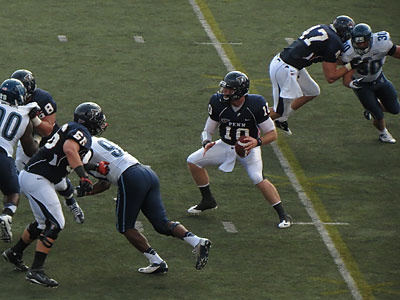 A guest post by the Inquirer's Marc Narducci, who covered the Penn-Villanova game for the paper. Read his recap here.
Penn football coach Al Bagnoli wanted to make one thing perfectly clear following Saturday's 24-8 loss to Villanova at Franklin Field.
"There is no quarterback controversy," he said.