Newsstand
Jonathan Tannenwald, Philly.com
Legendary Philadelphia University men's basketball coach Herb Magee met with the media today to talk about being inducted into the Naismith Memorial Basketball Hall of Fame. Here are some highlights, put together by staff photographer David Swanson.
Jonathan Tannenwald, Philly.com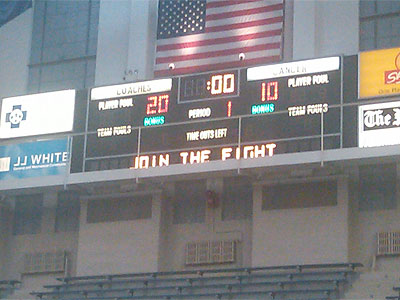 I mentioned over the weekend how cool the first Thursday and Friday of the NCAA Tournament are, and how wild the Selection Show is. But the morning after Selection Sunday has held special significance for me ever since I first started attending the Philadelphia Coaches vs. Cancer March Madness Tip-Off Breakfast.
I don't remember what the first year was that I attended; I just know that I feel like I've gone every year for a while now. And though I know it's poor form to complain about my working hours, I think you can understand when I say it's not always easy to get to the Palestra by 7:30 a.m. after staying up late to coordinate Philly.com's NCAA Tournament presentation.
But I wouldn't miss the event for anything. It symbolizes better than anything else we have how wonderfully tight-knit the Philadelphia college basketball community is.



Jonathan Tannenwald, Philly.com
Are you ready?
No, really, are you? Because if you aren't, you'd better be by this Saturday. Consider yourselvers warned.
Jonathan Tannenwald, Philly.com
Uh... whoa.

Some finish that was.

Read the whole thing, but especially read the end...

---

First off, congratulations to the Kentucky fans at CatsPause.com for swamping the polls and giving Jodie Meeks an overwhelming victory in the Fantasy HORSE Invitational. You all are welcome to stick around, as I'm sure we'll be talking about Big Blue again as this season goes on.
Also in the poll department, Dante Cunningham overtook Dionte Christmas in the local player of the year ballot, and was declared the winner in this morning's Inquirer.



Jonathan Tannenwald, Philly.com
We start with a handful of great feature stories with ties to the to the local college scene that are worth your reading.

First up, Mark Kram gets the back cover of the Daily News with a piece on the support network around stud Villanova recruit Dominic Cheek. It includes famed St. Anthony's coach Bobby Hurley, Sr., for whom Cheek plays his high school ball.

Also in the Daily News, Bernard Fernandez reports on the Philadelphia Sports Writers Association awards dinner, where Drexel's Nicole Hester was named Most Courageous Athlete. Other notable winners include West Chester wide receiver Mike Washington, named Outstanding Amateur Athlete; former Penn State star Adam Taliaferro, who won the Humanitarian award; and LSU sprinter LaTavia Thomas, who won the Penn Relays award.
| Team | Record | Conf. | Big 5 | Pomeroy | RPI | Sagarin | BB State | SOS |
| --- | --- | --- | --- | --- | --- | --- | --- | --- |
| Drexel | 10-8 | 6-3 | 2-0 | 138 | 94 | 135 | 125 | 94 |
| La Salle | 11-7 | 1-1 | 1-2 | 115 | 107 | 107 | 103 | 137 |
| Penn | 4-10 | 0-0 | 0-4 | 232 | 229 | 243 | 223 | 147 |
| St. Joseph's | 11-7 | 4-0 | 1-1 | 98 | 66 | 92 | 80 | 95 |
| Temple | 11-7 | 3-1 | 1-1 | 42 | 49 | 55 | 48 | 15 |
| Villanova | 15-4 | 3-3 | 4-0 | 26 | 26 | 28 | 29 | 86 |
Jonathan Tannenwald, Philly.com
More odds and ends...
-- Breaking news out of State College that Joe Paterno was taken to Mount Nittany Medical Center today because of dehydration. Thoughts and prayers are with him, of course, though it's no surprise to read team spokeman Guido D'Elia's words that Paterno is "mad as heck" about not being at work.
(UPDATE: Paterno has since been released; information in the link above.)

Jonathan Tannenwald, Philly.com
Daily News sports editor Josh Barnett, who is a blogging fiend in his own right, sent along an AP dispatch a few days back that I've been meaning to post.
But because of the redesign I've been asleep the last two days... actually, I've been cleaning up and wishing I was asleep. Thanks for all the feedback, though; feel free to post more here.
Anyway, there's plenty to consider in this: