National
Jonathan Tannenwald, Philly.com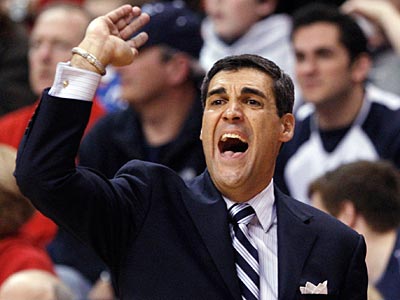 NEW YORK - One of the best weeks of the college basketball season, perhaps the best full-length week of them all, has finally arrived.
Championship Week kicks into high gear today as Madison Square Garden opens its doors once again to the Big East. Fans of all 16 of the conference's schools - yes, even DePaul and South Florida - have made their way to Manhattan for one of the best conference tournaments in the nation.
There will be four games today, including Villanova-South Florida at 7:00 p.m. I'll be chatting live during that game, and posting updates on the rest of the action at the Garden throughout the day.
Jonathan Tannenwald, Philly.com
Last weekend, we saw one of the great performances by any student section in the country this season at the St. Joe's-Temple game. The Cherry Crusade's "funeral" for the Hawk rightly got national attention for its creativity, humor and depth.
If you didn't see the details of it yet, watch the video below. There's a rundown of all the rollouts and other signs here. I would have liked to have been at the game, but I had to do my actual job that day.
We all know about the great fan traditions in Philadelphia. But yesterday, two YouTube videos from elsewhere on the college basketball landscape got national attention.
Jonathan Tannenwald, Philly.com
Time: 2:30 p.m. EST
Venue: Lincoln Financial Field, Philadelphia, Pa.
TV: CBS
Get ready for the 111th edition of one of college football's most famous rivalry games by checking out the Inquirer's special preview page here.
Although the game won't start until the afternoon, the famed march-on of the Cadets and Midshipmen is scheduled to begin at 11:30 a.m. I'll be posting photos and anecdotes from the march here and on Twitter, so be sure to check in early.
Poll: Who will win today's game?

(103 votes)
Jonathan Tannenwald, Philly.com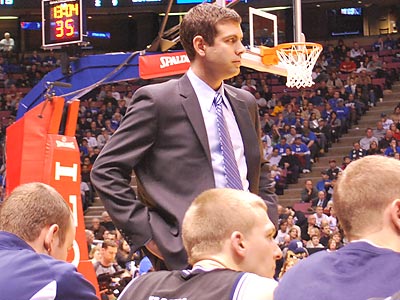 EAST RUTHERFORD, N.J. - Everyone knows about Butler coach Brad Stevens now. There have been a seemingly infinite number of stories written about what he's done, and the way he is, and how Butler has become the model mid-major program in college basketball.

But there are still people on this earth who have never met Brad Stevens in person. Yesterday's Butler-Duke game was the first time I ever covered a Bulldogs game, and Stevens' postgame press conference was a terrific experience.

If we all learned something about Butler from the way they played in an 82-70 loss to the Blue Devils, I think I can say I personally learned something from the way Stevens conducted himself afterward.

I know I haven't been at this for an especially long time, but I'm not sure I've ever seen a coach as singularly focused and driven on getting the very best out of his team at every minute as Stevens. He is not a super-intense person (think of Jimmy Patsos as being at one end of that scale), but he is amazingly unflappable.

Everything he says relates to the game, and the moment. He does not introduce distractions to himself or his team, nor does he allow them in from outside. He does an exceptional job of deflecting any questions on how he feels about having his program in the national spotlight.

So what if making the national championship game last season has made his program glamorous? So what if the national media places thousands of words' worth of pressure on his program - and decrees failure if any result goes against that conventional wisdom? Stevens just keeps going, coaching hard and getting his players to play even harder.

It is a fortification that seems from afar to be as strong as the walls that encircle the great medieval cities of Europe. Against those ramparts, journalists play a role akin to that of an invading army. And just like that army, it is a natural instinct of journalists to try to overcome the erected barrier.

That's what I did yesterday. I wanted to get something out of Stevens, however small, about what it feels like to be in his position, riding a rocket ship from Hinkle Fieldhouse into the college basketball stratosphere.
Whether or not I should have done so, I felt it a better use of the allotted time than to ask an even more clichéd question about what transpired on the court. So when the opportunity came, I took it:

Q. Coach, could you talk about coming into a game like this, and all the outside hype and attention that was being generated about it? I know that you guys have been really good at blocking that out, but what was that like?
And then to come in and deliver that kind of performance, when people thought - between the [Ronald] Nored injury and how well Duke's been playing - that it wouldn't have been that close?

A. Well, you know what? I wasn't paying a whole lot of attention to all the talk. You know, I didn't turn my TV on today. Didn't read any papers, didn't have any internet access. So I didn't know that there was as much as maybe there was.

But certainly, we knew there was a big game, and against a very quality opponent. And we knew that if we were not focused, then, you know, we weren't going to have a very favorable outcome, and it would be over early.

And so I was pleased in some regards, but I think that like last year, you see a little light at the end of the tunnel if you can embrace things. Which is a big "if."

The proverbial gate had opened just enough for the gatekeeper to ask why I had come to visit. The reason wasn't the right one, and the gate was slammed right back shut. So much for that.

I decided that my next question should be more basketball-related, just to be safe. A few minutes, later, I was able to ask center Matt Howard what it was like to deal with Duke's frontcourt depth. That went well enough. Then I got one more chance to query Stevens. Somewhat against my better judgment, I went back to the original theme:

Q. Coach, for as much as you've been focused on the game, obviously, does it feel at the end of a day like this - when you've played Duke again now, for the second time, and this game was sort of arranged - that the program has really risen to another level?

A. Ummmm... [and he held it for a second, just like that], yeah, I guess, maybe. Just because of, you know, the talk surrounding it, probably. But, you know, um, certainly, I got a few more text messages wishing me good luck than I did before some of our other games. But yeah, I think that's part of it.

I think all the exposure and all those things are positives, but I'm pretty darn focused on just what's next for this team. And how do we become better, and how do we, um, with our margin for error, how do we make as few mistakes as possible.

I printed all the instances in which Stevens said "um" and "you know" on purpose. I don't normally do that, but I wanted to this time to really demonstrate just how Stevens delivered his remarks. It was as if he didn't want to, even though he knew he had to.

Still, I thought I got something interesting and unique from that second answer. Maybe Stevens didn't want to talk about it, but it seemed in the moment to be heartfelt. So I felt pretty good.

Then someone was a question about a Butler injury during the second half, and about how to guard Duke's sensational freshman guard Kyrie Irving. At that point, I left the press conference room, and went back to the work room to start packing up. I didn't need to bother with the other topics.

Look, a lot of us are mid-major basketball fans, and I use the first person on purpose. It's not about a specific team, but an ideal. And I know a fair number of Butler fans will read this post and it will be the first thing they've ever read on this blog, and they might dismiss it as just another basketball writer out there who's come in and discovered what they knew all along.

But there's a first time for everything. There has to be, and it was my turn yesterday. If I got something new or incrementally different from Stevens, that's fantastic. If not, oh well. I made an honest effort to get past that gate, and I'm glad I did.

You really do have to see Brad Stevens in person to understand his amazing focus and drive. It rubs off on his players, Butler's fans, and, to be quite honest, a room full of reporters after a nationally televised game against the college basketball's most famous team.

It's an impressive thing. Stevens and Butler deserve the kind of attention that Butler has gotten since last season, even if Stevens doesn't let an ounce of it get to him or his players.

That will likely not stop the media from massing at the gates, however - at least for as long as Butler keeps winning. And while the spotlight might not change Stevens' personality, I do hope he takes it as a compliment.



Jonathan Tannenwald, Philly.com
UPDATE: Zack Rosen scored a game-high 20 points and Tyler Bernardini hit some key late three-pointers, the Quakers pulled away from Army for a 68-52 win.
Here's my full story on the game. It will also be in tomorrow's Inquirer, so be sure to pick up a copy.
Now it's time for the much-hyped rematch of last season's national championship game between Duke and Butler. I'll be chatting during the game, so come on by.
---



Jonathan Tannenwald, Philly.com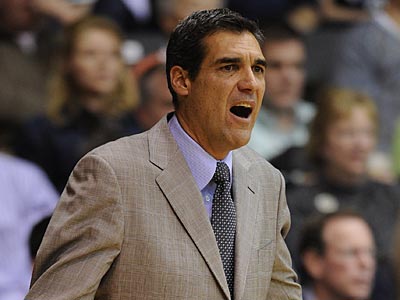 Game 3: Marist vs. George Washington

Time: 5:30 p.m.
Venue: The Pavillion, Villanova, Pa.
Live video/audio: None
Game 4: Boston University vs. Villanova
Jonathan Tannenwald, Philly.com
I wasn't able to get to the local college football coaches' luncheon this week, so I don't have any anecdotes or great storylines to share about today's games. The biggest story is well-known to all of you anyway: Joe Paterno's quest for his 400th career win as Penn State hosts Northwestern.

Here are the rankings and predictions for today's games.

Local Sagarin rankings

Each team's ranking progression through the season is listed from left to right.

43. Penn State (54-62-66-32-22-22-27-24-10)
51. Temple (57-70-65-56-50-46-60-59-99)
55. Villanova (64-79-95-77-72-69-71-104-64)
62. Delaware (59-56-35-48-66-92-65-106-112)
87. Rutgers (88-82-107-86-67-53-57-39-60)
130. Penn (140-163-199-140-131-131-128-130-135)
142. Lehigh (162-168-197-168-162-168-143-146)
223. Lafayette (229-232-236-207-198-204-220-141-156)
229. Princeton (233-233-234-201-181-208-187-189-187)
238. Bucknell (247-240-244-237-238-235-235-230-213)
241. Delaware State (241-241-241-230-227-221-222-220-204)

Villanova is now the highest-ranked I-AA team in Sagarin. Delaware is second, and William & Mary is third at No. 63. Teams ranked below the Wildcats include Notre Dame, Maryland, Northwestern and Boston College. The first and last of those four ought to make Wildcats fans especially happy.

Sagarin predictions for selected games

I-A rankings are by the BCS standings, I-AA rankings are by The Sports Network. All games are Saturday unless otherwise noted. The current Sagarin home-field advantage factor 3.03 points.

No. 3 Villanova at Rhode Island (1:00 p.m., WPEN 950-AM): Villanova by 17 (72.06 to 51.91 + 3.03)
Temple at Kent State (2:00 p.m., WPHT 1210-AM): Temple by 9 (73.18 to 61.50 + 3.03)
No. 18 Penn at Princeton, (3:00 p.m., Versus/WFIL 560-AM): Penn by 21 (58.04 to 33.71 + 3.03)
Northwestern at Penn State (3:30 p.m., ABC): Penn State by 9 (75.43 + 3.03 to 8.95)

No. 3 TCU at No. 5 Utah (3:30 p.m., CBS College Sports): TCU by 1 (91.57 to 87.42 + 3.03)
No. 6 Alabama at No. 10 LSU (3:30 p.m., CBS): LSU by 1 (86.16 + 3.03 to 87.72)
Washington at No. 1 Oregon (3:30 p.m., ESPN2 SD only): Oregon by 23 (94.54 + 3.03 to 74.11)
No. 18 Arkansas at No. 19 South Carolina (7:00 p.m., ESPN): South Carolina by 2 (82.03 + 3.03 to 82.88)

Oregon is the overall No. 1 ranked team in Sagarin, with TCU second and Stanford third. Missouri is fourth and Nebraska is fifth, even though the Cornhukers beat the Tigers in Lincoln last week. Auburn is No. 6 and Boise State is No. 7.

If TCU beats Utah today, you have to wonder if Boise is going to be able to jump over the Horned Frogs in the BCS standings. It might not happen.
Jonathan Tannenwald, Philly.com
This is a relatively minor item as things go, but I thought it would be an unusual way to start off this week's local college football preview post.

The Heisman Trophy Trust is in town today to present the Penn athletic department with one of the eponymous pieces of hardware. It is in honor of the dedication of the school's new fitness facility that has been built under the north side arches at Franklin Field.

That the facility is being dedicated this weekend is due primarily to it being Homecoming weekend at Penn, but it's of no small consequence that the Quakers are playing Brown in particular today. John Heisman played for both Brown and Penn during his college career. He was with the Bears from 1887 to 1889, and the Quakers from 1890 to 1891. He later coached at Penn from 1920-1922.

As far as I can tell, Penn gets to keep the trophy. It's not like the Stanley Cup or other silverware that gets rented by each year's winner. Here's hoping that the school displays the trophy in a place that is at least somewhat accessible to the public, so that fans who wouldn't otherwise get near a Heisman trophy can see it in person.

And before you ask, I don't know if the particular trophy that Penn will receive is the former property of Reggie Bush. But you're welcome to crack whatever jokes you'd like to about that potentially being the case.

So let's turn to today's gridiron action. All four local teams are at home, and they all have very big games. At the I-A level, Temple can tie Ohio at the top of the MAC East Division at 4-1, and Penn State has a nationally televised prime-time showdown against Michigan.

At the I-AA level, Richmond visits Villanova in a battle of teams ranked in the top 15 nationally, while Brown and Penn are the only two Ivy League teams remaining with perfect records in conference play. The winner will have the inside track to this season's Ancient Eight title.

You can hear more about today's Villanova and Penn games in the audio player below, which has the tracks from this week's local college football coaches luncheon. Wildcats coach Andy Talley and Quakers coach Al Bagnoli both spoke, as did Penn running back and kickoff/punt returner Bradford Blackmon.

You'll notice in Bagnoli's remarks that there is a reference to a bobblehead figurine of Dan "Coach Lake" Staffieri, the longtime assistant to the program and team spirit leader who passed away back in April. As of now, the bobbleheads are not available to the public because there is only a limited quantity, but Penn might make more of them in the future if there's demand.

Local Sagarin rankings

Each team's ranking progression through the season is listed from left to right.

54. Penn State (62-66-32-22-22-27-24-10)
57. Temple (70-65-56-50-46-60-59-99)
59. Delaware (56-35-48-66-92-65-106-112)
64. Villanova (79-95-77-72-69-71-104-64)
88. Rutgers (82-107-86-67-53-57-39-60)
140. Penn (163-199-140-131-131-128-130-135)
162. Lehigh (168-197-168-162-168-143-146)
229. Lafayette (232-236-207-198-204-220-141-156)
233. Princeton (233-234-201-181-208-187-189-187)
241. Delaware State (241-241-230-227-221-222-220-204)
247. Bucknell (240-244-237-238-235-235-230-213)

Delaware remains the highest-ranked I-AA team in Sagarin, with Stephen F. Austin second at No. 62 and Villanova third. Maryland and Cincinnati are the teams ranked directly below the Blue Hens. Georgia Tech, Northwestern and Vanderbilt are ranked below all three. Hooray for the smart kids.

Sagarin predictions for selected games

I-A rankings are by the BCS standings, I-AA rankings are by The Sports Network. All games are Saturday unless otherwise noted. The current Sagarin home-field advantage factor is 2.95 points.

Akron at Temple (1:00 p.m., WHAT 1340-AM): Temple by 36 (71.91 + 2.95 to 39.02)
Michigan at Penn State 8:00 p.m., ESPN/WNTP 990-AM): Michigan by 1 (76.49 to 75.82 + 2.95)
No. 14 Richmond at No. 5 Villanova (12:00 p.m., Comcast Network/WPEN 950-AM): Villanova by 16 (70.60 + 2.95 to 57.11)
Brown at No. 21 Penn (1:30 p.m., WNTP 990-AM): Penn by 13 (56.44 + 2.95 to 46.25)

No. 5 Michigan State at No. 18 Iowa (3:30 p.m., ABC): Iowa by 1 (85.01 + 2.95 to 86.74)
No. 6 Missouri at No. 14 Nebraska (3:30 p.m., ESPN): Missouri by 2 (92.39 to 87.42 + 2.95)
No. 1 Auburn at Mississippi (6:00 p.m., ESPN): Auburn by 16 (88.96 to 69.45 + 2.95)
No. 2 Oregon at Southern California (8:00 p.m., ABC): Oregon by 6 (92.59 to 83.46 + 2.95)

Akron, with an 0-8 record, is the lowest-ranked I-A team in Sagarin at No. 216. The Zips have lost at home to Syracuse, Gardner-Webb, Northern Illinois and Western Michigan, and on the road to Kentucky, Indiana, Kent State and Ohio. Akron has given up at least 28 points in every game, more than 35 points six times and more than 50 points twice. The only game that Akron lost by one possession was against Gardner-Webb, a 38-37 defeat in overtime.

The next-lowest-ranked I-A team is No. 197 New Mexico, which is 0-7. In other words, it's a long way down.

At the other end of the rankings, the top five teams this week are Oregon, Missouri, TCU, Oklahoma and Boise Stae. Auburn is No. 6, while 7-1 Ohio State is ranked higher (No. 7) than undefeated Michigan State (No. 13). The two teams do not meet this season, which is the biggest reason why the Spartans have a very good chance of winning the Big Ten if they can survive the trip to Iowa today.