NCAA Tournament
Jonathan Tannenwald, Philly.com
La Salle made the deepest run of any City Six team in the NCAA tournament, and the Explorers were rewarded with a place in the final ESPN/USA Today coaches' poll of the season.
John Giannini's crew are ranked No. 24, a spot ahead of Florida Gulf Coast. Atlantic 10 rivals Virginia Commonwealth and Saint Louis were also ranked, at No. 23 and No. 16 respectively.
The top four teams were the final four teams alive: Louisville, Michigan, Syracuse and Wichita State.
Jonathan Tannenwald, Philly.com
This one's short and... well, I can't say sweet, because it's the wrong round. But at least it's short.
All times are Eastern:
Saturday, April 6
Jonathan Tannenwald, Philly.com
To paraphrase the old chant:
Is that a college basketball venue?
Yes, that's a college basketball venue.
Or so the NCAA would like us to believe.
Jonathan Tannenwald, Philly.com
I'll update this post Friday night with the start times for the Sunday games. All times are Eastern:
Saturday, March 30
4:30 p.m.: E3. Marquette vs. E4. Syracuse at Washington, D.C. (CBS/Verne Lundquist, Bill Raftery and Rachel Nichols)
7:05 p.m.: W2. Ohio State vs. W9. Wichita State at Los Angeles, Calif. (CBS/Kevin Harlan, Len Elmore, Reggie Miller and Lewis Johnson)
La Salle's storybook run through the NCAA tournament came to a crashing halt early Friday morning. The Explorers were decisively beaten in the Sweet 16 by Wichita State, 72-58.
Wichita State was just too good. Gregg Marshall had his team ready to shut down La Salle at the perimeter, and on offense the Shockers pounded the ball inside relentlessly. Malcolm Armstead led all scorers with 18 points. Carl Hall added 16 points, all from two-point range, and added eight rebounds.
As a team, Wichita State scored 40 of its 72 points in the paint, and just 15 from three-point range.
Jonathan Tannenwald, Philly.com
You probably know about Mississippi's Marshall Henderson by now.
And you probably heard about what he did after the Rebels lost to La Salle on Sunday.
It took a while, but video of the incident has finally come to light.
Jonathan Tannenwald, Philly.com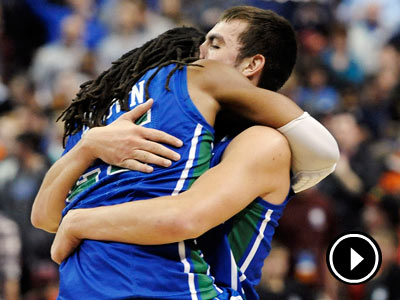 A wild night of NCAA tournament action at the Wells Fargo Center saw Florida Gulf Coast become the first ever 15-seed to reach the Sweet 16, followed by a classically dominant Duke victory. I talked about both games and La Salle's epic "Southwest Philly Floater" with Dick Jerardi of the Daily News.
Jonathan Tannenwald, Philly.com
Looks like we'll be staying up very late to watch La Salle-Wichita State on Thursday: It's a 10:17 p.m. tipoff - at the earliest - on TBS.
All times are Eastern:
Thursday, March 28