NCAA Tournament
Jonathan Tannenwald, Philly.com
Amid the delirium of Temple's win, there was a losing team on the other side of the floor. It so happens that said team was one that just a few of you pay attention to.
So here's the transcript of Penn State's postgame press conference, courtesy of ASAP Sports. On the dais were coach Ed DeChellis, Talor Battle, Tim Frazier and David Jackson.
THE MODERATOR: For Penn State we've got head coach Ed DeChellis. Then we've got Tim Frazier, followed by David Jackson and Talor Battle.
Jonathan Tannenwald, Philly.com
We all know that Fran Dunphy is one of the most selfless people in college basketball. It is always about his players, even on a day like today when he won a game in the NCAA Tournament for the first time in 17 years.
It took some prodding, but Dunphy did admit that the win was pretty special. Here's the transcript from Temple's postgame press conference, courtesy of ASAP Sports. Dunphy, Juan Fernandez, Ramone Moore and Khalif Wyatt were on the dais.
THE MODERATOR: Coach, if you can give us some opening remarks.

Jonathan Tannenwald, Philly.com
This happened:
This also happened:
And so did this:
Jonathan Tannenwald, Philly.com
One of the two best days of the college basketball season is upon us. From noon to midnight, we'll be feasting on NCAA Tournament hoops from across the country.
You can get updates on all today's action below, and click here for a live scoreboard and stats.
I'll be chatting throughout the afternoon and evening, especially during the games involving local teams. Here's the slate:
Jonathan Tannenwald, Philly.com
I finally have all my picks in. It took me a while to decide on some of them, but with the First Round starting tonight, there wasn't much time to waste.
So here's my bracket. Now I want to see yours. Sign up for Philly.com's NCAA Tournament pick'em contest, and join the "Soft Pretzel Logic Readers" group. The password is "pretzel." When entering the group name and password, remove the quotation and punctuation marks.
Those of you who've been reading this blog for a while know that my bracket-picking record is pretty disastrous. But that won't stop me from jumping in for another year, and I'm sure it won't stop you all from telling me why I'm wrong.
Jonathan Tannenwald, Philly.com
Here it is: the field of 68 teams in this year's NCAA Tournament. Make your picks in Philly.com's March Madness Brackets Contest, and print out your own bracket (.pdf) by clicking here.
At the bottom of this post is the transcript of my Selection Show live blog. If you're on a mobile device, click here to read it.
The complete schedule of games, locations, tip times and announcers is as follows. Some start times are approximate; as ever, the second game of a doubleheader starts 20 minutes or so after the first one. All times listed are Eastern Daylight.
Jonathan Tannenwald, Philly.com
NEW YORK - Every year, CBS Sports holds a press conference on the Tuesday of Championship Week at which reporters can interview the network's executives and NCAA Tournament broadcasters.
This year was my third straight time covering the event. The previous two were held in an anonymous and relatively small conference room in CBS' corporate headquraters. This year's event took place in a plush meeting space at the upscale Parker Meridien hotel.
As much as anything, that was a sign of just how big this year's production is going to be. With CBS and Turner working together to broadcast this year's edition of March Madness, there are more games, broadcasters, analysts, sideline reporters and production workers than ever before. There's even a second studio operation in Atlanta to go with the usual one in New York.



Jonathan Tannenwald, Philly.com
This year's NCAA Tournament was already going to be quite different from past years' editions because of the new first-round games.
Now we know just how different it will really be.
CBS and Turner unveilved their television schedule for the Big Dance today, and it is a dramatic departure from what we've been used to in recent times.
Jonathan Tannenwald, Philly.com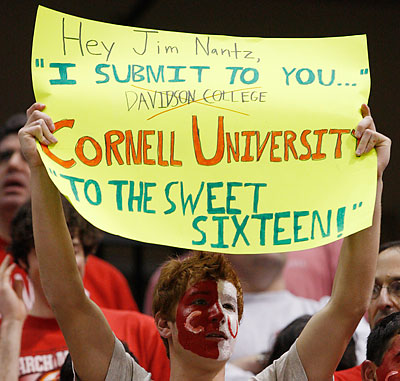 [Comment From Philly hustler]
Cornell is a pretty good ballclub, but you still shouldn't be losing to an IVY league squad in the big Dance.

[Comment From CK]
temple's going to lose by 20 pts to an Ivy League team!!! Pathetic!

Those remarks were posted in my Cornell-Temple liveblog on Friday.

You probably noticed that I didn't say much during the last 10 minutes of that game. That was in part because of the enormous volume of comments that you all were posting, but also because I really didn't have much to say - and I wasn't sure what to say either.

I've already told you why I thought Temple would beat Cornell. But just because I thought the Owls would win didn't mean the Big Red couldn't. I knew that Cornell could deal with Temple's style and pace; I just thought that the Owls would do a better job of executing.

I thought Wisconsin would be a good matchup for Temple, and it turned out to be a good matchup for Cornell too. I thought the Big Red could beat the Badgers, but I certainly did not expect it to be a blowout.

Now Cornell is in the Sweet 16. The Big Red are the first Ivy League team to get this far in an NCAA Tournament since Penn's run to the Final Four in 1979.

It would be self-aggrandizing and cheap for me to say I told you so. It would also be a lie, for the reasons stated above. But I have said here and elsewhere that this is the best Ivy League team I've seen in person since Ugonna Onyekwe's Penn team of 2002-03.

I never saw Jerome Allen's Penn dynasty with my own eyes. Same with the Princeton powerhouse that finished the 1997-98 season ranked No. 8 in the nation and was the last team before Cornell to win a game in the NCAA Tournament.

I have, however, seen the Big Red four times in person this year: at Drexel, at Columbia, at Penn and hosting Penn. I know that some of the nationally prominent voices who will sing Cornell's praises this week have not seen the Big Red in person this season. Some of them have told me so in person; Jay Bilas did so on my blog.

So you can judge my saying the following for yourself: This team is no fluke.

It is a Cinderella of the highest order. It has a tremendous story to tell. It is doing something that not very many people expected it would - other than Bilas, who will call Cornell's game against Kentucky on Thursday.

But it is not a fluke. Not by any means.

Steve Donahue assembled a cast of players that hails from 15 state and one Canadian province, and he did much of his work before Penn fell off the map under Glen Miller. Princeton was down when Ryan Wittman and Louis Dale were high school seniors in 2006, but the Quakers were midway through a run of three straight Ivy League titles.

Even if Penn and Princeton had not stumbled, Cornell's success could have happened anyway. The perennial powers' struggles may have helped the Big Red win the league, but it didn't get them to the Sweet 16.

Before Penn's game at Princeton last season, I spent a while chatting with the Ivy League's executive director at the time, Jeff Orleans.

I told Orleans that there are two things I fundamentally believe about Ivy League sports: that its football teams deserve to go to the I-AA playoffs, and that its basketball teams can win in the NCAA Tournament without using athletic scholarships to recruit players.

The latter of those beliefs has been challenged by many people in many forms since I've been covering the league. But now it has been borne out - and yes, it does feel fulfilling. I'm not afraid to say that.

Nor am I afraid to say this: you should all think about how the mentality of impossibility affects the teams you follow.

It's not impossible for a team coached by Fran Dunphy to win in the NCAA Tournament. It's not impossible for Temple to reach the Final Four. It's extremely difficult, perhaps even improbable, but it's not impossible.

Think about it this way. It is clearly not impossible for Villanova and Georgetown to be nationally succesful at basketball, even though they both have I-AA football programs that produce very little revenue.

(I know Villanova's a big deal at its level, but you know what I mean - and Georgetown's program is even smaller. I've been to the Hoyas' football stadium, and you could fit its entire capacity into one side of Villanova Stadium.)

If Villanova and Georgetown can succeed at basketball, then it can't be impossible for Penn State and Rutgers to do so given the amount of money their BCS-level football programs bring in. Sure, there are structural problems, but they can be overcome - and I think we can all agree that they should be, whether you root for those teams or not.

The Cornell-Kentucky game is already being portrayed as an epic battle between all that is right about college sports and John Calipari. I don't think it's a morality play of quite that scale, but the Big Red bandwagon is filling up fast.

So let me offer a few pieces of advice to those of you who want to join the party. First, make sure you hide your fish from the ticket-takers, because they'll confiscate it if they find it.

Second, make sure to stop at Theodore Zinck's before heading to the Carrier Dome. It's not a long trip from Ithaca to Syracuse, but there will be a lot of traffic going north on Interstate 81 on Thursday morning. So plan accordingly.

And finally, remember this: There is no such thing as impossible.
Jonathan Tannenwald, Philly.com
Here's the schedule of tip times and announcer pairings for the regional semfinals...
Thursday
7:07 p.m.: W1. Syracuse vs. W5. Butler at Salt Lake City (Gus Johnson and Len Elmore)
7:27 p.m.: E2. West Virginia vs. E11. Washington at Syracuse (Dick Enberg and Jay Bilas)
9:37 p.m.: W2. Kansas State vs. W6. Xavier (Gus Johnson and Len Elmore)
9:50 p.m.: E1. Kentucky vs. E12. Cornell at Syracuse (Dick Enberg and Jay Bilas)