Line of the Day
Jonathan Tannenwald, Philly.com
Okay, so it wasn't the BCS title or the Rose Bowl, and maybe it didn't quite make up for just missing out on the NCAA Tournament.
But if you're a Penn State fan, you have to feel reasonably good this morning after the Nittany Lions beat Baylor, 69-63, in the NIT championship game.
If nothing else, this week certainly proved that the school seems capable of getting behind its basketball program, as no fewer than 36 buses' worth of students traveled from State College to Manhattan for the championship tilt. Joe Paterno's presence in the stands was great to see as well.
| Name | Min | FG | FT | 3pt | OR | DR | TR | A | S | TO | Blk | PF | Eff | Pts |
| --- | --- | --- | --- | --- | --- | --- | --- | --- | --- | --- | --- | --- | --- | --- |
| J. Cornley | 36 | 8-15 | 2-4 | 0-1 | 4 | 3 | 7 | 2 | 1 | 1 | 0 | 4 | 17 | 18 |
Jonathan Tannenwald, Philly.com
We have reached the greatest time of year for college basketball fans. March Madness has not truly arrived yet, but Championship Week is the opening act for the biggest party in sports.

Before we get there, however, we need to take a look back at an exhilarating weekend of hoops.

There were big games and clutch finishes all over the place. Cornell clinched the Big Dance's first automatic bid, Pittsburgh smacked down Connecticut for the second time this season, an incredibly young Kansas squad claimed the Big 12 regular season title, DePaul finished a perfect 0-18 in Big East play, and Penn State made me look like I might actually know what I'm talking about by losing at Iowa.

Sunday gave us a thrilling Missouri Valley championship game between Illinois State and Northern Iowa, a Duke-Carolina game whose tipoff wasn't broadcast on CBS because of it, a double-overtime win by Niagara over Rider in the MAAC semifinals, George Mason and Virginia Commonwealth winning the CAA semis and the College of Charleston knocking Stephen Curry's Davidson out in the Southern Conference semifinals.

You might have seen the end of the Niagara-Rider game on ESPN2, which cut away from Santa Clara-Goznaga to show it. If you missed it, the 'Nova fans in particular will be interested to read Bilal Benn's monster line from the game later on in the post.

Oh, I forgot the 29-foot buzzer-beater Penn's Kevin Egee hit at Columbia, giving the Quakers a chance to finish conference play at .500 if they beat Princeton tomorrow. There's video of the shot after Benn's line.

And did I mention the four-year probation sentence that Florida State got slapped with? Give me your best interpretation of what "FSU" stands for in the comments, and if I like one enough I might come up with a prize. Apparently it's not just free shoes anymore.

While it's not quite Sunday anymore as I wirite this, it's nonetheless time for this week's compilation of RPI teamsheet data from Basketball State. It includes Sunday's conference tournament results with one exception: the Portland-St. Mary's West Coast Conference tournament semifinal, which did not tip off until 11:30 p.m. But from what I can tell, the result of that game should not have affected this data very much.

This week's wild card conference is the SEC. Even though all of its teams have suffered really bad losses this season, talk persists of at-large bids. I wonder if the football stadiums next door to the basketball arenas have something to do with that. I wouldn't mind if none of them got in, but someone's got to win the conference tournament. What do you think?

Note that for the Big East, Atlantic 10 and Big Ten, teams are listed in order of conference tournament seeding, not official standings. I figure that makes more sense as we start to look towards this week's games. SEC teams are split by division.
Big East
Atlantic 10
Colonial Athletic Association
Ivy League
Big Ten
Southeastern Conference
| Name | Min | FG | FT | 3pt | OR | DR | TR | A | S | TO | Blk | PF | Eff | Pts |
| --- | --- | --- | --- | --- | --- | --- | --- | --- | --- | --- | --- | --- | --- | --- |
| B. Benn | 48 | 8-20 | 3-5 | 1-3 | 11 | 8 | 19 | 2 | 1 | 0 | 1 | 2 | 25 | 20 |
Jonathan Tannenwald, Philly.com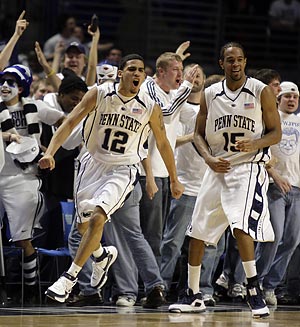 This post was originally going to be about the great display of Fran Dunphy offense that Temple put on against St. Joe's tonight at the Liacouras Center: 16 assists on 21 made field goals, only nine turnovers and 1.03 points per possession.
But at the very end of a big night of local hoops, Penn State's Talor Battle stole the show.
It was on ESPN, so you probably saw it: a missed free throw by Mike Davis led to a rebound by Jamelle Cornley, who only moments before had come back from the trainr's table after suffering what looked like an arm injury.
| Name | Min | FG | FT | 3pt | OR | DR | TR | A | S | TO | Blk | PF | Eff | Pts |
| --- | --- | --- | --- | --- | --- | --- | --- | --- | --- | --- | --- | --- | --- | --- |
| D. Anderson | 17 | 7-11 | 2-2 | 3-5 | 3 | 4 | 7 | 3 | 4 | 0 | 1 | 4 | 28 | 19 |
Jonathan Tannenwald, Philly.com
Tonight's honor goes to Episcopal Academy grad Gerald Henderson for leading Duke to a hard-fought 78-67 win at Maryland.

I'm usually at the front of the line when it comes to criticizing the hype the Blue Devils get from the national media, but tonight I have to tip my hat to them. The Comcast Center (what do you mean, there's more than one of them?) was at its roaring best tonight and Maryland came onto the floor fresh off an electrifying comeback win over North Carolina on Saturday.

But the Blue Devils took the Terrapins' best punch - and their hardest screen, as you've probably seen by now - and pulled away late for the win. Henderson played a major role at both ends of the floor.

It's also worth noting that Haddonfield native Brian Zoubek had a couple big baskets and rebounds in the paint. He'd have had one more if he could have hit the putback as time expired at halftime, but it wouldn't go down.

As for Maryland, a win tonight would surely have booked a trip to the NCAA Tournament for Gary Williams' team. The question now is whether they'll bring the same intensity they've showed the last two games when they travel to N.C. State on Sunday. If the Terrapins get over that hurdle, they'll have another chance to make a big statement when Wake Forest comes to College Park on Tuesday.

For tonight, though, the spotlight is on Henderson.
| Name | Min | FG | FT | 3pt | OR | DR | TR | A | S | TO | Blk | PF | Eff | Pts |
| --- | --- | --- | --- | --- | --- | --- | --- | --- | --- | --- | --- | --- | --- | --- |
| G. Henderson | 37 | 7-18 | 4-4 | 1-2 | 2 | 6 | 8 | 3 | 1 | 2 | 4 | 2 | 20 | 19 |
Jonathan Tannenwald, Philly.com
PROVIDENCE, R.I. - Was this the night it finally came together for Penn?

Thanks to a strong defensive effort and big offensive games from sophomore guards Tyler Bernardini and Harrison Gaines, the Quakers blew out Brown, 73-52, in front of an announced and late-arriving crowd of 1,139 at the Pizzitola Center.

"We did play good defense tonight," Penn coach Glen Miller said. "I was pleased with the effort from a defensive standpoint."

The two teams stayed close early on, and were tied at 21 with seven minutes left in the first half. But an open three by Brennan Votel started a 9-0 Penn run, and at halftime the Quakers took a 39-29 lead into the locker room.

Penn shot an impressive 56.0 percent from the field in the first 20 minutes, including 4-for-5 from three-point range. Two of those treys came from Bernardini, who had been in a slump coming into tonight.

"For him to be able to step up and knock a few down really helped us," Miller said of Bernardini.

Penn also won the second half, 34-23, with a combination of good defense and poor Brown shooting. The Bears shot 7-for-26 from the field after halftime, and committed 10 turnovers.

The defensive effort was symbolized by the fact that Bears guard Adrian Williams, who led his team in scoring with 15 points, was held to only one field goal attempt and no points in the second half.

Williams, by the way, is the son of former Washington Redskins quarterback Doug Williams, which gives him better athletic bloodlines than most of the players you'll see in the Ivy League this season.

Bernardini led all scorers with 16 points, while Gaines added 12. The highlight of Gaines' night came with 3.8 seconds to go in the first half, when he slashed through the lane for a nifty layup-and-one and converted the free throw.

Tonight's final score read like the old days of this series, but that was an era the current team's freshmen and sophomores have only read about.

Miller was on the receiving end of some of those results while at Brown. But he also took the Bears to heights not seen in decades, so there weren't as many complaints.

"Penn's not an easy place to coach if you're losing - I think that's an understatement," Miller said to laugher from the pack of reporters outside Penn's locker room. "But a credit to our players is that they come every day and just try to block out all the negatives and keep on working."

Well, there was one negative the players didn't block out. They were well aware of the fact that last weekend's home losses to Columbia and Cornell were the first time since 1968 that Penn was swept at the Palestra on an Ivy weekend.

"Everybody was frustrated, we know we didn't give our best effort" sophomore forward Jack Eggleston said. "Everyone came together and said this can't happen again."

You might recall that after Penn won at Harvard two weeks ago, Eggleston spoke about the challenge posed by the Ivy League's trademark back-to-back games.

Right on cue, Penn lost to Dartmouth the next night. Now they've got another Friday night win, and they're off to face a Yale team that dealt Princeton its first conference loss of the season tonight.

"It just takes energy and effort on the second day," said senior forward Cameron Lewis, who scored 10 points tonight off some solid work under the basket. "It's not matchups or anything, it's just who really wants to win more."

Miller returned to a familiar refrain.

"We're a young team - I've said that a million times and I'll continue to say it," he said. "Our whole thing is to just try and get better every day. If there's a lot of negativity that exists we have to do our best to block it out and have fun playing basketball, and try to get better. So tonight, I think we got better."

In that respect, Miller was certainly right.

Now the question is what comes next.


---

I figure that many of you have no good reason to travel to Providence any time soon, and that's fair. But if you find yourself here next season for a Penn or Villanova game, there are a few ways to kill time.

Granted, the main attraction in town is an enormous shopping mall a block from the Amtrak station and the State House. But if you get up College Hill towards Brown, there's a much better vibe on Thayer Street, which is the main commercial strip near campus.

And if you walk back down the (very big) hill towards downtown, you'll find a nice strip of bars and restaurants along Waterman Street between Brown and the Rhode Island School of Design.

If you're here during the summer, the best thing to see is the WaterFire display, in which a long series of barrels along the three rivers through downtown Providence are lit up at night. It's an art piece, not a show as such, but it draws a crowd.

Alright, I give up. It's not much. I like this town, but I admit that I'm biased because I have some family roots here. Still, two of the Big 5 teams are here on a regular basis, and that's more than Morgantown, West Virginia can say.


---

Speaking of Morgantown, you can't be all that surprised by Villanova's 93-72 loss at West Virginia tonight. WVU Coliseum is a nasty place for any visiting team to play, and the Mountaineers still have plenty of talent left over from the last few high-flying seasons.

So we'll split Line of the Day honors into scholarship and non-scholarship divisions, highlighting the performances turned in by West Virginia guard DeSean Butler and Penn's Tyler Bernardini.

| Name | Min | FG | FT | 3pt | OR | DR | TR | A | S | TO | Blk | PF | Eff | Pts |
| --- | --- | --- | --- | --- | --- | --- | --- | --- | --- | --- | --- | --- | --- | --- |
| D. Butler | 38 | 12-23 | 13-15 | 6-13 | 1 | 2 | 3 | 2 | 1 | 2 | 0 | 1 | 33 | 43 |
| Name | Min | FG | FT | 3pt | OR | DR | TR | A | S | TO | Blk | PF | Eff | Pts |
| --- | --- | --- | --- | --- | --- | --- | --- | --- | --- | --- | --- | --- | --- | --- |
| T. Bernardini | 23 | 5-11 | 3-4 | 3-6 | 1 | 2 | 3 | 2 | 2 | 2 | 1 | 3 | 14 | 16 |
Jonathan Tannenwald, Philly.com
PROVIDENCE, R.I. - One of my main rules when watching college basketball is that if a team is up by 10 points with a minute to play, the game is not necessarily over.

I have believed that since the night of January 27, 2001, and those of you who follow the ACC know exactly why.

You probably remember it too: Maryland held a 10-point lead over Duke with 55 seconds left in the game, and the red sea at Cole Field House was roaring in anticipation of a big win.

But somehow or other, the Blue Devils came back. Duke's Nate James tied the game with two free throws, then Shane Battier won it in overtime with a three-pointer and a blocked shot on the final possession.

Even though eight years have gone by, the memories of that night are still seared in the minds of a generation of Terrapins fans and so many others who follow the game.

So I'm not surprised when a team makes a late rally and gets itself a legitimate chance to tie or win the game in the final seconds.

The descent into chaos went something like this: a big three by Darrin Govens that started the momentum, a freshman and a big man making all the late trips to the free throw line for Temple, and Tasheed Carr slashing through the lane for two layups and an assist.

And oh yeah, the Palestra's best crowd of the season by far.

It all set up a stunningly straightforward chance for the Hawks to tie or win the game with 4.7 seconds left.

But Phil Martelli was just surprised as everyone else that Carr let fly a three from just inside the halfcourt line when he had, as Martelli said, "another two dribbles" to get closer to the basket.

In a way, shooting that early could be considered a good thing, because Garrett Williamson had enough time to get off a shot from the rebound.

Still, you wonder. But it's probably not worth wondering too much, because the fact that St. Joe's was even there at the end was remarkable in and of itself.

Maybe the ghosts were offended by the possibility of a team winning by double digits.


---

Speaking of ghosts, there might be a few in the house on Saturday night for the Big 5 Hall of Fame ceremonies. Unfortunately, I won't be there, but I was able to get Fran Dunphy's thoughts last night on former Penn star Jerome Allen's induction.

"It's great - it's fabulous, really, to be honest with you," Dunphy said. "He's certainly deserving of it and now he's obviously had a chance to be there live, which is what I think had been the delay in recent years. So I'm really thrilled."

Dunphy will attend tonight's private reception for the honorees, but Temple's game at Duquesne will keep him away from tomorrow's public ceremony at halftime of the St. Joe's-La Salle game.

I asked Dunphy if Allen was the best player he had in his 17 years at Penn.

"Just overall, yeah," Dunphy said. "He had that something special about him that many people don't have. And then of course the surrounding parts with him were magnificent. Matt Maloney had a fabulous college basketball career, and everybody else picked up the pieces - they knew what their roles were."


---

As I looked over the Temple-St. Joe's box score, I thought about all the talk coming in about Christmas vs. Nivins and all that. From my viewpoint, I don't think either player answered the question definitively last night.

Nivins scored 21 points, and you cannot overlook his perfect 7-for-7 free throw shooting. If you're an opposing coach trying to design a defensive strategy for Nivins, it has to scare the daylights out of you that he can convert like that if you foul him in the lane.

Christmas scored 19 points, but was only 2-for-5 from three-point range. That was all Garrett Williamson, and indeed Christmas scored a lot of his points when Williamson wasn't on the floor.

But Christmas gets the nod for Line of the Game because of his contributions elsewhere in the box score. In fact, he got more rebounds than Nivins did.

So the Owls take Round 1. The rematch on North Broad Street will be on the last Thursday of the regular season, and this time it will count in the Big 5 standings.

I don't know how much more I'll be posting this weekend, but feel free to post your comments on tonight's Villanova-West Virginia game and tomorrow's A-10 action while I'm gone.

And if you're still looking for ways to pass some time, check out Kyle Whelliston's impressively detailed reporting from the NCAA's mock bracket event in Indianapolis yesterday.




| Name | Min | FG | FT | 3pt | OR | DR | TR | A | S | TO | Blk | PF | Eff | Pts |
| --- | --- | --- | --- | --- | --- | --- | --- | --- | --- | --- | --- | --- | --- | --- |
| D. Christmas | 39 | 8-16 | 1-2 | 2-5 | 0 | 11 | 11 | 4 | 1 | 1 | 0 | 0 | 23 | 19 |
Jonathan Tannenwald, Philly.com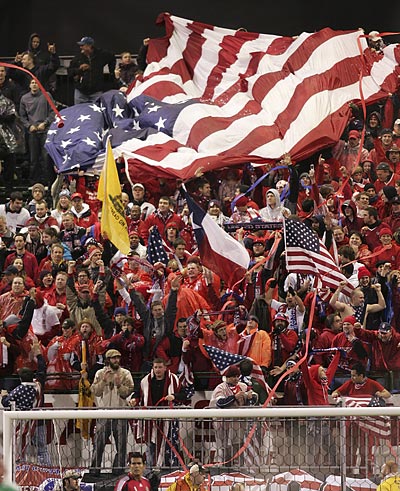 Lots of results flying around tonight: La Salle over GW at Tom Gola, Drexel upsetting Northeastern in Boston, Dayton routing Xavier at home, Connecticut blowing out Syracuse in Storrs, and North Carolina exploding past Duke in the second half for a 101-87 triumph.
It was the first time in 457 games that Duke gave up triple digits, the last one having come against UCLA (100-77) on February 26, 1995.
(You might have noticed that the ESPN graphic said 2005. I saw that and thought it wasn't possible to play 457 games in four years. So I went to the Duke media guide and found the real answer.)
| Name | Min | FG | FT | 3pt | OR | DR | TR | A | S | TO | Blk | PF | Eff | Pts |
| --- | --- | --- | --- | --- | --- | --- | --- | --- | --- | --- | --- | --- | --- | --- |
| T. Lawson | 34 | 8-11 | 9-9 | 0-1 | 1 | 3 | 4 | 5 | 2 | 5 | 0 | 1 | 27 | 25 |
Jonathan Tannenwald, Philly.com
That was pretty impressive, wasn't it?
Marquette made things interesting with a barrage of early three-pointers, but Villanova closed the first half on a 22-8 run and hit 15 of their first 19 shots in the second half en route to a 102-84 blowout of the Golden Eagles at the Pavilion.
While it wasn't a true rivalry game like all the other ones on the various ESPNs this week, the Wildcats had plenty of motivation to bring the house. Marquette dealt 'Nova a tough 79-72 loss in Milwaukee on New Year's Day in the Wildcats' Big East opener, but that sure seems a long time ago now.
| Name | Min | FG | FT | 3pt | OR | DR | TR | A | S | TO | Blk | PF | Eff | Pts |
| --- | --- | --- | --- | --- | --- | --- | --- | --- | --- | --- | --- | --- | --- | --- |
| C. Fisher | 32 | 6-10 | 5-7 | 4-5 | 0 | 2 | 2 | 4 | 1 | 3 | 0 | 2 | 19 | 21 |
Poll: Fantasy HORSE Invitational Championship

(624 votes)