La Salle
Jonathan Tannenwald, Philly.com
The U.S. Basketball Writers Association's All-District teams have been announced, and as you would expect, the Big 5 is well-represented in the district that includes our region.
I am a member of the USBWA, and though I've voted for All-District honors in the past, I didn't this year because I don't feel I've watched enough live games to cast a well-informed ballot. Still, there are hundreds of USBWA members across the country, so I have a lot of respect for these awards.
Here are the honorees for District II, which includes Pennsylvania, New Jersey and Delaware, as well as New York, D.C. and West Virginia:
Jonathan Tannenwald, Philly.com
Georgetown at Villanova
Time: 7:00 p.m. EST
Venue: The Wells Fargo Center, Philadelphia, Pa.
TV/Radio: ESPN2 (Mike Patrick and LaPhonso Ellis)/WHAT 1340-AM
Temple at Fordham
Jonathan Tannenwald, Philly.com
So here we are in mid-February, and the pressure is really starting to build on local teams hoping to make the NCAA Tournament.
Right now, the city has three candidates: La Salle, Temple and Villanova. They've all had roller-coaster seasons, and there are lots of twists and turns yet to come.
We could end up with all three in the Big Dance, and we could end up with none. Anything's possible.
Jonathan Tannenwald, Philly.com
Time: 2:00 p.m. EST
Venue: Tom Gola Arena, Philadephia, Pa.
Radio: WFIL 560-AM (Penn)/WNTP 990-AM (La Salle)
If you're on a mobile device, click here.
Jonathan Tannenwald, Philly.com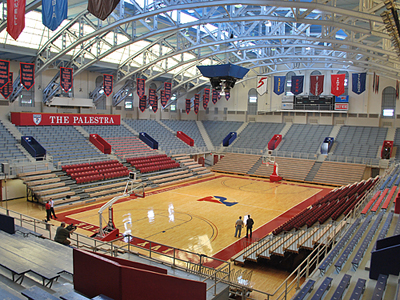 UPDATE: When I originally wrote this post Tuesday morning, I did not mean it to be entirely serious. It was just an idea to kick around.
But now ESPN.com's Andy Katz is reporting that the Atlantic 10 is in fact open to welcoming the Big East's Catholic contingent. As such, this idea becomes a lot more real, with the possibility of a 21-team league once Temple and Charlotte leave the A-10. I've added another potential division alignment to reflect the news.
---
Jonathan Tannenwald, Philly.com
Temple at Villanova
Time: 9:00 p.m.
Venue: The Pavilion, Villanova, Pa.
TV/Radio: ESPN2/WPHT 1210-AM (Temple)/WIP 610-AM (Villanova)
Penn State vs. La Salle
Jonathan Tannenwald, Philly.com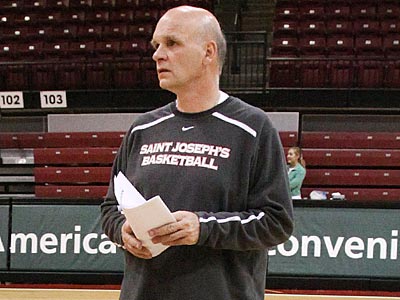 After a few tumultuous years for Phil Martelli, the spotlight is now officially shining on Hawk Hill again.
Saint Joseph's has been picked to finish first in the Atlantic 10 this season, according to the preseason poll of coaches and media. The results were released Thursday morning during the conference's Media Day at the new Barclays Center in Brooklyn.
Temple was picked to finish fourth, and La Salle was picked to finish seventh.
Jonathan Tannenwald, Philly.com
UPDATE: The Big 5 schedule at the bottom of the post has been corrected. Apologies for the initial error.
The Atlantic 10 announced Tuesday morning that it has signed an extensive set of television broadcast deals with ESPN, CBS and NBC. They will all start in the 2013-14 season and run through the 2020-2021 season.
Among the highlights is the fact that the men's and women's conference tournaments will be broadcast nationally from the quarterfinals on, instead of the semifinals. But there won't be any more games on over-the-air network television as has been the case in recent years with CBS.